All Nancy Riley-James wanted for Mother's Day was to spend some time with her husband and daughter, then to go enjoy one night in a fancy hotel with a dog from her local shelter, where she volunteers.
Maye, the dog, had been picked up as a stray outside Atlanta a few months ago. It was clear from the state of her undercarriage that she'd recently given birth. But her puppies were nowhere to be found. And while she'd been doing all right in the shelter, Riley-James figured Maye could use a little vacation.
Last weekend, Riley-James collected Maye from DeKalb County Animal Services, in Decatur, Georgia, and whisked her off for a weekend of well-deserved R&R.
"Moms need a break! This four-legged mommy needed one, too," Riley-James tells The Dodo.
A Mother's Day celebration wouldn't be complete without brunch. Accompanied by Riley-James' husband and daughter, they went to City Winery Atlanta — which is so welcoming to dogs, it even has a Canine Cuisine menu.
The Hot Diggity Dog and Bone Appetit were ordered for Maye, but first an order of chicken sausage appeared "and we were told it was hers, so she had that, too," says Riley-James.
Next up was a visit to King of Pops, a gourmet popsicle business which caters to pups as well as humans.
Afterwards, it was time for Riley-James and Maye to repair to the fantastically pet-friendly Hotel Indigo, where they'd be spending the night.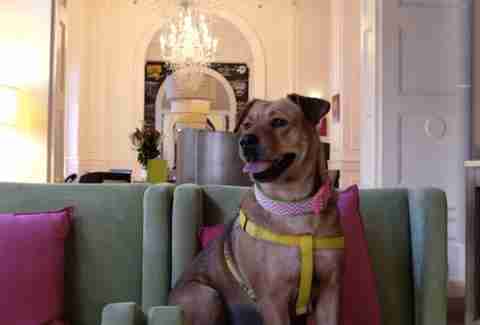 The boutique hotel's staff prepared a Mother's Day gift tray for their guests.
"Lots of toys and treats for Maye, and some treats for me as well," says Riley-James.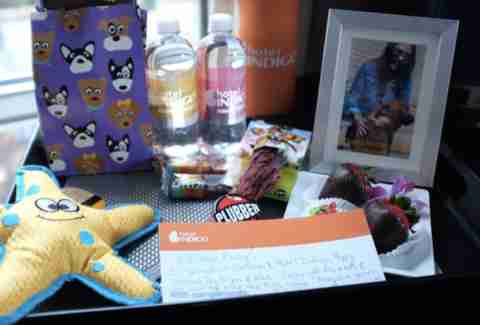 Then Maye did what so many of us do when we encounter a big hotel bed. She built herself a fluffy pillow fort, and went to sleep, snoring contentedly all through the night.
"She loved being in that bed," says Riley-James. "That was probably the most comfortable, peaceful rest she has had in awhile."
Indeed, one reason shelter volunteers are encouraged to take dogs out for overnight visits, is to give them a chance for some peace.
Staff and volunteers do their very best to give every resident pet as much love, affection and comfort as they can — but shelters still aren't homes.
"Getting out of the shelter for a day out is great for dogs, because it allows them to leave the stressful shelter behind and truly relax," Karen Hirsch, spokesperson for LifeLine Animal Project, the nonprofit entity that manages Fulton County Animal Services and the DeKalb County Animal Services shelter, tells The Dodo. "And the individual attention that they receive means the world to them. They seem to bask in it. It seems to recharge their batteries, making shelter life more tolerable."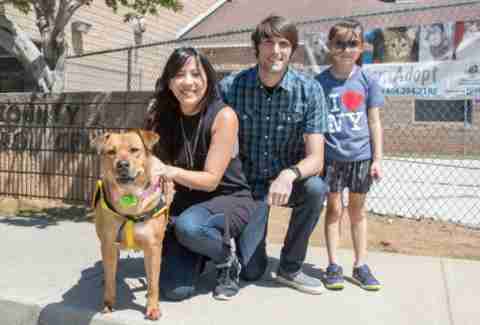 Of course, Riley-James was sad when she brought Maye back to the shelter.
"OK, I ugly cried in the car," she says. "I would like you to know that whoever decides to give Maye her forever home, I hope they are ready to give her all the love in the world that she deserves, and she will return it right back. And she obviously knows how to vacation like a pro!"
As it turns out, Maye might not have to wait much longer for a family — and she could be seeing more of Riley James soon.
Riley-James' brother recently let on that he and their parents are wanting to adopt Miss Maye. They live about an hour and a half away with another rescue pup.
"She will have more space down there, and a friend," Riley-James says. "And I will get to visit her anytime, and still bring her up here for more adventures."