Dog Returned For Being 'Bad With Kids' Proves Everyone Wrong
"The love he gives once he is bonded with you is hard to put into words."
When Roberta Sa Griner first met Duke in September 2014, he had been taken into the local shelter as a stray. He was dirty and had been found wandering near a highway in Charlotte, North Carolina. The young American bulldog mix — named after Duke University, which Griner and her husband attended — was estimated to be around 1 to 3 years old at the time and was 80 pounds of pure, unbridled energy.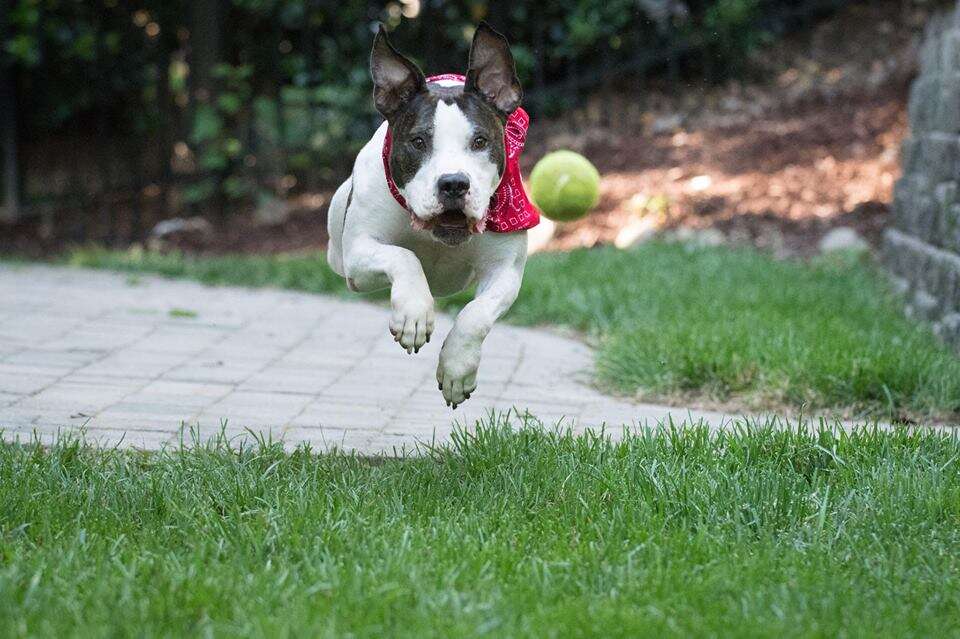 Duke spent a week at the shelter on stray hold to see if a family had lost him, but no one ever came to claim him, so Griner and her husband agreed to foster him through the Greater Charlotte SPCA (GCSPCA). Three months later, a family finally contacted them to say that Duke was their dog. However, it was disclosed that Duke was not properly taken care of and had been left alone as an outside dog. Furthermore, the family sent video of them tying fabric to Duke's leg to tease him because they thought it was funny to see him chase it around. "Honestly, it's a perfect explanation to the compulsive behavior he still has," Griner told The Dodo.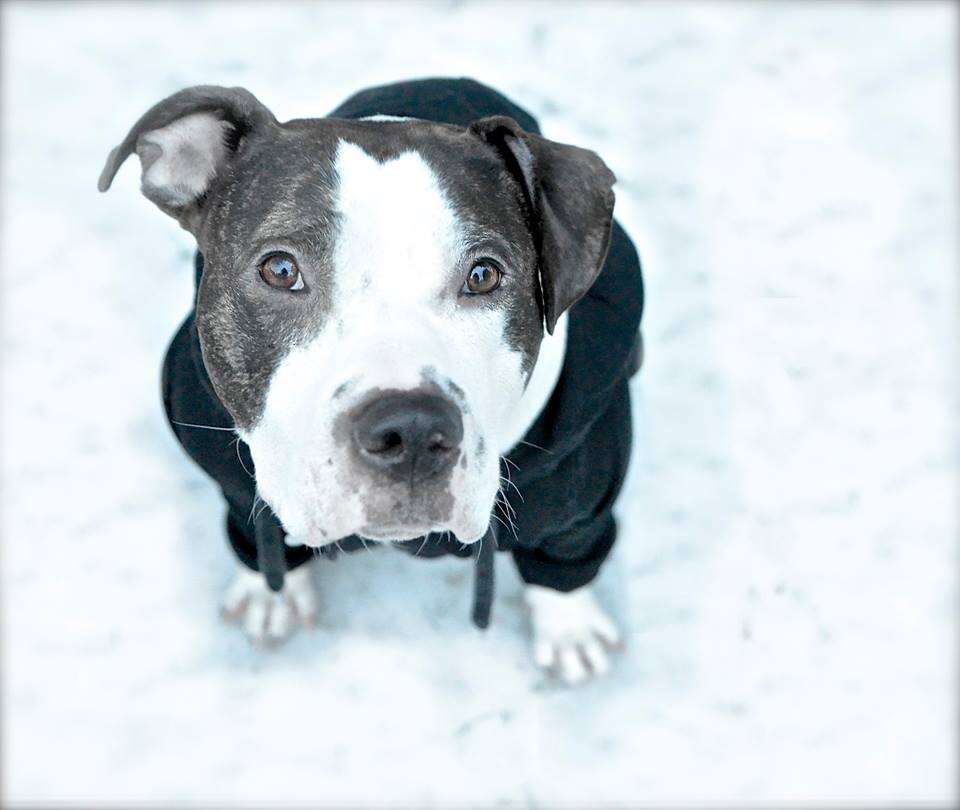 Because of how he had been raised, Duke initially seemed out of control. "Duke freaked me out the first time I saw him," Griner said. "He was young, untrained and just very muscular. I was afraid of him until I saw that he was a good boy that just got dealt a bad hand of cards." Griner, an experienced foster carer with three dogs of her own, knew that Duke would need training before he was ready for a forever home.
While fostering Duke, the Griners worked with several trainers over the course of six months. "When we first got Duke, he was perfect at home," Griner said. "However, he was a true nightmare when taken outside. He was easily the worst foster I ever had on leash. He dragged a few people to the ground. He showed no aggression, but we could not control him when taking him for a walk."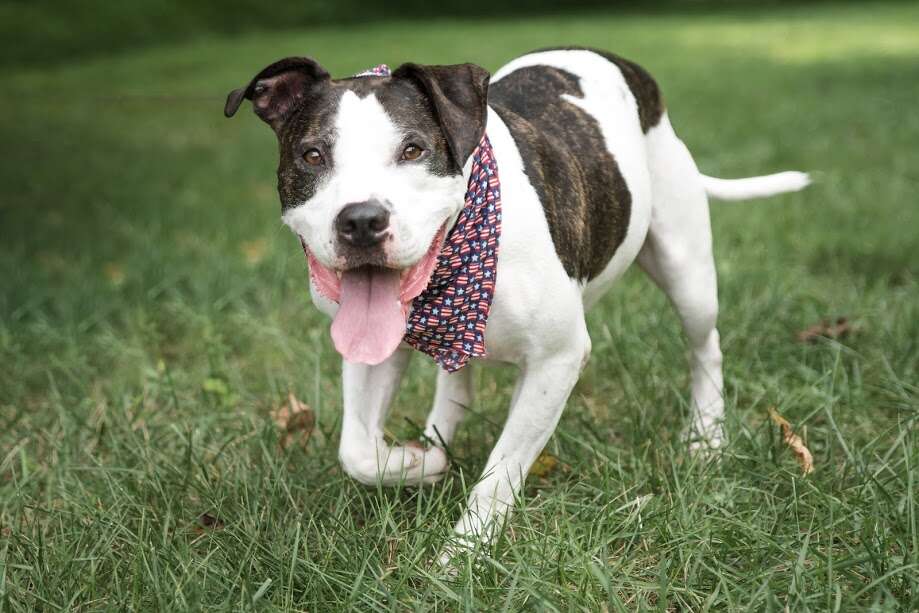 After a lot of hard work and training, Duke's moment to shine finally came in March 2015 when a family submitted an application to adopt him. Griner made it very clear to the family, which included three young girls, that they would need to maintain the positive behaviors Duke had learned through training and structure. They were also required to work with a trainer as a condition of adoption, and the family agreed.
"I narrowed down to two families but I ended up going with the adopters [I chose] because they seemed truly committed to keeping up with his training," Griner said. "I requested that the adopters continued to work with the trainer that I worked with. I also went to two of the sessions and I saw that they were working with him."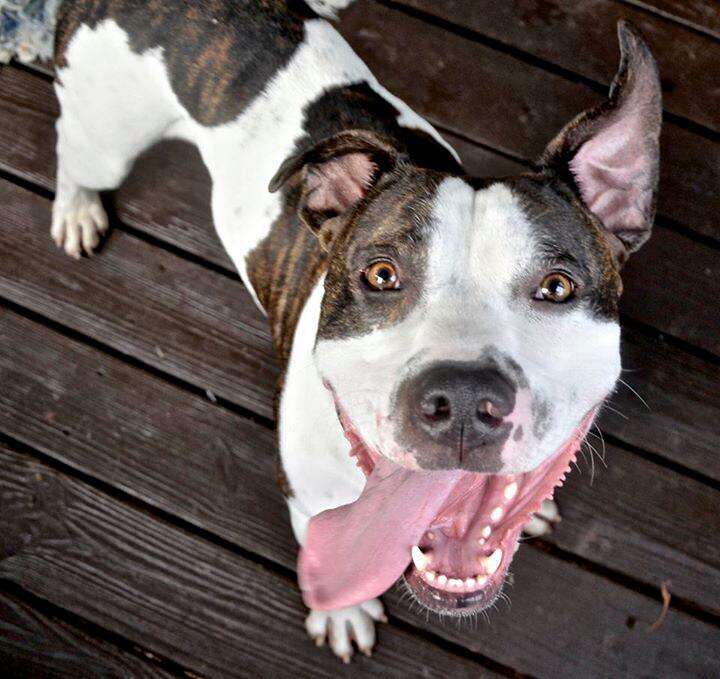 Things seemed good each time Griner checked in for an update — until eventually, Duke's family stopped responding to her. "After about 18 months, [the adopters] stopped responding to my follow-ups," Griner said. "I ran into them and Duke [a few months after they stopped responding] at a meetup group for dogs. He was doing great."
However, in August 2017, Duke's family contacted the GCSPCA to ask if they would take him back. Despite their description of him being a "wonderful family member" and that he "seemed to fall in love with their three young girls," the adopters noticed he had become possessive of his toys and "less tolerant" of the children after two and a half years with them. They feared for the safety of their children after he allegedly nipped at one of them.
"Honestly, I don't think [the adopters were] mean to Duke in any way, but I think they totally neglected his needs," Griner said. "I also think that they failed to try and help him as they never reached out to [the GCSPCA or me] for help. As they dumped him [back with the rescue] they simply said, 'Good luck.'"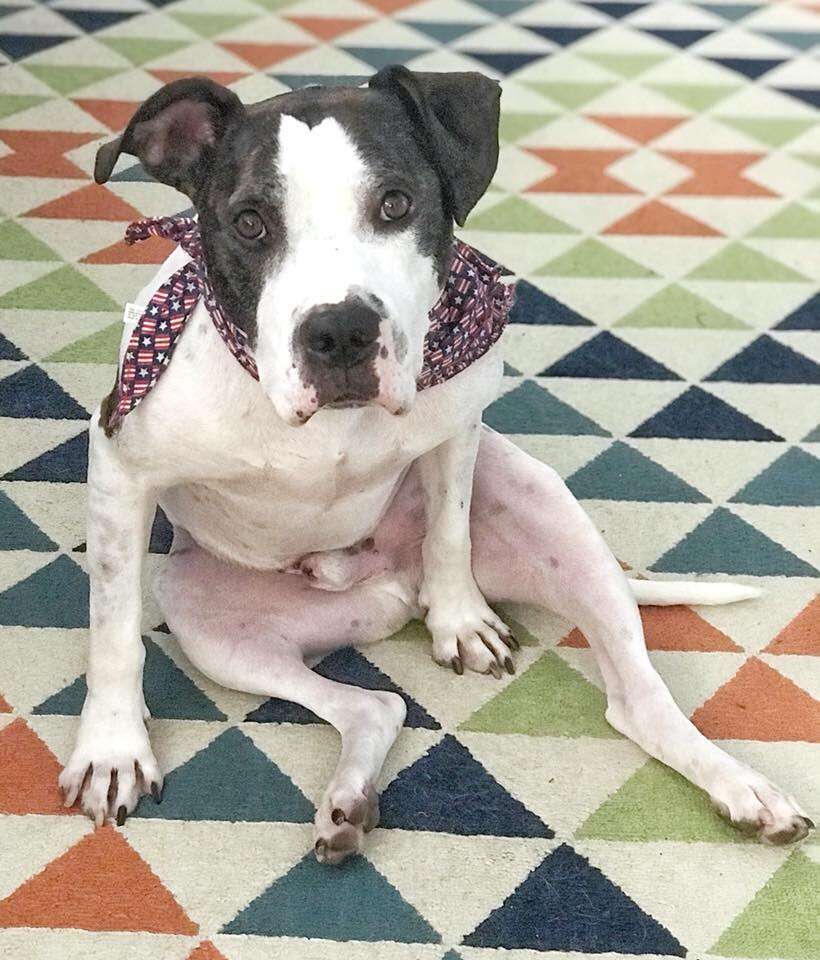 When Duke was returned to the GCSPCA, it was clear his behavior had regressed. "When Duke was returned he was deemed to be a totally different dog — not good with dogs or kids, so I could not risk [fostering him]," Griner said.
Griner and her husband were reluctant to foster Duke again because they had recently adopted three young girls of their own, and had made the decision to forgo fostering any large dogs for a while as they adjusted to being parents.
Instead, Griner and the GCSPCA ran a fundraiser to send Duke to a boarding and training facility. He spent approximately three months training with Julie Morelian from South of the Bully Rescue, getting his behavior back in line with the structure and obedience his former family hadn't maintained.
After Duke completed his time in the training facility, the Griners canvassed tirelessly for a foster home to take him in. They sadly found none — so the Griners took a chance and started fostering him again. "Duke had no other option," Griner said. "Since nobody stepped up for him, I took him in. He was the first large adult foster we had since we adopted the girls."
Griner took many precautions with Duke as he adjusted back into their household. "I was very careful with Duke because when he came to us, he was a well-trained lunatic," Griner said. "Since he doesn't do well with changes, it took a few weeks for him to calm down a bit. He was initially leashed to me at all times inside the house and not allowed to interact with my kids. Eventually I let him interact with the girls under strict supervision. I slowly introduced him to each dog as I trained them together and walked them together, but it took a few months for him to be allowed to be free with my dogs."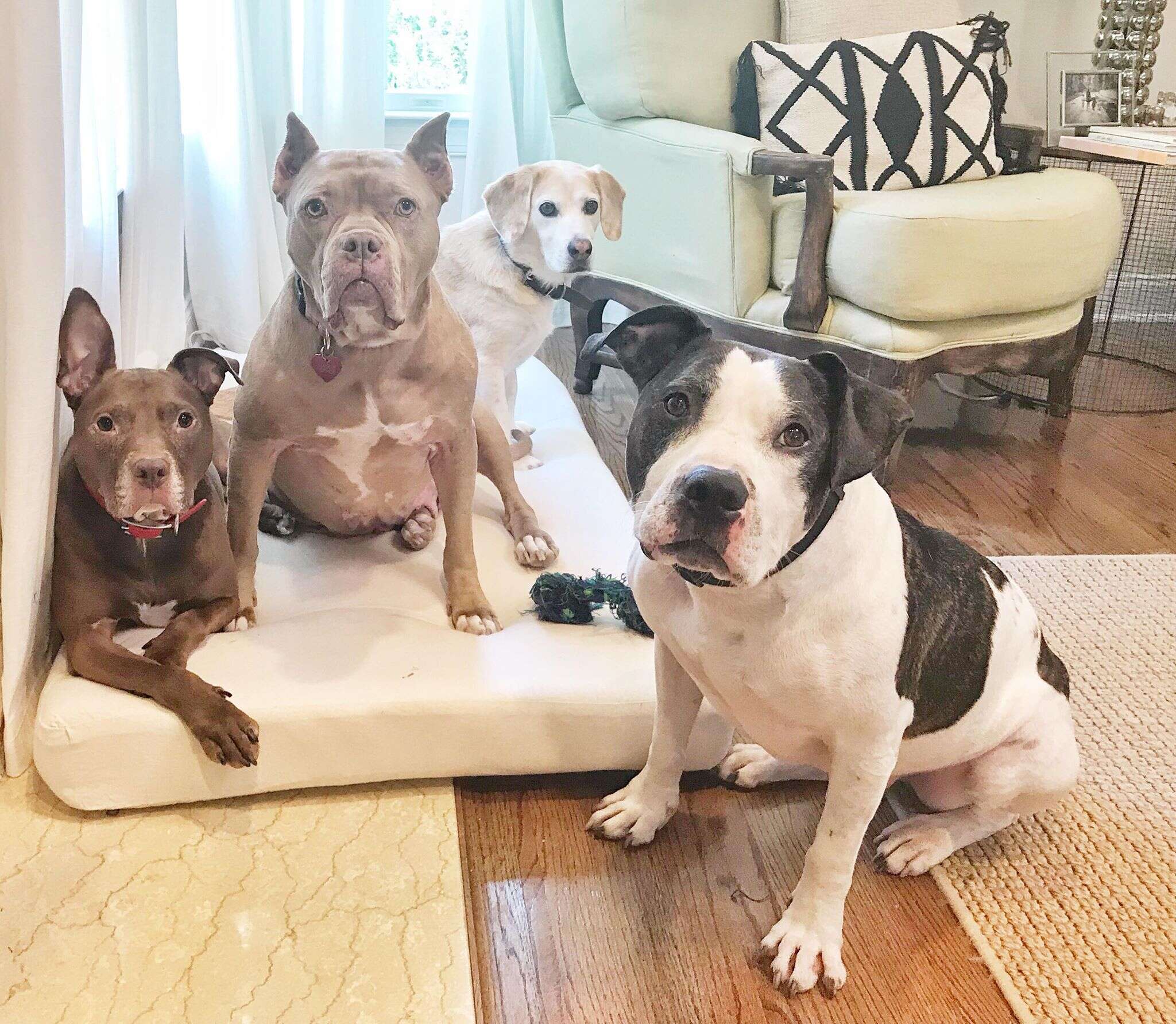 Before long, Griner observed that out of her three daughters, Duke listened to her youngest — 6-year-old Veronica — the most. "Other than me and [my husband], the only other person he seems to care about is Veronica because she has the strong/fierce personality which Duke needs," Griner said.
When he isn't following Griner around, Duke loves spending time with Veronica — especially when there's food involved. "He loves when she sneaks him food, so you know he stays beside her almost every meal," Griner said.
He's also a homework "helper" …
… and enjoys taking naps with Veronica.
"He listens to her really well because she loves to train him," Griner said.
Duke also loves playing with — and destroying — toys. "He honestly is OBSESSED with toys," Griner said. "If he hears our car in the driveway, he will go find a toy to have in his mouth once he runs to greet us at the door. I have spent so much money with him because he destroys everything I buy, so I have trained him to play with balloons."
He is a big fan of exercise, too, so Griner is looking for somebody active — such as a runner or an avid hiker — to adopt Duke.
Griner and the GCSPCA are being very selective about Duke's forever family in order to set him up for success. This includes looking for a local adopter, so Griner is nearby and can step in if things don't work out, as well as having potential adopters meet Duke in his current environment and take him out on their own to understand his challenges. While Duke has never shown aggression to kids or dogs in Griner's presence, she does worry about his behavior regressing in the wrong hands again.
"I would prefer a family with no animals as he needs a lot of attention," Griner said. "He also has shown no issues with my kids, other than he can knock them over if he is running because he doesn't pay attention to his size, but I would still want him in a house with no kids as he needs a lot of structure and attention. He would be ideal for someone that walks/runs daily. He really needs someone that can provide him structure, exercise and love."
"Duke is a dog that will take a lot of work for a new family and they will need to understand that he doesn't immediately bond," Griner added. "But honestly, the love he gives once he is bonded with you is hard to put into words. Letting him go will certainly be the hardest thing I have done as a foster, but I know that if I can find him a home where he gets to be the Duke that he is meant to be, he will be in a much better place than here."