Loyal Family Dog Dumped At Busy Shelter With Her Teddy Bear
"She was so scared, and she was just clinging to it."
After being dumped at the shelter, the dog clung to the only thing she had left in the world — a giant teddy bear.
Ellie, a 1-year-old Blue Lacy dog, used to live with a family near Dallas, Texas. But in June, they surrendered her to a local shelter.
"They had gone to the trouble of getting all her shots, her spay surgery and microchip … [then] they just dumped her at the closest shelter after having her for months," Jennifer Jessup, an independent dog rescuer based in New York City, told The Dodo. "She basically lost everything she's ever known, and at 1 year old, [she] found herself in a loud, scary place where they euthanize for space."
The shelter was a terrifying experience for Ellie, and she spent most of her time snuggled up against a teddy bear, which her former family had left with her.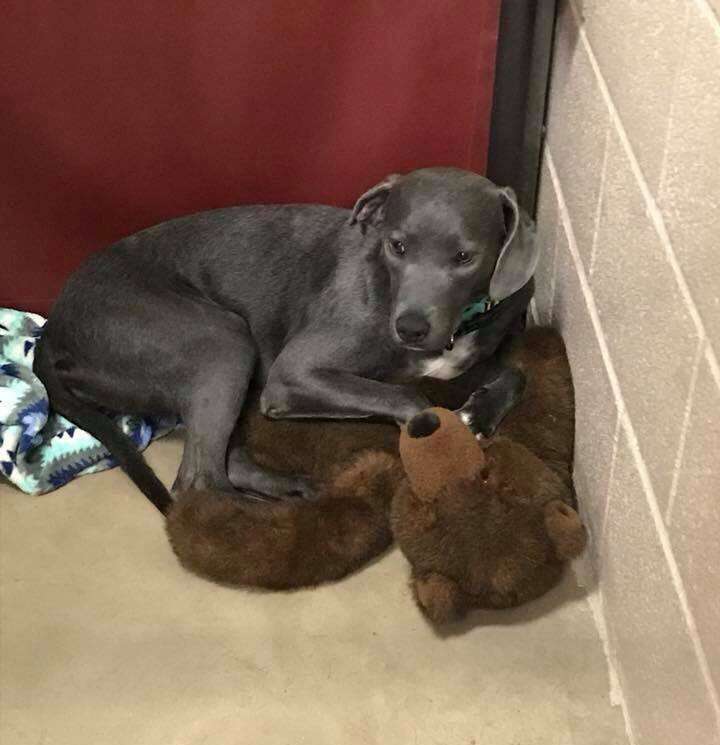 "She was so scared, and she was just clinging to it," Jessup said. "It was the only thing she had."
Thankfully, Ellie didn't stay at the shelter for long. Jessup's brother, who lives in Florida, had been looking to adopt a Blue Lacy dog, and he'd reached out to his sister to help him find one to rescue. Jessup started searching online, and with the help of TAGG Rescue, a Dallas-based rescue group, she discovered Ellie in the Texas shelter.
"I had a friend in Texas that I contacted, and he said, 'Sure, I'll go pick her up,'" Jessup said. "So he got her out of the shelter with her teddy bear, and took her to this boarding facility, where they gave her a bath and made sure all of her paperwork was in order, and that she was fully vetted."
After a night at the boarding facility, Ellie went to a foster home until she was moved to Florida. Ellie started to feel a little better once she was in a home, but she still clung to her teddy bear.
"The foster carer took a photo of her without her teddy bear, and she was curled up in a little ball, just scared to death," Jessup said. "But when he put her back with her teddy bear, she just grabs it."
On Wednesday, it was time for Ellie to meet her new dad. TWD Transport, a company that moves rescue dogs around the country, drove Ellie from Texas to Florida.
"She is exhausted and my brother is going to spend the day with her trying to perk her up," Jessup said. "She's very timid and the trip was a difficult one, so it will take a while for her to come out of her shell."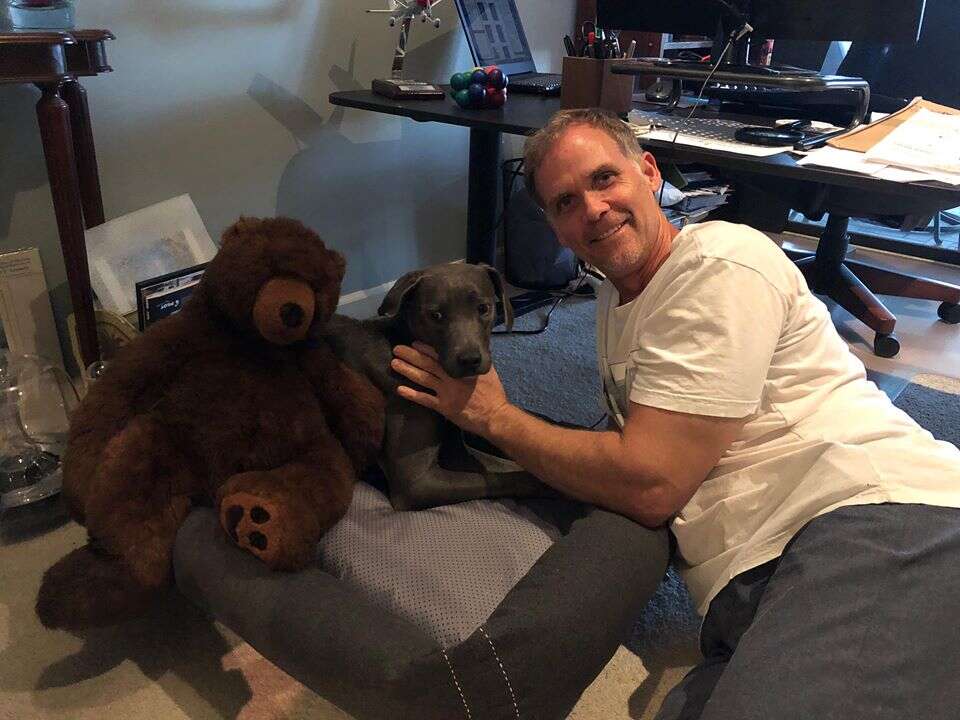 But Jessup is certain that Ellie has found the perfect home with her brother.
"She is calming down slowly, and he is … giving her lots and lots of affection and quiet time," Jessup said. "He's in love!"
Thinking about adopting a dog of your own? Then meet Dodo Adoptbot, an interactive guide for new pet parents. Get started on
Facebook Messenger
or text HOME to 38349.