Earlier this week, an animal shelter decided to throw a birthday party for all its dogs who "have never known their birthday or lost it along the way," as they put it on Facebook.
Each dog — 100 in total — got festive snacks, delivered by a staff member wearing a party hat and carrying balloons.
Some recognized right away that they were being treated to something special. That includes a handsome pup named Steel, who's been at BARCS — Baltimore Animal Rescue and Care Shelter, Baltimore's city shelter — since early June.
"He knew just what to do with his pink sprinkle donut," Bailey Deacon, a BARCS spokesperson, tells The Dodo. "Munch and crunch it into a big mess and then wiggle and wag as he found the crumbs around his bed."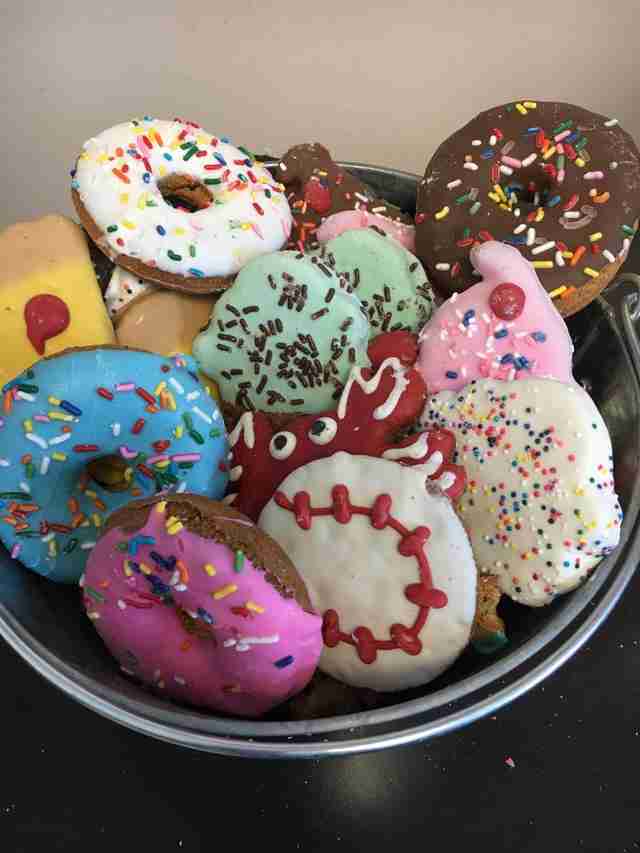 Others gently accepted their cookies, then placed them among their other toys — perhaps not understanding at first that these were to be eaten.
Deacon realized, after seeing this reaction a handful of times, "that a good amount of these dogs have probably never had a gourmet cookie before this moment."
"I circled back around later and those dogs did eventually figure out it was a special treat and ate them," Deacon says. "I promised one such skeptical dog Sahar, who received a big 'donut' cookie, that this place is just a stepping stone to a new life filled with so many doggie donuts."
Mary Henderson, a dog lover and friend of Deacon's, came up with the idea for the celebration. She'd seen something on the news about August 1 being the unofficial birthday for all shelter dogs — it's known as "Dogust" — and realized she didn't even know her own dog's birthday.
"I have a rescue dog, and I've never known her real birthday, so I thought it was a nice sentiment," Henderson says.
Once BARCS veterinarians gave the OK, Henderson purchased and delivered 100 gourmet treats from her local pet store. She wasn't able to be there when the dogs got their cookies, but a livestreamed video let her see how happy the dogs became.
"The dogs who have been there for a long time stand out to me. I love that they gave those dogs the bigger cookies," Henderson says. "They need love, forever homes and big treats!"
For Deacon, the Dogust 1 birthday celebration was special, and not just because it gave BARCS another chance to make the shelter's animals feel loved. It was also another wonderful reminder about how generous the people in the community are, and how much they care about the shelter animals.
"Our supporters are always surprising us with their kind hearts," Deacon says. "We gave 100 dogs a birthday gift, our adoption lobby was full, and we saved lives — it was a good, good day."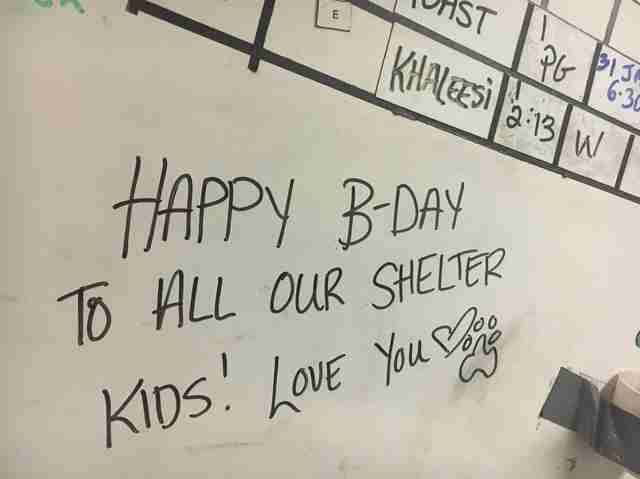 Not the last good day, either. Henderson is planning ahead a few months to October, aka Catober, the universal birthday for shelter cats.
"I think it is only fair," she says, "the kitties get a party, too."