Shelter Dog Couldn't Gain Any Weight — And No One Could Figure Out Why
She's doing SO much better now.
When Misa first ended up at a shelter in New York, she was skinny and sick, but staffers just assumed that with time and love, the sweet pit bull mix would eventually be thriving.
Misa is also deaf, but one family didn't seem bothered by that, and she was soon adopted. Unfortunately, Misa was returned to the ACC six months later — because for some reason, skinny, sick Misa wasn't getting any better. 
Harriet Zucker
When Misa got back to the shelter, she weighed exactly the same as she had when she'd left, just 24 pounds, which was entirely too little for a dog like Misa. Shelter staffers were mystified, and as she settled back into life at the shelter, poor Misa's health started getting worse. 
Staffers noticed that Misa had no interest in playing and wasn't really eating. She was also having trouble going to the bathroom, and it seemed that poor Misa was falling apart. They knew something was seriously wrong, but they didn't have the resources to properly care for her, so volunteers with Red Hook Dog Rescue stepped up to take her in — despite having no idea what was wrong with her, or how they might go about getting it fixed. 
Harriet Zucker
Despite how sick she was, Misa was always sweet and gentle with everyone she interacted with. Even when she could barely move, she was still the loveliest dog, and her rescuers desperately wanted to help her get better so that her true personality could finally shine through.
"She was pretty sick so she didn't have much of a personality," Harriet Zucker of Red Hook Dog Rescue told The Dodo. "But she was still always sweet, low-key."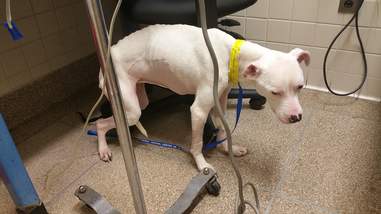 Harriet Zucker
Misa's rescuers had her rushed to an emergency vet, where they realized she had some sort of blockage inside her, which was causing her to have problems eating, going to the bathroom and gaining weight. She was so sick, and they knew operating on her would be risky, but not operating might cost Misa her life. So despite the risks and the costs, they decided to move forward with surgery to try and remove whatever was inside her. 
As Misa's surgery began, medical staffers opened her up — and found tons and tons of string.
Somehow, long before Misa had been adopted the first time, she had ingested a whole bunch of string, and no one ever noticed. The string lived inside her for months, according to Zucker, maybe even longer, wreaking havoc on her body and almost ending sweet Misa's life. 
Harriet Zucker
The surgeons removed a huge wad of string from Misa's belly, and one very, very long piece that went from her stomach all the way into her intestines. Once the surgery was over, Misa's rescuers hoped she would immediately start getting better, but unfortunately, she still had a long way to go.
After the surgery, Misa remained incredibly sick. She was still having trouble eating and putting on weight, and the vets and her rescuers were worried that there was something else wrong. Misa proved she was a fighter, though, and despite all her health issues, she never gave up, and remained a sweet, gentle dog throughout it all.
She was in the hospital for weeks and weeks, undergoing tests and trying her best to keep food down …
Harriet Zucker
… until one day, against all the odds, Misa finally started to improve. She began to get her energy back, and was finally able to start acting like a goofy, carefree dog again.
"Now I think she's a little less low-key," Zucker said. "I feel like she was raised with cats. She acts like one."
Harriet Zucker
Misa is now in foster care and doing so much better. She's finally able to eat again, and loves snuggling with her new foster family now that she actually has the energy to do so. Misa already has a forever family waiting for her a few states away, and once she's a little stronger, she will finally be able to make the journey to her new life.