Shelter Said Cat Was Too 'Aggressive' To Be Adopted
"She's been nothing but a sweetheart ... She comes up right next to you, and she wants to be rubbed all the time and she'll start purring."
When Allisyn Nguyen and her boyfriend Alvin got an apartment together, they decided it was time to adopt an animal. They intended to get a dog, but when they visited the Baldwin Park Shelter in California last month, their plans completely changed.
Nguyen and her boyfriend took a quick peek at the cat section — and a 10-year-old cat named Kya captured Nguyen's attention.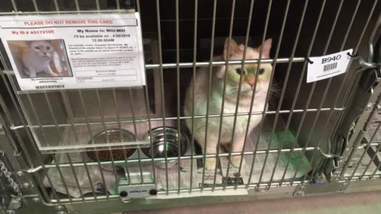 Kya (formerly Miu-Miu) inside her cage at the shelter

| Allisyn Nguyen
"She just meowed the loudest meow until I noticed her," Nguyen told The Dodo. "She was on the bottom row by herself, and I was like, 'Oh my God, I didn't see you at first.' I kneeled down, and she came up right to me and started rubbing against her small cage so I could touch her and pet her."
Their connection felt instant and magical to Nguyen. "I said to Alvin, 'I really like her. This is the only cat I've ever liked,'" Nguyen said.
Nguyen knew that she wanted to adopt her, but when she asked an animal control officer at the shelter if she could see Kya (previously named Miu-Miu), the officer seemed surprised.
Allisyn Nguyen
"The first thing he said to us was, 'Oh no, you don't want her,'" Nguyen said. "I took a step back and said, 'What do you mean I don't want her?' And he said, 'You don't want this cat. When she first came in, she started hissing, swatting all of the officers that were trying to handle her and we had to put her in the isolation room.' And I was like, 'No, this is the sweetest cat ever.'"
This officer wasn't the only one who didn't think highly of Kya — a female shelter worker was also surprised by Nguyen's interest in Kya. "She said, 'Are you for real? I haven't seen her like anybody except for you guys,'" Nguyen said.
On Kya's official paperwork, the shelter staff had even labeled Kya as "aggressive," and they made Nguyen sign a consent form before they allowed her to interact with Kya.
Allisyn Nguyen
But amazingly, none of this deterred Nguyen. Kya had recently been surrendered by her former owner, and Nguyen knew that Kya would be struggling with all the changes in her life.
"It made me feel so sad," Nguyen said. "She might just be scared because she's in a new environment."
Allisyn Nguyen
Nguyen and her boyfriend ended up adopting Kya, much to the shelter staff's surprise — and Kya has thrived in her new home. She's also never displayed any form of aggression, although Nguyen said she can get a little grumpy when she's tired. But for the most part, Kya is affectionate and lovable.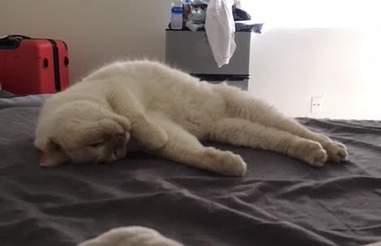 Allisyn Nguyen
"She's been nothing but a sweetheart," Nguyen said. "I was never a cat person before, but I love her so much. She comes up right next to you, and she wants to be rubbed all the time and she'll start purring."
"When we're sleeping at night, she jumps right up on us," Nguyen added. "I can wake up in the morning, and she's sleeping on my stomach."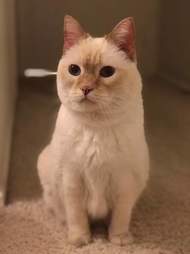 Allisyn Nguyen
Nguyen is still a little surprised that she and her boyfriend ended up with a cat instead of a dog — but they wouldn't trade Kya for anything.
"I love her so much," Nguyen said. "I've never loved an animal this much."
Thinking about adopting a dog or cat of your own? Then meet Dodo Adoptbot, an interactive guide for new pet parents. Get started on
Facebook Messenger
or text HOME to 38349.