Most Playful Cat Has Been Waiting His Whole Life For A Home
The shelter workers stay late just to hang out with him 😻
Julius the cat is spunky, brave and playful — and not to mention has the most beautiful lime green eyes.
He loves a good reason to chase a laser pointer, and will practically do anything for catnip. To Erika Cole, director of Providence Animal Control, he's the type of cat anyone would be lucky to have — but surprisingly, adorable Julius has been waiting his whole life for a home.
Providence Animal Control
Two-year-old Julius entered the rescue last January after being found living on the streets with a very injured hind leg. It's believed he was attacked by another animal while living outdoors — but luckily, he was found just in time. Once Julius got vet treatment and started feeling better, it became clear all he wanted to do was run, play and explore.
Providence Animal Shelter
"We put Julius in his own room with a view — the best one in the shelter," Cole told The Dodo. "We let him out into the lobby at night, and then when that became too boring, we gave him a friend and then even more space. We even built him a catio so that he safely can go outside."
Julius outside in his catio

| Providence Animal Shelter
Because he grew up as a stray, Julius is very curious and enjoys spending time in his own secured patio where he can get fresh air. While he enjoys living at the shelter, Cole knows he would really thrive with a family of his own — if only people would give him a chance.
"We are surprised that Julius has been with us for this long," Cole said. "We've even adopted out cats that people can't even touch, and yet, Julius sits."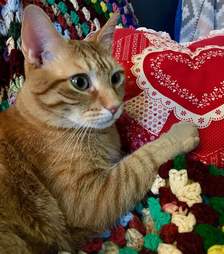 Providence Animal Shelter
Julius is timid about people at first, but with time, warms up and occasionally wants to be petted. Otherwise, he is always on the move and loves any opportunity to play.
"He is quite comical and loves to play," Cole said. "He is affectionate, but prefers to be within arm's reach, which is totally fine with us!"
Providence Animal Shelter
Julius has officially been at the shelter for more than a year now, but Cole is hopeful that the right family is out there somewhere. The rescue welcomes both local and out of state adoptions, but Cole encourages families to visit Julius in person.
Ideally, Julius would do best in a home as the only pet — but would get along with kittens or small dogs as well. He would especially love a home with a screen porch or sunroom, as he loves birdwatching and sitting in the sun.
Providence Animal Control
After waiting his entire life for a home, Julius is so deserving of a happy ending — and a family who will love him no matter what.
Providence Animal Shelter
"I stay later just to hang out with him," Cole said. "I have spent a lot of time speaking with people who have been interested, but he is still waiting."
If you're interested in adopting Julius, you can contact Providence Animal Control director Erika Cole at
ecole@providenceri.gov
.