Shelter Cat Can't Get Adopted Because He Has The Cutest Habit
ACHOO!
Elliot was living as a stray in Sussex, England, when he was taken in by a Good Samaritan and given a loving home. Unfortunately, Elliot's new owner soon realized they were allergic to him, and reluctantly had to surrender him to Cats Protection's National Cat Adoption Center.
Nine-year-old Elliot has now been at the shelter since March, and is still waiting for his forever family to find him. The senior cat is absolutely as sweet as can be, but sadly no one seems to want him — and shelter staff think it's because he can't stop sneezing.
Elliot suffers from a chronic condition called rhinitis, which causes him to sneeze a lot. While some days he's able to go a while without sneezing, other days he has long bouts of it, and his sneezy ways seem to be deterring potential adopters.
"Elliott is definitely very snuffly and his condition means he has some damage to the bones in his nose," Tania Marsh, deputy manager of the Cats Protection's National Cat Adoption Center, said in a press release. "However, this doesn't bother him and he is a happy, affectionate chap. We think his condition has put off some people from adopting him, which is a shame as [he] would make a lovely pet. We're looking for a patient and loving owner who can give Elliott the loving home he desperately needs."
Elliot himself doesn't really seem to notice that he's a sneezy fellow. Instead, he's mostly focused on getting as much attention and love from all of his human friends as possible, in the form of pets …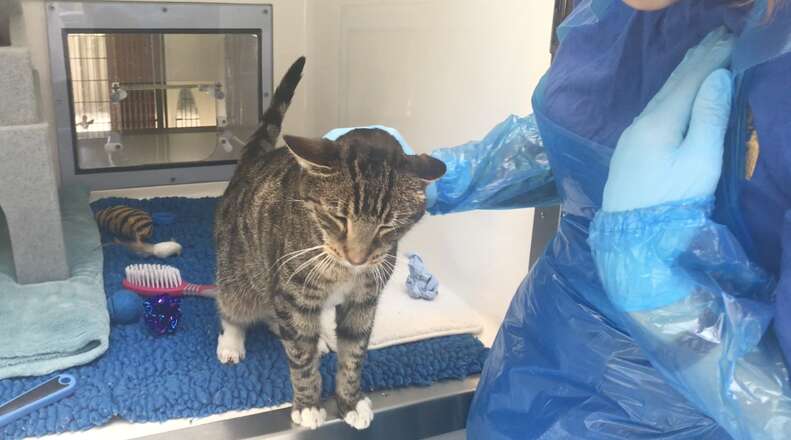 "He is a very friendly cat and loves cuddles," Catherine Jarvis, national media officer for Cats Protection, told The Dodo.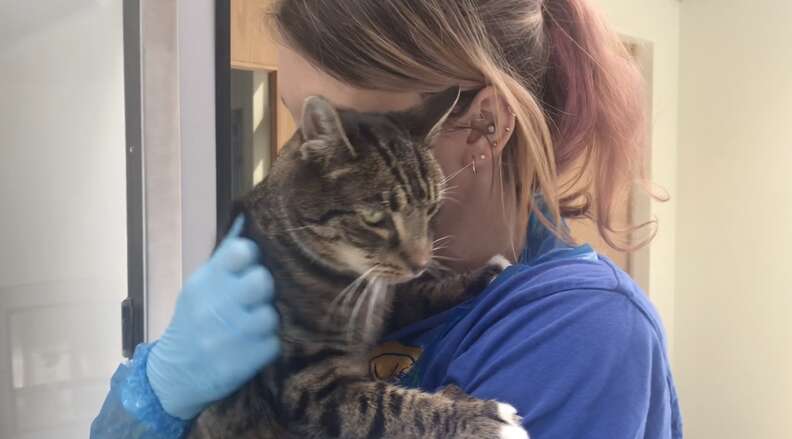 Elliot has absolutely no idea that he's any different from any other cat at the shelter, and everyone is hoping that he will soon find a family who feels the exact same way.
"Cats with health conditions may seem like a daunting prospect at first, but in many cases they can be managed well with the right care. Cats like Elliott deserve a safe, warm and loving home as much as any other cat, and we hope we can find a new owner for him soon," Marsh said.
If you're interested in adopting Elliot, you can contact Cats Protection's National Cat Adoption Center for more information at cattery.reception@cats.org.uk.