Dog Abandoned 11 Times Is 'Desperate' For A Forever Home
"She's honestly one of the best dogs I've ever met."
Sheana first arrived at a local municipal shelter in Long Island, New York in 2014.
The boxer mix was assumed to be a stray, but an abrasion on her muzzle and her notably nervous behavior around people — especially men — made shelter employees think otherwise. The person who dropped her at the shelter admitted that the scared brindle dog had indeed come from a physically abusive home, according to rescue workers, and like many maltreated animals, adjustment would be difficult.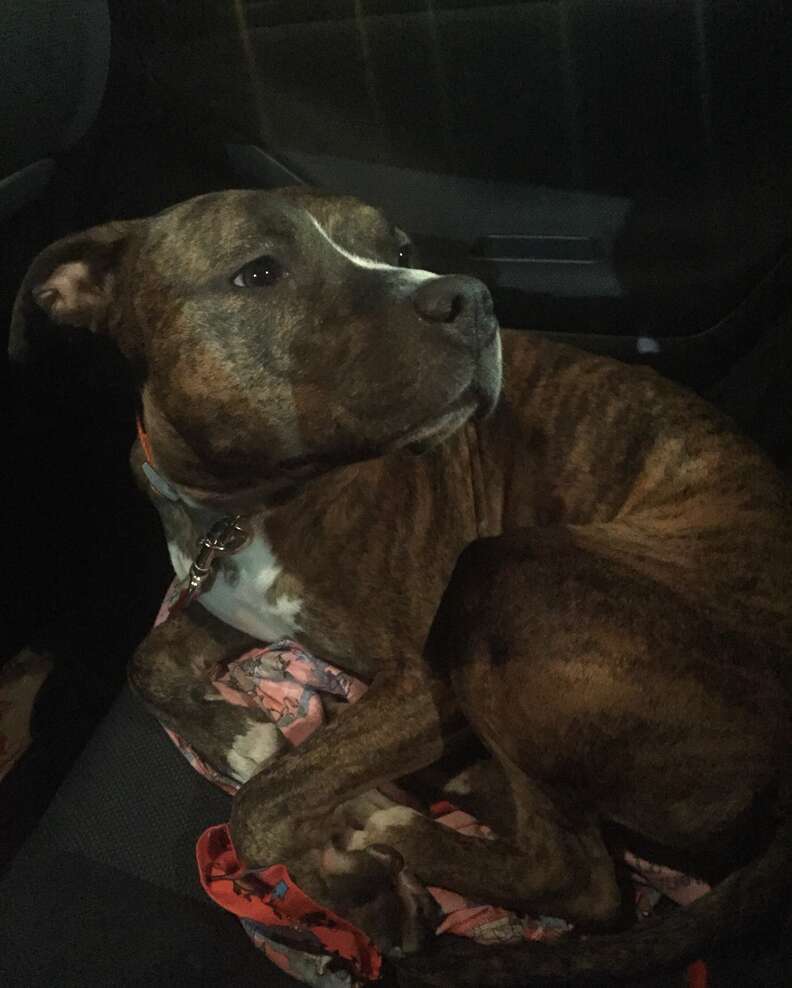 Still reeling from an early life of pain and neglect, the then 2-year-old dog slowly began to adjust to her cage at Hempstead Town Animal Shelter in Wantagh. It seemed as if luck was on her side when she was taken in by a rescue organization and later sent to a training facility with hopes of helping her become comfortable around people.
She was even adopted ... but it didn't last.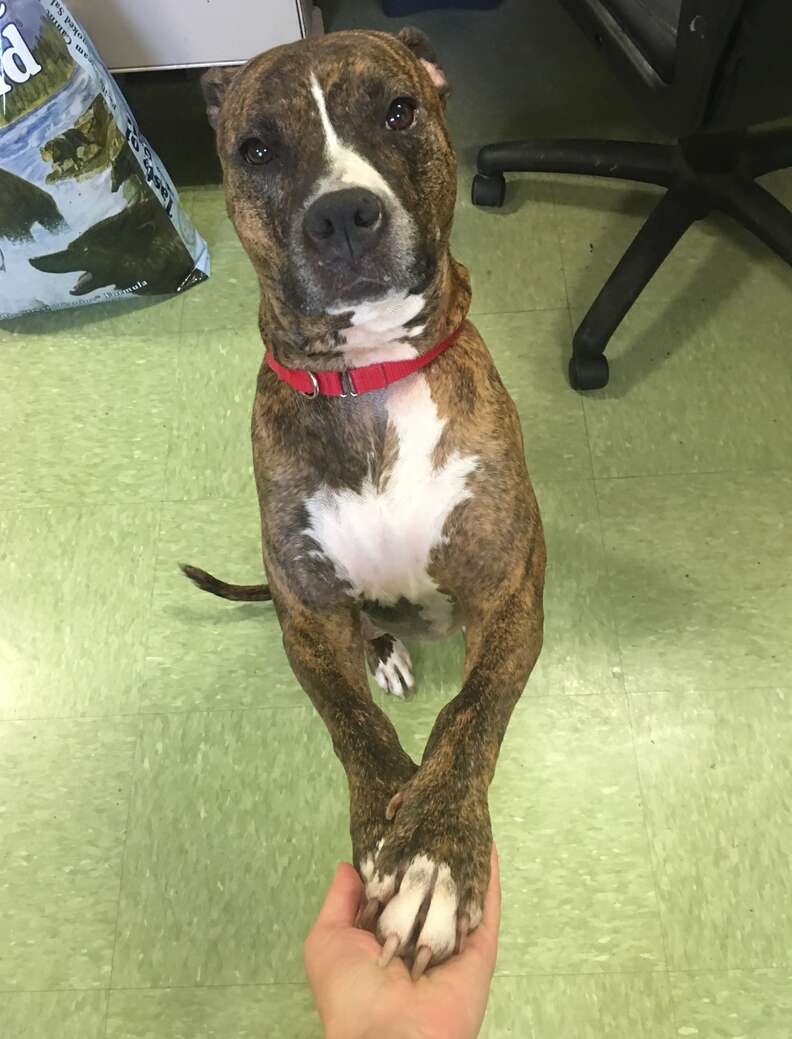 Sheana was returned to the rescue again and again, and three years later, she found herself right back at the Hempstead shelter where her journey began. It broke shelter staffers' hearts to see her returned for the 11th time.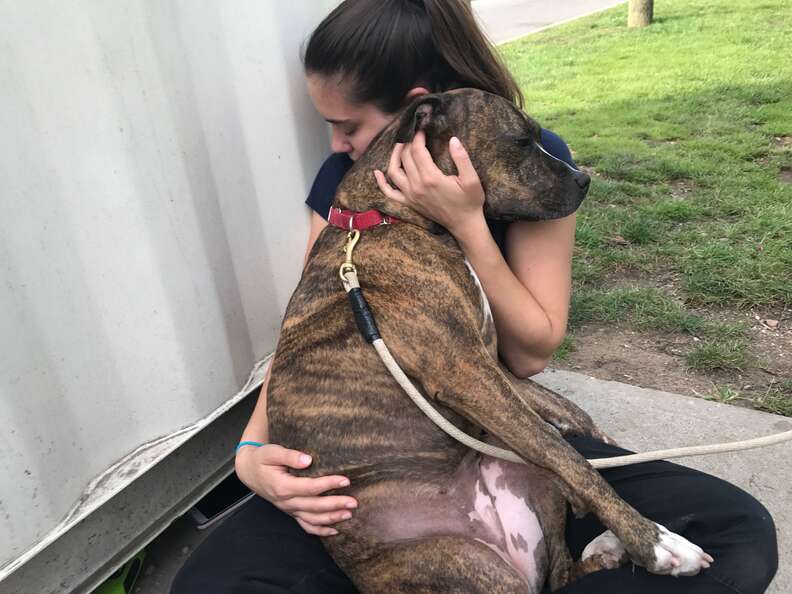 "She's been through a lot and it's taken its toll — from us, to a rescue, to training, back to us and a few homes that haven't been the right fit in between," Melissa Fogarty, kennel supervisor at the Hempstead Town Animal Shelter, told The Dodo. "She's a very resilient dog. I really do think she embodies the word."
Sheana's offenses have been mild — certainly nothing that would warrant so much bouncing around. One family returned Sheana to the shelter after she opened the fridge, wreaking havoc on food they had prepared for a BBQ, according to Fogarty. Sheana had been home alone at the time. Another family returned her when their frequent travel plans deprived her of the consistency she so desperately needs to feel comfortable.
Like Goldilocks, Sheana needs a family that is "just right." But finding a fit is proving to be more difficult than her rescuers initially imagined.
While it takes time for Sheana to warm up to new people, with slow introductions, she blossoms to the "most loving and cuddly dog," Fogarty noted. She loves to play with tennis balls and show off, constantly working to expand her repertoire of tricks.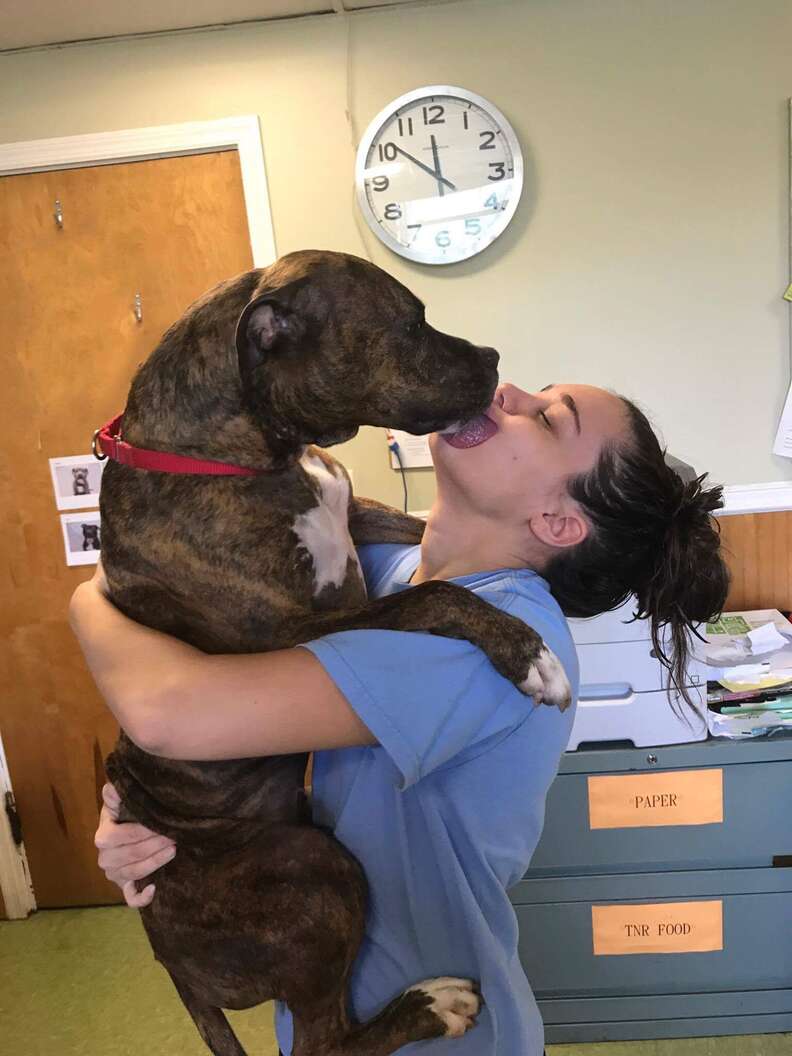 "She knows all her commands (and I mean all) — sit, down, paw (both paws), she 'prays' on command, rolls over, stay, come, spin, she balances a treat on her nose and flips it up/catches it when told and we're working on her sitting up/pretty," Fogarty explained.
Sheana currently spends her days in Fogarty's office, where she can work on her behavioral skills during any downtime. Sheana suffers from separation anxiety, which makes the constant shuffle between shelter employees difficult. "At night, before I leave work, I have to let her relax quietly and get comfortable in her crate before closing it," Fogarty said. "I leave music on for her at night to help and turn the lights off."
But spending time tackling Sheana's anxiety has also had an unexpected benefit. "As much as our day-to-day is working on her anxiety, she helps with mine as well," Fogarty added, "not to be corny."
"She's honestly one of the best dogs I've ever met and I would take her home in a heartbeat if she was good with cats," Fogarty explained. "When she loves you, she LOVES you. She's loyal, sweet, and definitely makes my day."
If one thing is clear, it is that Sheana needs a home — a forever home — and a family who will love her, quirks and all. No other gift would be as precious.
"People get scared off by the work that comes along with her," Fogarty added. "But I don't think they realize every dog you rescue needs a little extra TLC."
If you are interesting adopting Sheana and live in the tristate area, contact Melissa Fogarty by calling (516) 785-5220 ext. 4632, or emailing at melifog@tohmail.org. Follow Sheana's adoption journey on Instagram at
@adoptabledoggy
.