Firefighters Pull Shar-Pei From Frozen River Just In Time
She had wandered from home the day before — and wound up very lost 🐶❄️
With their short, bristly coats and loose wrinkles, Shar-Peis are seemingly not built for frigid winter weather, but that didn't stop one such pup named Lilly from getting herself in serious trouble.
The morning of December 30, volunteer firefighters of Station 18 in Oaklyn, New Jersey, had just finished tamping out a blaze that had taken over a chicken coop (all the chickens were saved) when they received their 300th call of the year, according to Curt Hudson, public information officer and volunteer firefighter in Oaklyn.
Witnesses on shore had spotted Lilly, who had gone missing the day before from her home in neighboring Audubon, New Jersey, wandering onto the thin ice that covered nearby Newton Creek, and falling through.
With temperatures dropping and snow falling, things did not look good for the poor pup.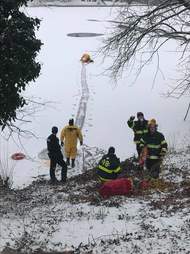 Curt Hudson/Oaklyn Fire Department
Though rescuing a cat stuck 40 feet up a tree is more often the purview of the firefighters who service the suburban town, they gamely geared up for the second time that morning to rescue the freezing dog and battle the elements.
"We were in the station, which was a plus, so we made some quick assignments. One of the guys started putting on a dry suit right away before we even left the firehouse," Hudson told The Dodo.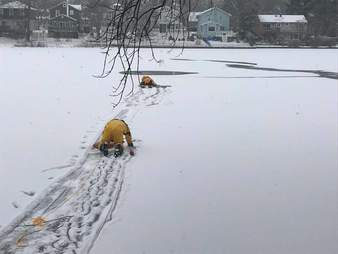 Curt Hudson/Oaklyn Fire Department
When the trucks reached the scene, another firefighter suited up, and the team climbed down the snow- and ice-covered hill with their gear, toward the struggling dog.
"Battalion Chief Greg Grudzinski was the first out on the ice. He started working his way out on the [ice rescue] sled; the second firefighter in a dry suit was Captain Fred Bartling, who followed," Hudson noted. "Greg wound up breaking through the ice, and had to break his way to get to where the dog was."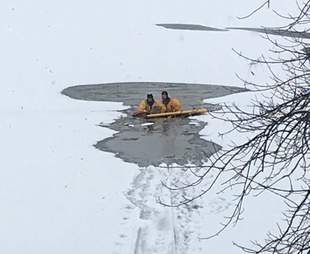 Curt Hudson/Oaklyn Fire Department
As the firefighters made their way to the dog, they could see her head above the water, but her paddling was slowing down. Within minutes, the rescuers had the exhausted dog loaded onto the sled and the crew pulled her ashore.
Curt Hudson/Oaklyn Fire Department
Out of the water, the dog was shivering and lethargic, with minor cuts from her struggles trying to escape the ice covering her body. She had been in the water as long as 10 to 15 minutes, according to Hudson, proving herself to be quite the survivor.
"A person might not have lasted that long in water that was that cold," Hudson explained.
Curt Hudson/Oaklyn Fire Department
Lilly was wrapped in a blanket and taken back to the firehouse, where she warmed up quickly. Though she had no collar, her distinctive looks helped to identify her as the Shar-Pei who had gone missing from the neighboring town.
She was happily reunited with her family and hopefully won't go wandering again in the new year.