Dog Living On Train Tracks Was Too Scared To Let Anyone Near Her
She wouldn't trust anyone — but when she realized people were there to help, she turned into the sweetest pup 💕
After Tweedy was abandoned on the streets of Los Angeles, she took shelter around some train tracks and lived there until someone finally noticed her and called for help. Hope for Paws got the call about the abandoned Shar-Pei and immediately went out to rescue her. Train tracks can be a dangerous place for an animal, and rescuers wanted to get Tweedy to safety as quickly as possible — but they soon realized that rescuing her was going to be a little trickier than they had hoped.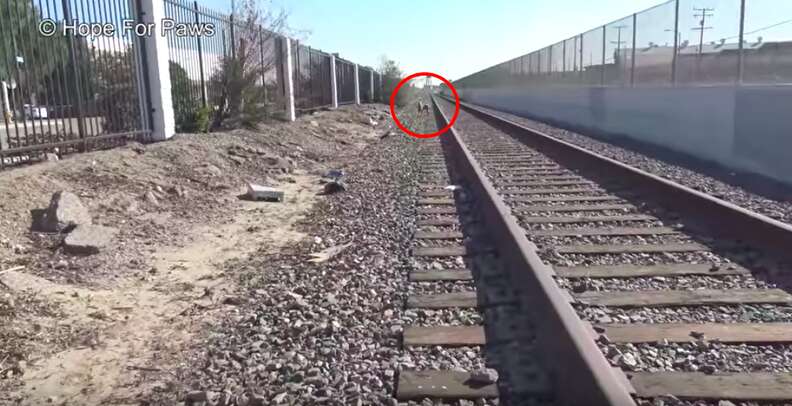 As soon as Tweedy saw JoAnn Wiltz and Lisa Arturo, rescuers with Hope for Paws, approaching, she began to back away from them. She clearly had had some bad experiences with humans in the past, and was incredibly anxious about interacting with the women trying to help her. They tried tossing some food her way, but unfortunately, she had absolutely no interest in it, and continued to refuse to come anywhere near them.
No matter how many times the women tried to get close to her, Tweedy just wouldn't let them …
… until finally, Wiltz was able to slip a leash around Tweedy's neck as she tried to run past her.
As soon as the leash was around her neck, Tweedy began to panic, so afraid that the women were there to hurt her instead of help her. As they began to try and bring her back to their car, they noticed a little dog house and some food laid out nearby, meaning that someone had been feeding Tweedy and trying to help her.
There's no telling how long Tweedy had been down on those train tracks all alone, and her rescuers were glad that it seemed she had met at least one kind person along the way.
Poor Tweedy was so frantic once she was caught that she tried to chew through the leash, unable to calm herself down …
… until they made it to the vet, and Tweedy realized that someone was finally trying to help her, and that her life fending for herself on the streets was completely behind her.
"When we got her into the car after the initial uncomfortableness of the rescue, she definitely calmed down and just sat there," Arturo told The Dodo. "I wouldn't say she was my best friend yet, but I was petting her paw and she didn't move away. She didn't look at me but she was like, 'I'll let her touch me.'"
After being examined by the vet, it was determined that Tweedy had a broken elbow, fractured teeth, a skin infection and an ear infection. They quickly began treating her for her ailments, and as her pain began to fade, so did more of her fear. She let Arturo pet and love on her, but still had trouble bonding with anyone else, and it was clear that she still had a long way to go in her recovery journey.
"I sat in the kennel with her and over the course of 48 hours I just went really slow, and got her to eat food out of my hand which is a really good step," Arturo said. "By the third day I was touching her and kissing her, and she was like, 'Oh, OK, you came to save me.' I'm so proud of her that she can trust again."
Tweedy was taken in by LA Animal Rescue and placed with a foster family, and when she arrived, she was still scared, confused and closed off. Her foster family gave her a few days to warm up to them, giving her plenty of space and time, and when she was ready she began to seek them out all on her own. They still thought she might be a little nervous because she was having trouble looking at them — until they realized there was a problem with her eyes.
"Initially I thought she was visually impaired because she wasn't making eye contact," Su Roos, Tweedy's foster mom and a staffer at LA Animal Rescue, told The Dodo. "We discovered she had entropion in both eyes and was very uncomfortable. Lisa arranged to have her eyes repaired and that really helped Tweedy's comfort!"
Once Tweedy's eyes were fixed, she began to come out of her shell even more, so happy to finally be able to see fully. She's doing so much better in her foster home and is now finally ready to be adopted. All she has to do now is wait for her forever family to find her, and in the meantime, enjoy every minute of her wonderful new life.
"We are grateful to work with Lisa from Hope for Paws and give these animals a second chance at a life filled with love and kindness," Roos said.
Watch the full video of Tweedy's rescue below: