Neglected Poodle Was Starved For So Long He'd Forgotten How To Eat
"We try [to] make each day special for our little 'blessing' and he will be cared for and loved for the rest of his life."
In June, a woman was walking down a street in Tampa, Florida, when she saw something strange in the window of a house — a skinny and sickly-looking poodle was standing in front of the glass.
"She said she could tell from the street that he was just a skeleton," Debbie Goldsberry, founder of Senior Paws Sanctuary, told The Dodo. "So she went home and called animal control."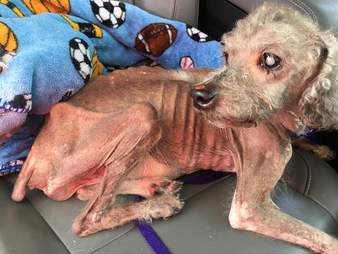 Beni shortly after he was rescued

| Senior Paws Sanctuary
When animal control officers gained access to the house, they found not one, but three starving dogs inside. Sadly, two dogs died shortly after being rescued — and the poodle who'd been standing in the window was barely alive.
The poodle, who was 9 years old and later named Beni, ended up at a local shelter, where the staff tried their best to help him. But Beni was in horrific shape. Besides being severely emaciated, he had diabetes, a tumor on his foot, a skin infection and he was missing most of his fur.
Senior Paws Sanctuary
Since Beni was so sick, he was scheduled for euthanasia. But before that happened, the shelter sent out an email about Beni, which landed in Goldsberry's inbox.
"If a rescue did not take him, he wasn't going to make it out," Goldsberry said. "So we gathered up our volunteers, and got transport to bring him two hours south to Fort Myers."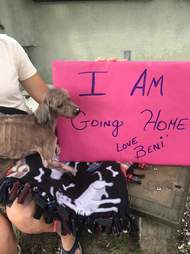 Senior Paws Sanctuary
Goldsberry made sure Beni went straight to the vet, but no one was sure if he'd make it.
"He didn't know how to eat any longer," Goldsberry said. "He would put food in his mouth, but he just didn't know how to eat it. If he did swallow it, his body didn't process it."
Senior Paws Sanctuary
But somehow, to everyone's great surprise, Beni pulled through. And after being released from the vet clinic, he went to live with Goldsberry and 26 other rescue dogs at the sanctuary that she runs near her home.
Beni still had a lot of rough days, and Goldsberry had to monitor his health closely.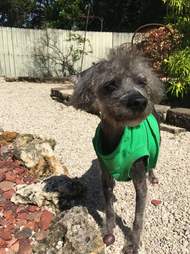 Senior Paws Sanctuary
"We were able to start feeding him food, but we had to be careful of how much we gave him because he would vomit his food up," she said. "He would also refuse water. Most diabetics want a lot of water, but Beni wanted nothing."
Every day that Beni spent at the sanctuary, he got a little better.
Senior Paws Sanctuary
"I guess he realized that people cared about him," Goldsberry said. "He started eating a little bit, he started drinking a little bit."
Goldsberry also spent a lot of time holding Beni in her arms, and reassuring him that he was safe and loved now.
Senior Paws Sanctuary
"He had lived through who knows what," Goldsberry said. "I can't imagine being that hungry that he didn't know how to eat. And just to watch his tail wag for the first time, and to watch him pick up a toy — it was amazing."
Beni's health dramatically improved — his diabetes stabilized, and he grew in a coat of shiny black fur. He also gained confidence.
Senior Paws Sanctuary
"He never stops wagging his tail now," Goldsberry said. "He never meets a stranger."
But when Beni got the tumor removed from his foot, the vet made a sad discovery — Beni had terminal cancer. "There are five stages, and he had stage three," Goldsberry said.
Senior Paws Sanctuary
But this hasn't stopped Beni from enjoying his new life — and Goldsberry does everything she can to keep Beni's tail wagging.
"We try [to] make each day special for our little 'blessing' and he will be cared for and loved for the rest of his life," Goldsberry said.