Service Pit Bull Helps His New Mom Deal With Life-Changing Disease
"When I get exhausted, my symptoms flare ... I look healthy, but I can't form words, so I would appear to be drunk and sometimes denied boarding a plane. Having Koda means I am not as tired and my invisible disability becomes visible."
Koda, a 5-year-old pit bull, was once just one of the hundreds of thousands of pit bull types who enter the shelter system each year.
His early life was unlucky, but that changed with the help of a special program that trains pit bulls in shelters to be service animals. Now, Koda spends his days helping his mom live her life in a way she wouldn't be able to without the aid of her new sidekick.
"All dogs are individuals, and while some tend to prefer staying cozy on the couch all day as a family pet, others have the right characteristics to perform service work," Bernice Clifford, director of behavior and training at AFF, told The Dodo. "In Koda's case, he had a great personality, was very comfortable with being around other dogs and people and had the desire and energy to do the work."
Koda's initial home was on a farm, where he would sometimes go roaming in the pastures with the cows. Though he never bothered them, the landlord was uncomfortable with the visits and demanded that the family get rid of Koda or move out. They decided to rehome Koda, but a follow-up from an animal control officer revealed that his new owner had been convicted of animal cruelty previously and was not allowed to own pets. Koda was removed and placed in the shelter, where he was fortunate enough to be discovered by AFF.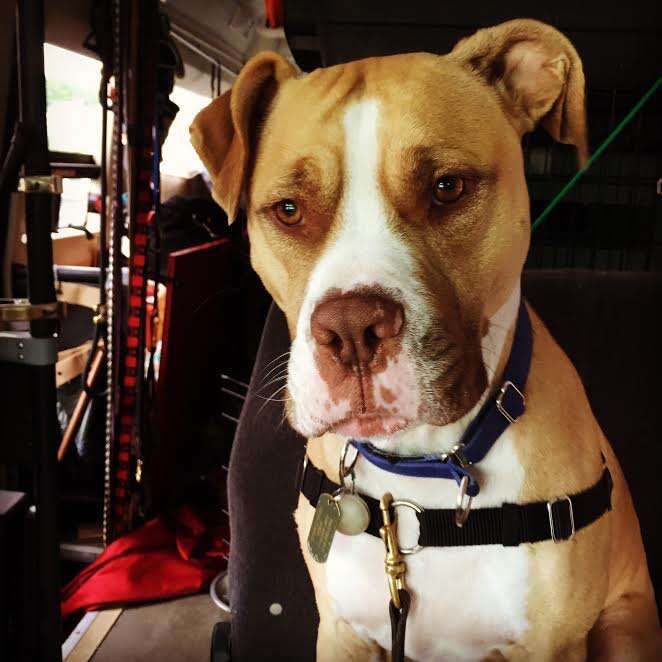 Koda trained for one year with the program under a trainer, first learning basic obedience and training in the same types of environments he would experience with his handler (such as airports, planes, grocery stores or public transit). He learned what to do in response to seizures in the home or in public, how to retrieve dropped items and how to go get help in the home (either from another person or by pushing an emergency call button) when needed.
Eventually, once he completed training, Koda was matched with a handler who was absolutely perfect for him — Fiona Gilbert, an exercise physiologist in San Francisco, California.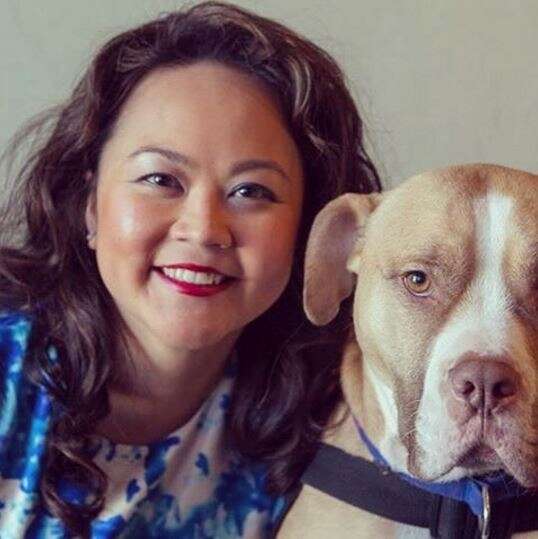 Gilbert was diagnosed with multiple sclerosis (MS) in 2003. She tried managing her symptoms for years before watching a documentary about a woman with MS who trained service dogs, which inspired her to apply for a service pit bull in 2014. Gilbert waited nearly three years before finally receiving a service dog — a common waiting period for any type of service dog, according to Gilbert.
"It was my husband who first said, 'What you need is a pit bull service dog,' and I remember saying, 'Don't be stupid, there's no such thing,'" Gilbert said. "And here I am with an ultra-amazing pit bull service dog."
"It's not often that you see a movement therapist needing a service dog to help them move and do their job," Gilbert told The Dodo. "I travel a lot for work and my job is physically demanding."
Gilbert, who works with patients who suffer from neurological disorders like herself, was frequently exhausted from performing her job. Koda stepped in to help Gilbert while she works so that she is able to use less of her body strength and concentrate more on the client.
"Koda braces me when I do [flexibility training] work on my clients so I am not so tired at the end of the day," Gilbert said. "I'm able to do things like make dinner and have a conversation with my husband without falling asleep on the couch or into my soup."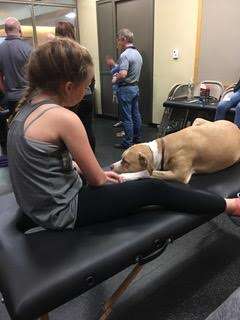 Before Koda, even walking was a difficult task for Gilbert to maneuver. "Walking is one of the trickiest [and most tiring] things to do when you have a neurological disorder," she said. "With Koda, I can trust him to make sure that I am safe and walking well, so I don't need as much energy to walk."
In fact, the exhaustion itself was an issue for managing Gilbert's MS — particularly when it came to traveling for her job. "When I get exhausted, my symptoms flare," Gilbert said. "Travel became difficult. I look healthy, but I can't form words, so I would appear to be drunk and sometimes denied boarding a plane. Having Koda means I am not as tired and my invisible disability becomes visible."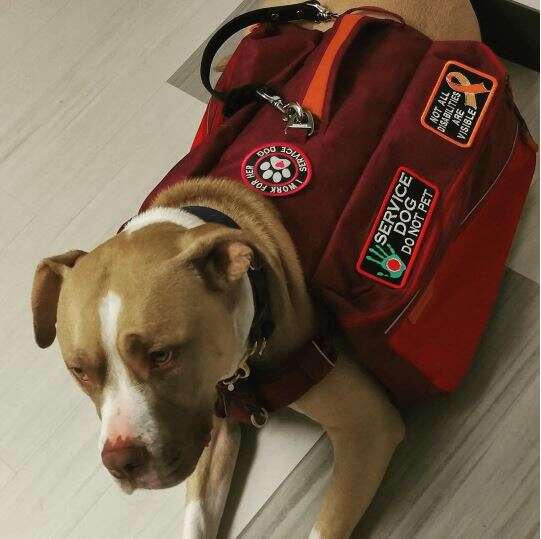 Though Koda works frequently, he is still a dog who enjoys his downtime. He loves sunbathing …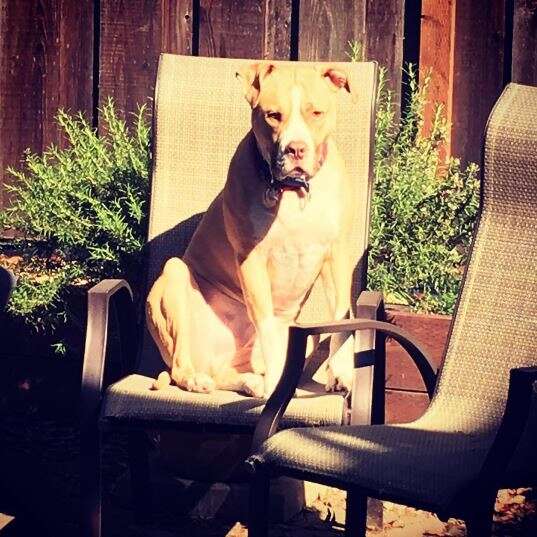 ... snuggling under the covers …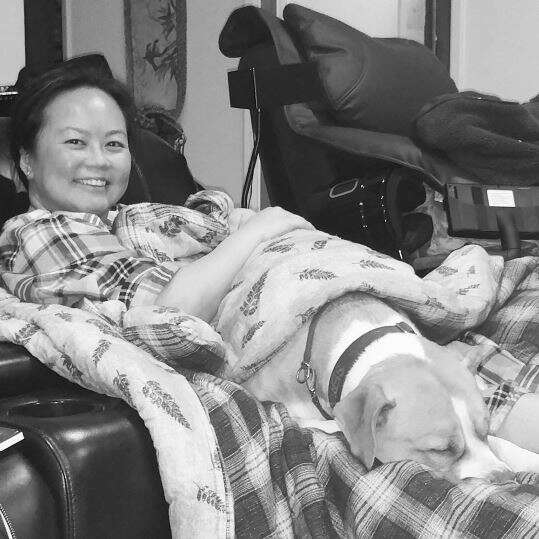 ... playing with his favorite squeaky elephant toy, named Mouse …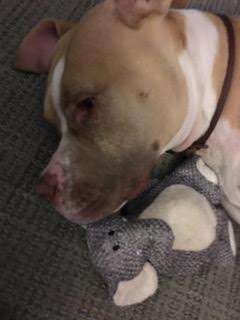 ... and snacking on bread and cheese — or in this case, watching his dad make hamburgers.
Gilbert and Koda's relationship also helps break down stereotypes about pit bulls. "I'd never owned a pit bull before Koda, but I was familiar with their public image and thought it was unfair to sideline an entire breed," Gilbert said. "Seeing us work, people have been learning about dogs as individuals."
Gilbert relates to Koda on a personal level, as well. "Koda has had quite the roller coaster in life and so have I," Gilbert said. "But being a pit bull or a person who has a diagnosis handed to them or a crappy history doesn't define who they are. It is what they do with it, it is how we respond back to the world that defines us."