Watch This Adorable Service Dog Practice Giving 'CPR'
"It's one of her favorite tricks to do."
Meet Sadie — a sweet-natured service dog who's as smart as she is cute.
That is to say: very.
Jameson LaTour
Sadie is a medical alert animal for her best friend and owner, Jameson LaTour, helping her cope and feel comfortable when her anxiety spikes. But when not on that particular job, Sadie still loves to be taught more skills and tricks.
"She is an extremely fast learner!" LaTour told The Dodo. "She picks things up very fast!"
The clever pup has a whole host of abilities, thanks to training from LaTour. But her most favorite talent is a bit more hands-on than the rest. Sadie learned to give CPR — her own adorable version of it, anyway.
Here's video of Sadie in action:
Though Sadie may technically miss the mark with her method of CPR (landing more around the tummy), her enthusiasm in performing it certainly hits the heart.
And given this skill is all just for fun, in the end that's what matters most.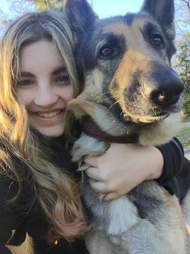 Jameson LaTour
"It's one of her favorite tricks to do," LaTour said.