Service Dog Can't Believe She's Meeting Her Favorite Disney Princess
She couldn't stop smiling 💗
Nala the service dog works hard every day. So when she finally gets a moment to relax, she deserves it.
And there's one place that Nala knows she's always going to have a good time: Disney World.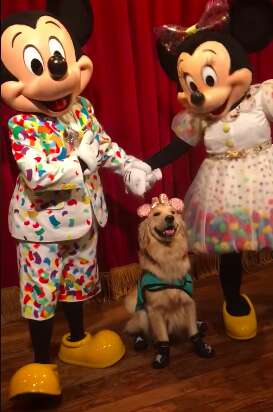 Nala performs medical response tasks for her owner Megan Leigh, and visiting the theme park has become a tradition for the pair. Nala and Leigh even have matching mouse ears.
"I have always loved Disney," Leigh told The Dodo. "Before I got a service dog, my health would get in the way of me traveling independently. So now I can go to Disney and enjoy myself because Nala helps me be more independent."
Nala shares Leigh's passion for Disney and is able to experience most of the park with her owner — from going on the rides to meeting the characters.
"They can go on any rides with their handler as long as they don't have a height requirement," Leigh said. "Her favorite ride is the People Mover because she can feel the wind in her face!"
But what Nala enjoys more than anything is meeting the princesses.
"Her favorite parts of Disney would be going to the Magic Kingdom," Leigh said. "She loves doing character meet-and-greets as her 'Go say hi' command is a fun reward for her. Meeting the princesses is a favorite!"
When Nala plays with the princesses, she's treated like a celebrity: "[The princesses] love her! Many of them recognize her because we are annual pass holders," Leigh said. "They always say, 'Hi Nala! It's so good to see you again!'"
Nala loves soaking up all the pets and attention, especially from her favorite characters Ariel and Cinderella. Ariel always invites Nala to come and sit on her bench with her, while Cinderella gives the best belly rubs.
Leigh is grateful for all the hard work Nala puts in each day, and always makes sure Nala is comfortable in a cooling vest and booties to protect her paws from the hot pavement.
"We are best friends and a team! She helps me, I help her," Leigh said. "A balance is important in working dogs. That's why I believe it's so important that she gets to have fun at Disney, too."