Service Dog Wouldn't Miss Her Girl's Prom For The World
"I'm not weaker because of my disability or because I have a service dog, I'm actually a lot stronger."
Claire and her service dog, Percie, have always been inseparable — so when it came time for her to attend prom last week, it only made sense that Claire's faithful pup would dress up and join along, too.
But even during the dance, Percie proved yet again that she's far more than just a cute companion.
Percie is a medical alert dog, trained to mitigate Claire's disability by sensing and intervening when a problem begins to arise, allowing her to live a more normal life.
"A large part of my disability are anxiety-derived 'episodes,' which can best be described as panic attacks," Claire tells The Dodo. "Percie can detect my cortisol levels and lets me know when an episode is about to happen based on my levels. This gives me the advantage of knowing before the episode occurs so I can take measures to lessen its severity."
Although the dance was a happy affair for Claire, her boyfriend and their friends, Percie never let her guard down — and that made all the difference.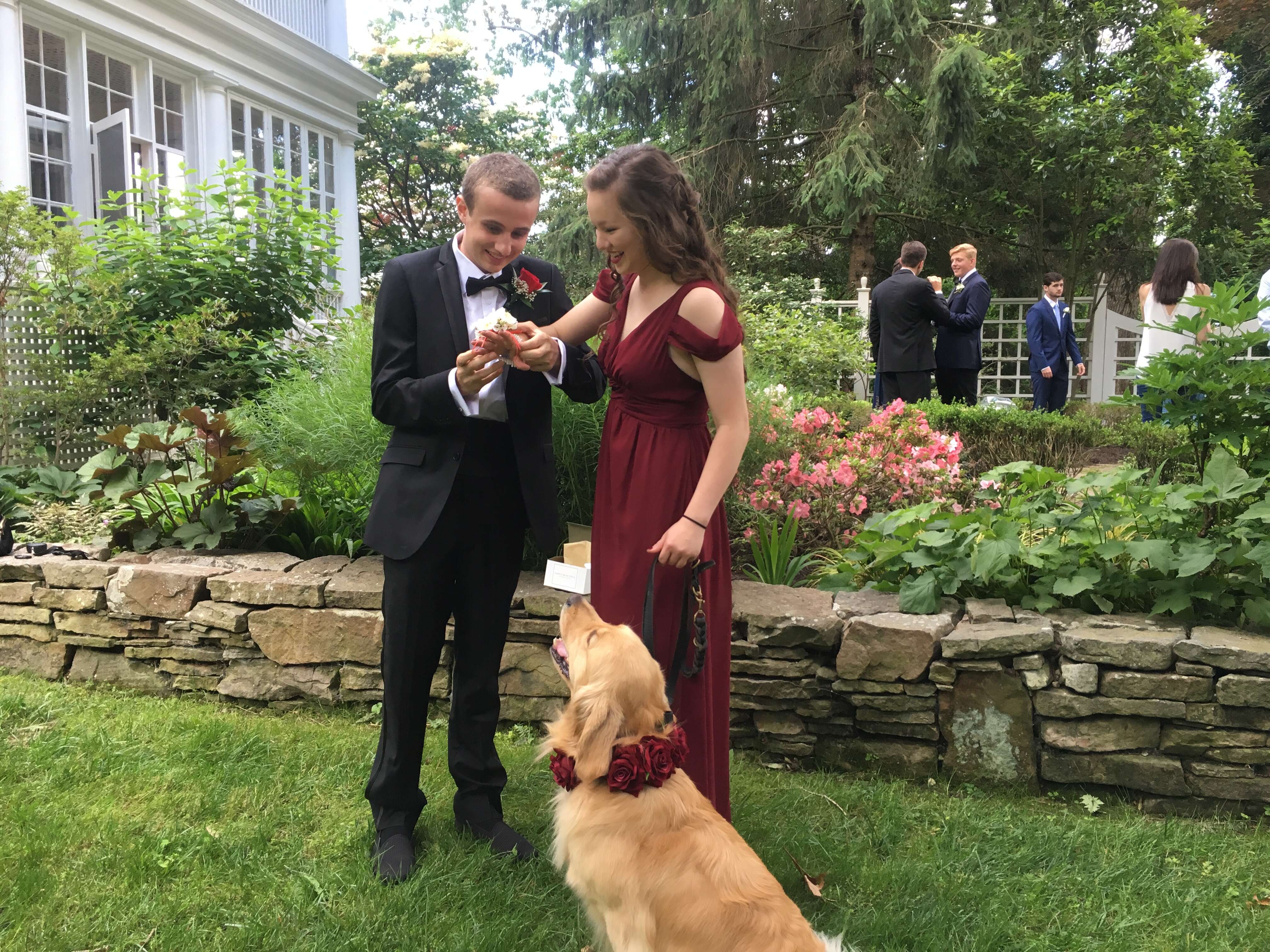 Claire had expected episodes might bubble to the surface during the dance, but despite all the excitement, Percie still managed to sense them and help her owner cope when they got stronger.
"She helped me during prom by alerting me several times, which she does by excessively pawing or nudging me with her nose," says Claire. "She performed 'blocks' or 'covers' by moving her body into positions that prevent people from getting too close while I recovered from less severe, short episodes."
About an hour into the prom, a more intense episode came on, which prompted Claire to depart a little early. While she and her boyfriend waited for her mom to pick them up, Claire said Percie helped keep things under control "by shifting her weight onto pressure points on my lower body when I am sitting down, which can alleviate some symptoms."
Although she wasn't able to stay for the entire dance, for Claire it was still a victory:
"Without Percie, I would not have had the courage to go to prom in the first place."
Claire's experience at prom highlights just one of many instances Percie has helped her — and she wants to spread the word about how important dogs like Percie are in the lives of those who need them.
"I hope to educate the public about service dogs and invisible disabilities, but I also want to help others feel less alone and more valid in their battle," she said. "I'm not weaker because of my disability or because I have a service dog, I'm actually a lot stronger."
Follow Percie and Claire on Instagram to keep up with their adventures.