Dog Who Lost Her Puppies Is The Best Mom To Her New 'Babies'
"I've never seen her interact or have any affection to any other toys, so it's pretty amazing how much these little things mean to her."
A pug named Fergie spent the first seven years of her life at a puppy mill, trapped in a tiny cage, producing litter after litter of puppies only to have them taken away from her immediately. During these seven years she lost an eye, went mostly blind and deaf, and developed deformed feet, terrible arthritis and many other health issues — but somehow, she never gave up hope, and stayed the sweetest dog throughout it all.
When Fergie could no longer give birth to any more puppies, she was abandoned and taken in by West Suburban Humane Society in Downers Grove, Illinois. The poor dog was so shut down when she arrived at the shelter, all she could do was sit in the back of her kennel and shake. She refused to eat or do much of anything at all, and so the shelter found a foster home for her, hoping that having a quiet home would help her relax and come out of her shell a little bit.
"She changed the minute she got in the door," Jenny, Fergie's foster mom, told The Dodo. "First night she was scared but the next morning she was completely different."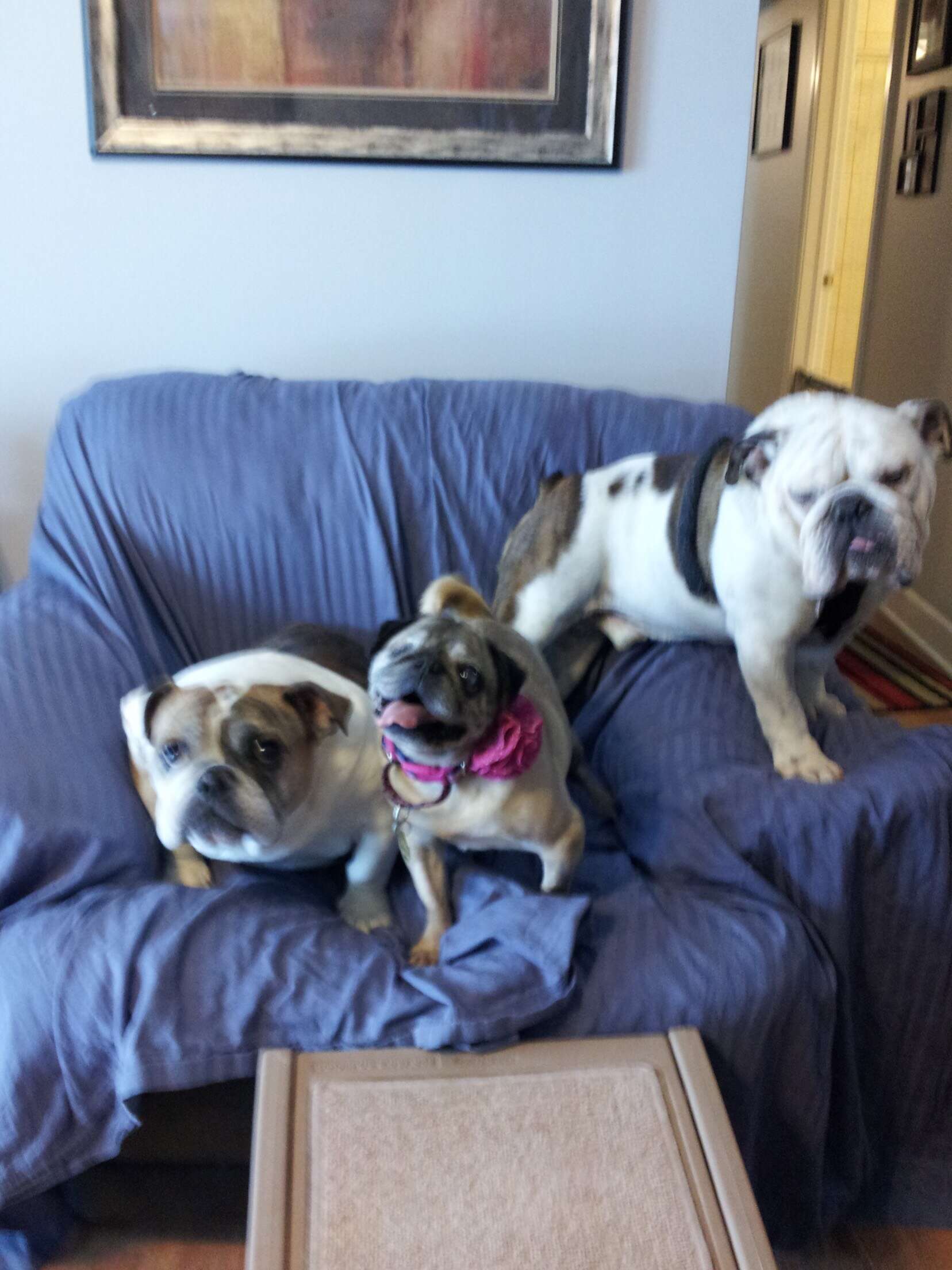 Once Fergie realized she was finally safe, she began to thrive in her foster home, bonding quickly with her bulldog foster siblings. She loved bossing them around and always being by their sides, and quickly became very protective of them. She also claimed three toys as her own as soon as she arrived in her foster home, and refused to play with any other toys. The three toys became her babies — babies that finally wouldn't be taken away from her before she was ready.
"She was a great momma, even with her fake babies," Jenny said. "Always kept an eye on them and made sure they were always by her. For being the smallest, she was very protective over [her foster siblings] Georgia and Lincoln. She made sure they were always safe. If someone knocked on the door she was first in front of them. We had to move her crate in Lincoln's room because he would cry at night. Once we did he slept peaceful. She gave him a sense of calmness."
Her foster family began calling her Fergie Mama, because she'd been a mother her entire life, and was so protective and loving toward everyone and everything around her.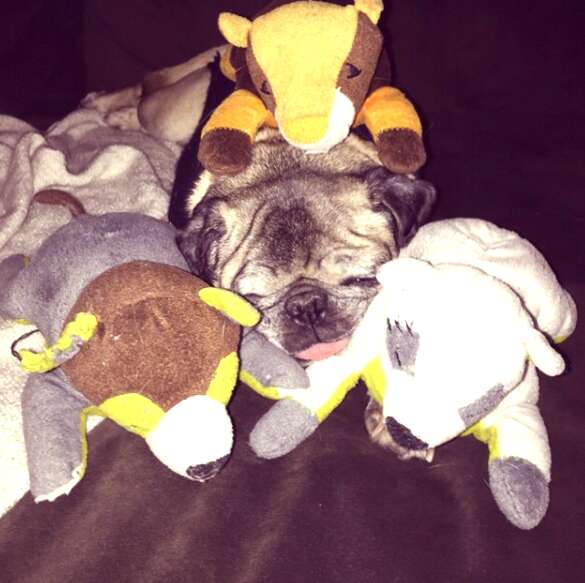 When it finally came time for Fergie to search for her forever home, West Suburban Humane Society began posting about her on Facebook. Hundreds of people liked and commented on her posts — but only one applied to take her home.
"I saw her picture in a rescue advertisement and to me she was the one-eyed little wonder that I couldn't refuse to adopt," Elissa Bulgatz, Fergie's mom, told The Dodo. "I fell in love with her the second I went to visit her. It's still crazy to me that no one wanted to take a chance on her but me; it's like it was meant to be."
As soon as Bulgatz saw Fergie's picture, she knew she had to adopt her. Fergie's foster family told her all about her sad past, and how she'd been at the shelter when she was first rescued. Bulgatz was worried that Fergie might shut down again after leaving her foster home — but instead, she immediately made herself right at home.
"I was so curious to see how Fergie would react when I brought her home," Bulgatz said. "Would she act like she did in the shelter? Would her personality change? When I adopted her, she knew. She found a family, she was home."
From the moment Fergie arrived in her forever home four years ago, she was absolutely thrilled to be there. Despite all of her health issues, she is always the happiest pug around, and is so excited to meet every single person who crosses her path. Her favorite activities include following her mom around everywhere and sleeping the day away — and, of course, caring for her toy babies, which she brought with her from foster home and still has to this day.
"She got her 'fake babies' at her foster home from digging into a bin of toys to find three 'babies' at the bottom and she hasn't let them go since," Bulgatz said. "She licks and plays with them every day and will get stressed when she can't find them, she'll cry and pace back and forth until she finds them and then she'll do a happy whine and lick and lick. I've never seen her interact or have any affection to any other toys, so it's pretty amazing how much these little things mean to her and it shows just how good of a mother she was to her babies that were taken away from her."
Fergie also has a rescue pug brother, Johnny, and a rescue cat brother, Whiskey. She and Whiskey are the best of friends, and spend a majority of their time looking out for each other. Fergie is around 12 years old now and has trouble getting around, so she spends most of her time napping, but Whiskey is always down to lounge around with her, content just to be by her side.
"When I first adopted Whiskey, Fergie was confused, but they instantly became best friends and it's very cute to see how much Whiskey cares for Fergie," Bulgatz said. "They sleep right next to each other every night. I've never seen a cat/dog bond like this in my life. It's heartwarming."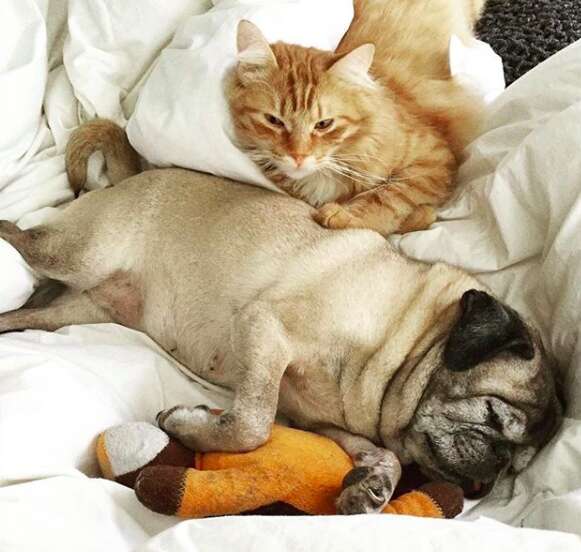 As the years have passed, Fergie's health issues that she developed from her time at the puppy mill have worsened. Her arthritis is incredibly limiting, and her mom has to carry her everywhere, even just outside to go to the bathroom. Her tiny body is incredibly frail and fragile, but none of this has stopped Fergie from always having a smile on her face, and always being eager to put a smile on everyone else's face, too. Her mom has no idea how much time they'll have left together, but is just so grateful to have known little Fergie at all, and to know that she was able to give her the best second chance.
"People fall in love with [Fergie] when they meet her and they can't help [but] have the biggest smile on their face when petting her," Bulgatz said. "Once I explain her story, they fall in love with her even more. People walk away from her wanting a dog as special and compassionate as she is. She's taught myself and others to never judge a book by its cover, or a dog by its breed. Most importantly, she's taught me that there's ALWAYS a reason to smile."