Senior Pug Once Called 'Ugly' Wears The Prettiest Dresses Now
"I ask her, 'Who's a pretty girl, Mabel?' And she gets all excited and wags her little tail."
"Ugly sweet old pug." That's how a senior dog named Mabel was advertised for sale online.
"When I read it, it hurt my feelings — that someone would call her 'ugly,'" Izabella St. James, an avid pug rescuer and the woman behind The Pug Queen, told The Dodo. "So I immediately reached out. I could tell that she really needed help."
As it turned out, the woman selling Mabel wasn't the original owner — she'd gotten the older pug from someone else.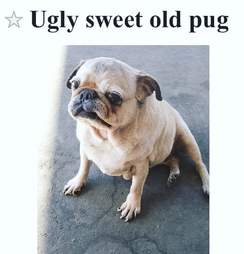 A screenshot from the online post that was selling Mabel the pug

| The Pug Queen
"The story was that she belonged to a girl, who grew up and went to college and just left the dog behind," St. James said. "Her parents had divorced — the mom took off, and basically Mabel was left with the father, who was allergic to dogs and didn't like dogs."
The father did hold onto Mabel for a while, but he kept her in an isolated part of the house with a doggy door so Mabel could let herself in and out. Mabel got little to no attention, and her health deteriorated.
The Pug Queen
"A huge bowl of dry food was left for her continuously, so she got really overweight," St. James said. "Her nails were overgrown. She had tumors hanging from her belly, and warts on her belly and armpits and on her eyes. Her nails were so long that they curled into her pads. She had really bad teeth. It was just a really sad case of neglect."
Eventually, the man gave Mabel to a local woman who rescued dogs — but the woman was struggling to look after the other dogs in her care, which is why she put Mabel up for sale.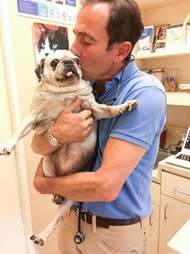 The vet who treated Mabel hugging and kissing her

| The Pug Queen
"She couldn't keep her because she was living in a small place, and she already had three or four other rescue dogs," St. James said. "So I said, 'I'd love to take her and help her.' But she said, 'She has a lot of issues — tumors and bad teeth. And she's kind of ugly-looking.' And I said, 'I think she's beautiful.'"
Once Mabel was in her care, St. James immediately took her to the vet to get her checked out. Thankfully, Mabel's tumors turned out to be benign, so the vet focused on treating her overgrown nails and fixing her teeth.
The Pug Queen
"We had all the loose and rotted teeth removed," St. James said. "She likes to kiss, so I wanted her to have nice teeth when she kisses."
The vet also removed many of Mabel's warts.
"I wanted to make her more adoptable, and just not to let anyone have an excuse to call her ugly," St. James said. "I wanted her to be healthy, and to also look pretty and feel good. To me, she's beautiful and adorable, and she has a distinctive senior face."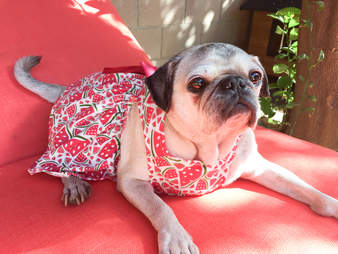 The Pug Queen
Determined to make others see Mabel's beauty, St. James decided to dress the older pug up in pretty outfits.
"She loves it — she loves the attention," St. James said. "Maybe some people see it as silly ... but I think that she feels the extra care. I ask her, 'Who's a pretty girl, Mabel?' And she gets all excited and wags her little tail. And of course, the other dogs run around and come over to her."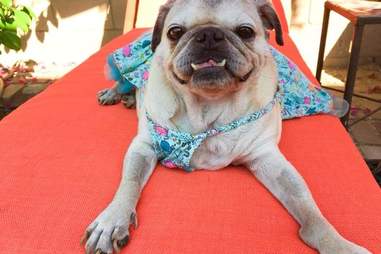 The Pug Queen
"I really wanted to make her feel special," St. James added. "That quote from 'Dirty Dancing' kept resonating in my head — 'Nobody puts Baby in a corner.' So I thought, 'Nobody puts Mabel in a corner. No one's going to call her 'ugly.' No one's going to keep her isolated.' So I started putting little dresses on her, and little babushka wraps on her head."
Now Mabel has a full collection of outfits, including a watermelon dress and a set of pearls.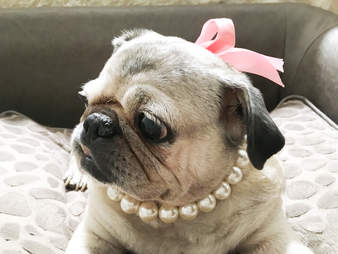 The Pug Queen
For the moment, Mabel lives with St. James at her home in California, although St. James is hoping she'll find the perfect family for Mabel — and Mabel's growing collection of dresses.
The Pug Queen
"She's a sweet little girl," St. James said. "I just hope that someone falls in love with her, and a lot of people do have a heart for senior dogs."
But at the same time, St. James wants to find Mabel the right home — if not, she'd rather keep her.
 
The Pug Queen
"If the right home were to come along … then I think I would let her go," St. James said. "But if that home doesn't come around, then I'll be happy to give her a place to live out the rest of her life. Because then at least I know that she'll be loved and taken care of."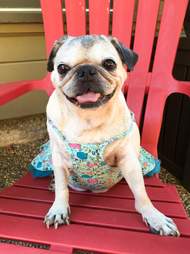 The Pug Queen