Dog Who Spent 15 Years Outside On A Chain Finally Gets A Real Family
"This dog wasn't acting like a dog at all ... I don't think he'd ever been inside anywhere in his life."
The 15-year-old husky had never been inside a house. Instead, he'd spent his entire life chained up outside of one.
In February, emergency workers rushed to a property in New Philadelphia, Pennsylvania, after a roof collapsed on a dilapidated house on the premises. While they were there, the workers noticed an old husky tethered to a heavy chain.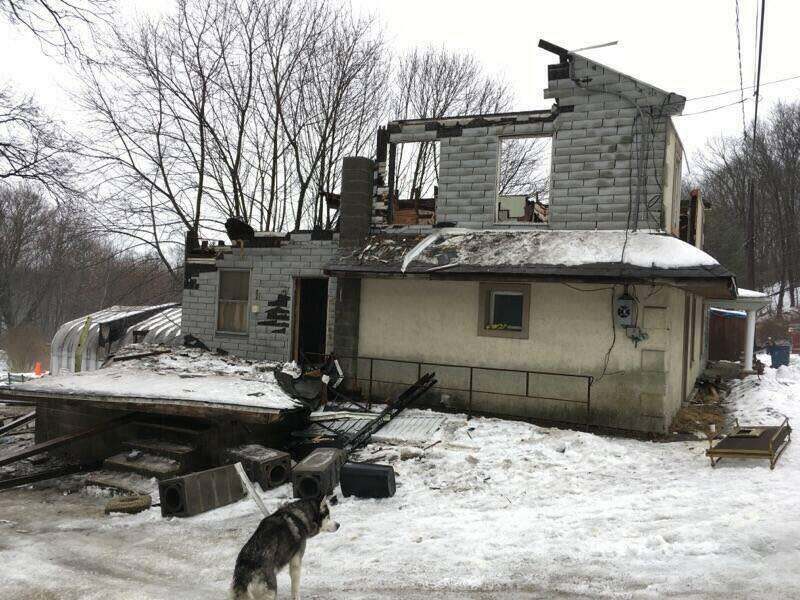 In Pennsylvania, it's actually illegal to keep a dog chained outside for more than nine hours a day, thanks to a new animal welfare regulation called Libre's Law, which went into effect last year. If it's freezing outside, a dog is only allowed to be chained up for a maximum of 30 minutes. A dog also can't be chained up in an area covered in waste.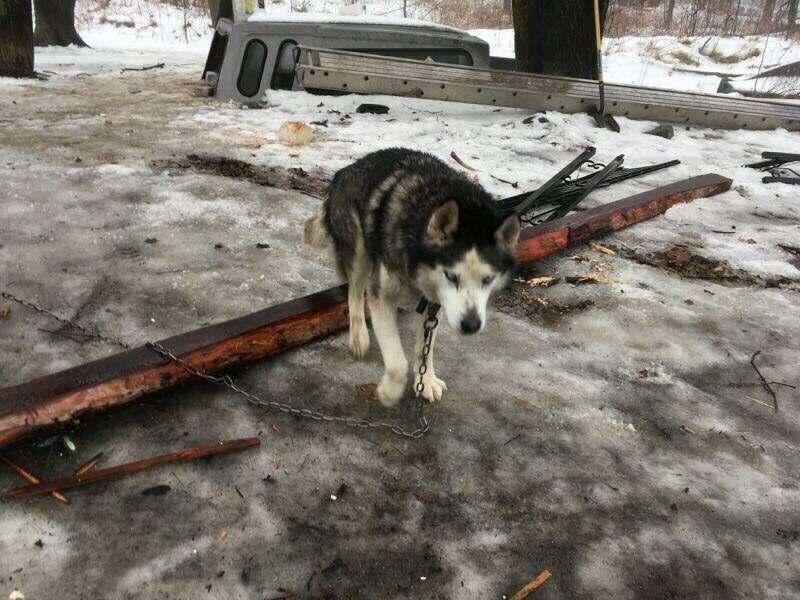 The owners of this husky were breaking all the rules. It was freezing outside, and the ground was covered in snow and the dog's own waste. While there was a small doghouse and a car roof for the dog, he didn't have adequate shelter from the elements.
The worst part was that the dog, whose name was Cloud, was kept chained up all the time. In fact, he'd probably spent his entire life on that chain.
Rescue workers from Hillside SPCA, an animal welfare organization and shelter, arrived as quickly as they could. When they explained to the owners that they were breaking the law, the owners agreed to surrender Cloud to them.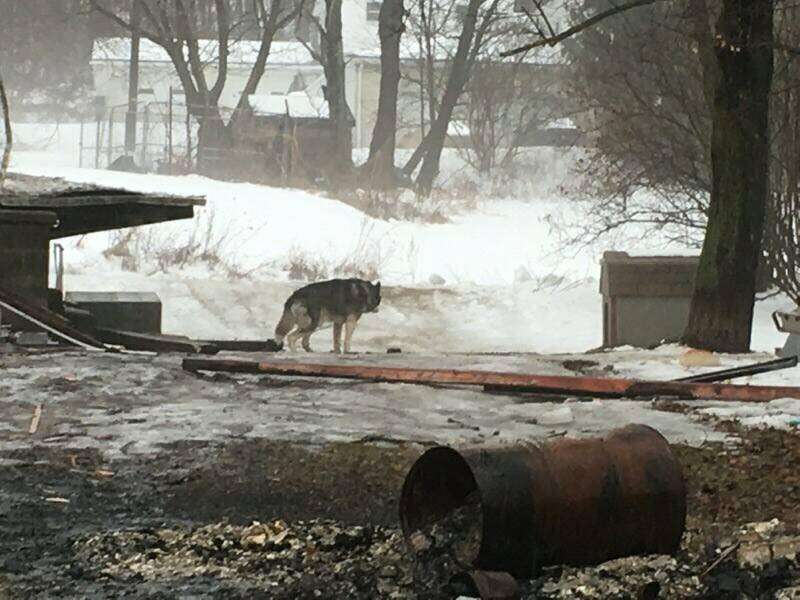 "When we met Cloud we were in shock at his condition," Tricia Moyer, assistant shelter manager at Hillside SPCA, told The Dodo. "He was a broken, sad shell of a dog. His fur was thickly matted. He had a large mass on his hind end and he was very thin."
The rescue team got Cloud back to the shelter, where a vet examined him. The mass on his back end turned out to be a tumor, but based on his age, the vet didn't think it was safe to operate. They also discovered that Cloud was deaf.
Cloud also wasn't coping well in the shelter environment — he'd pace, collapse and fall asleep, then wake up and start pacing again. Moyer got in touch with Eleanor Garrett, co-chair of Senior Dog Haven and Hospice, to see if she could foster him.
"She [Moyer] was pretty upset," Garrett said. "She sees dogs in all kinds of conditions, but she said, 'This dog wasn't acting like a dog at all, he's just a mess. He's walking into things.' I don't think he'd ever been inside anywhere in his life, so he was just so out of sorts."
Garrett agreed to take Cloud, but bringing him into her home didn't immediately solve anything.
"He wouldn't stop pacing, he wouldn't stop moving," Garrett said. "I had him in my house, and he was knocking things over. He was running into things, and I thought, 'Oh no. This is going to be difficult.'"
Cloud did everything he could to avoid contact with Garrett and her three young children.
"He wouldn't interact with us, and if you tried to go over to him, he'd just hide in the corner," Garrett said. "He found a spot in my laundry room next to my dryer. There were things next to it, and he knocked it all over — it was almost like he was trying to get behind the dryer to hide. He stayed like that for over 24 hours."
Instead of forcing Cloud to come out, Garrett left him alone for a while — and this seemed to do the trick.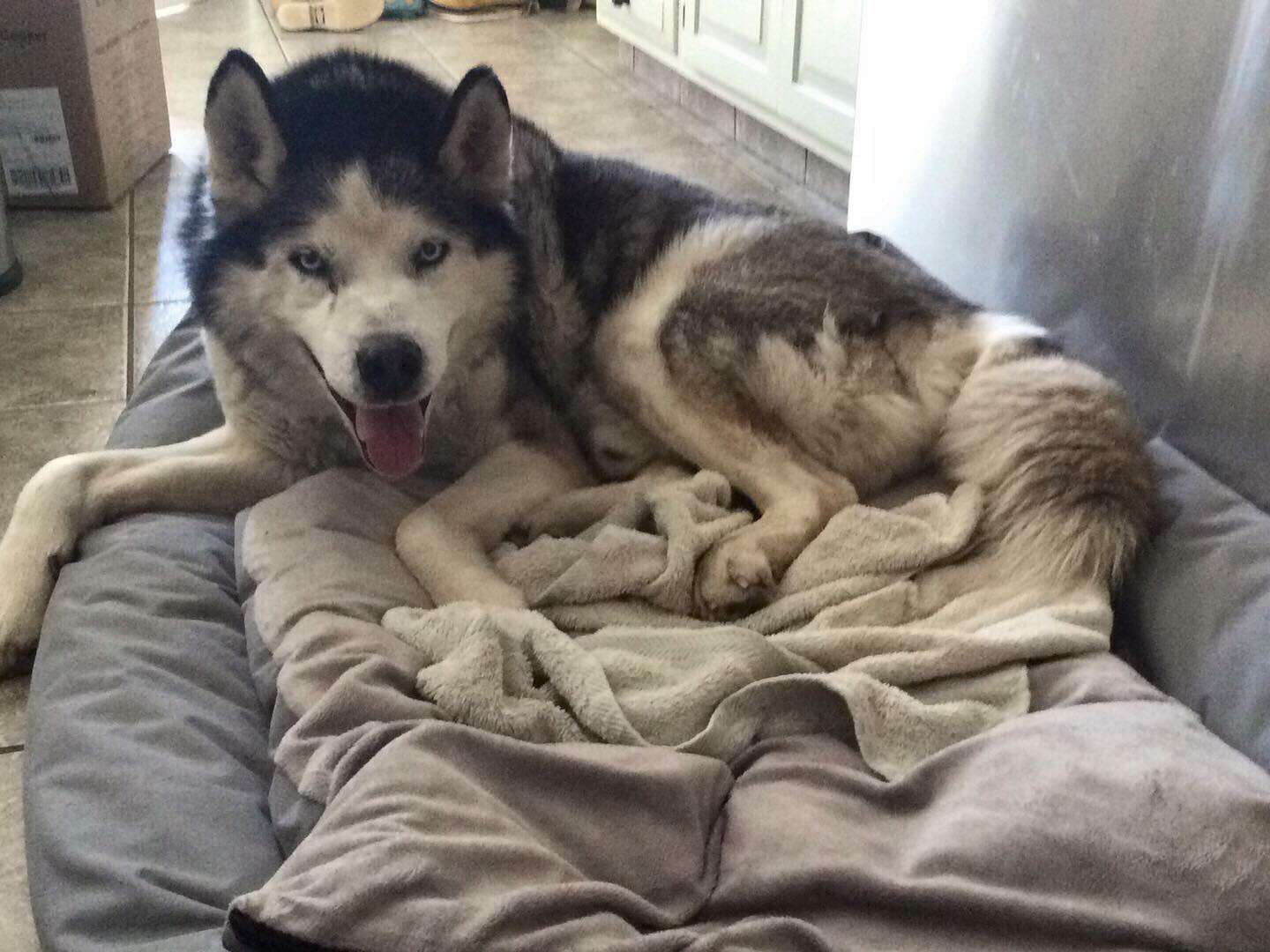 "I was in my laundry room getting something, and all of a sudden, I felt this little swipe of a paw on my foot," Garrett said. "I looked down, and he was swiping at me to try and sit down and pet him. So I sat down and I started petting him, and he started giving me kisses, and anytime I stopped, he would swipe his paw at me again."
This changed everything between Cloud and Garrett, and Cloud became a friendlier, more relaxed dog. "It was like he seemed to realize that we were friendly and we were safe," Garrett said. "Every day from that point, he just got better and better and better."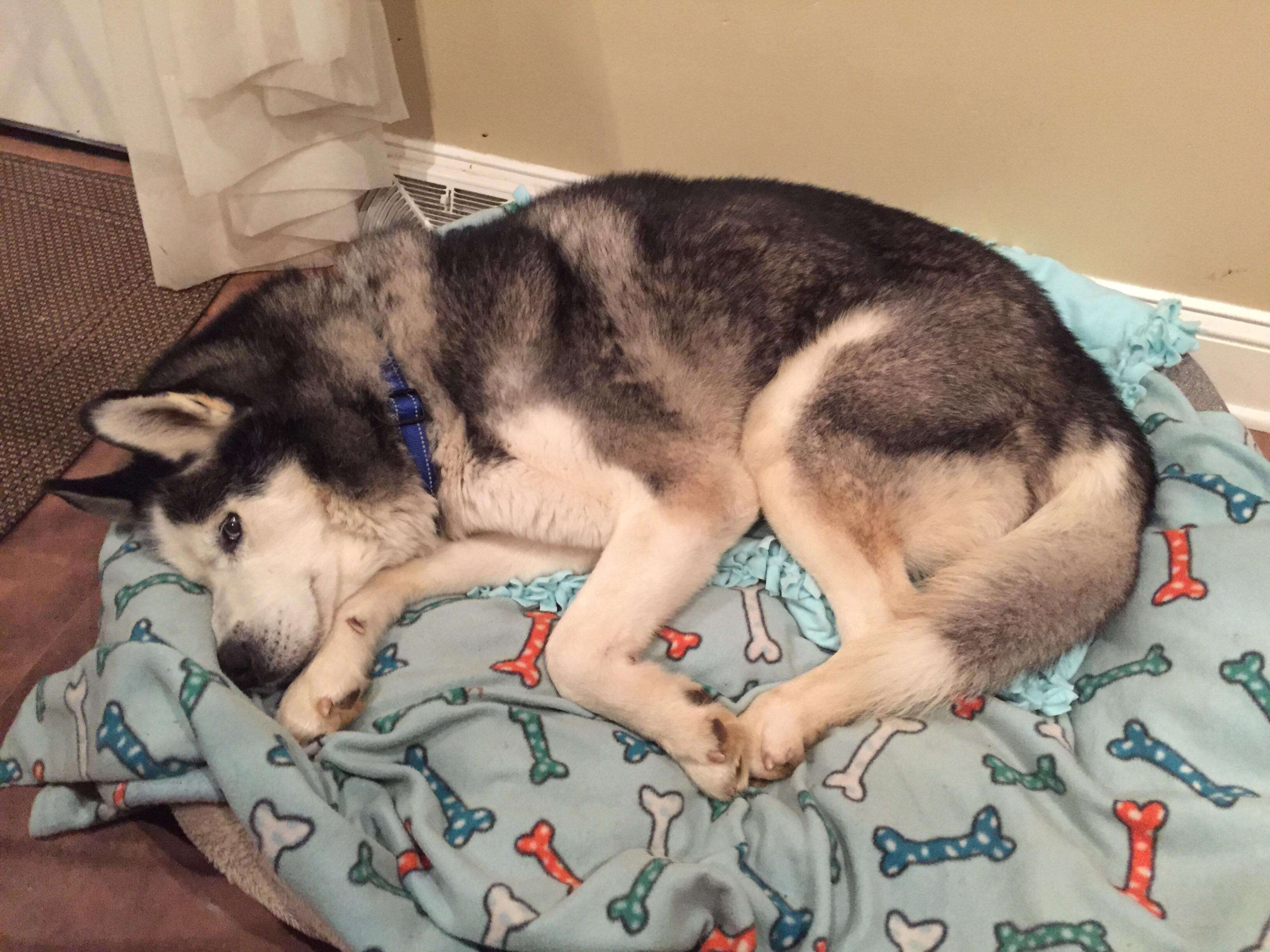 It still took Cloud a while to figure things out. For instance, he didn't know to come back into the house after being let outside in the fenced yard.
"We always had to go outside to get him to come back in — he would never just come back to the door," Garrett said. "But at one point, he realized, 'Hey, I want to be inside.' And every time he'd go out, he'd go to the bathroom and he'd come right back to the door and sit right at the door and wait to come in."
Garrett believes her six other dogs, Izzy, Charlie, Boo, Casper, Riley and Sue, were a huge help to Cloud. "It was almost like my dogs taught him how to be a dog and how to act," she said.
But Garrett's home was always meant to be temporary for Cloud — and when a couple contacted Garrett about adopting Cloud, she set up a meet-and-greet. It was an instant success.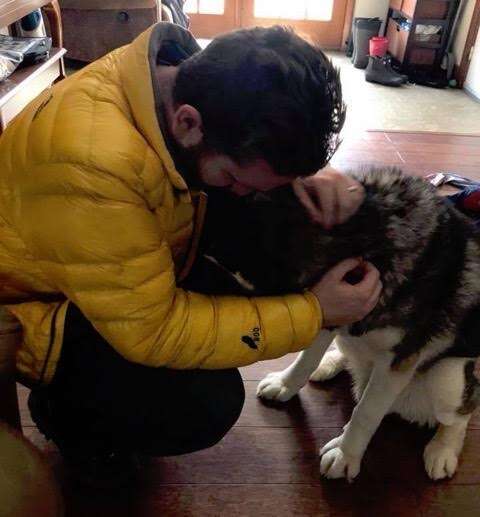 "The husband leaned down to pet him, and Cloud got up and gave him a big kiss in the face, and the husband was like, 'All right. We can do this. We've got to take him. We're definitely taking him,'" Garrett said.
Last week, Cloud moved into his forever home. This time, he adjusted easily, and he didn't waste any time making himself comfortable.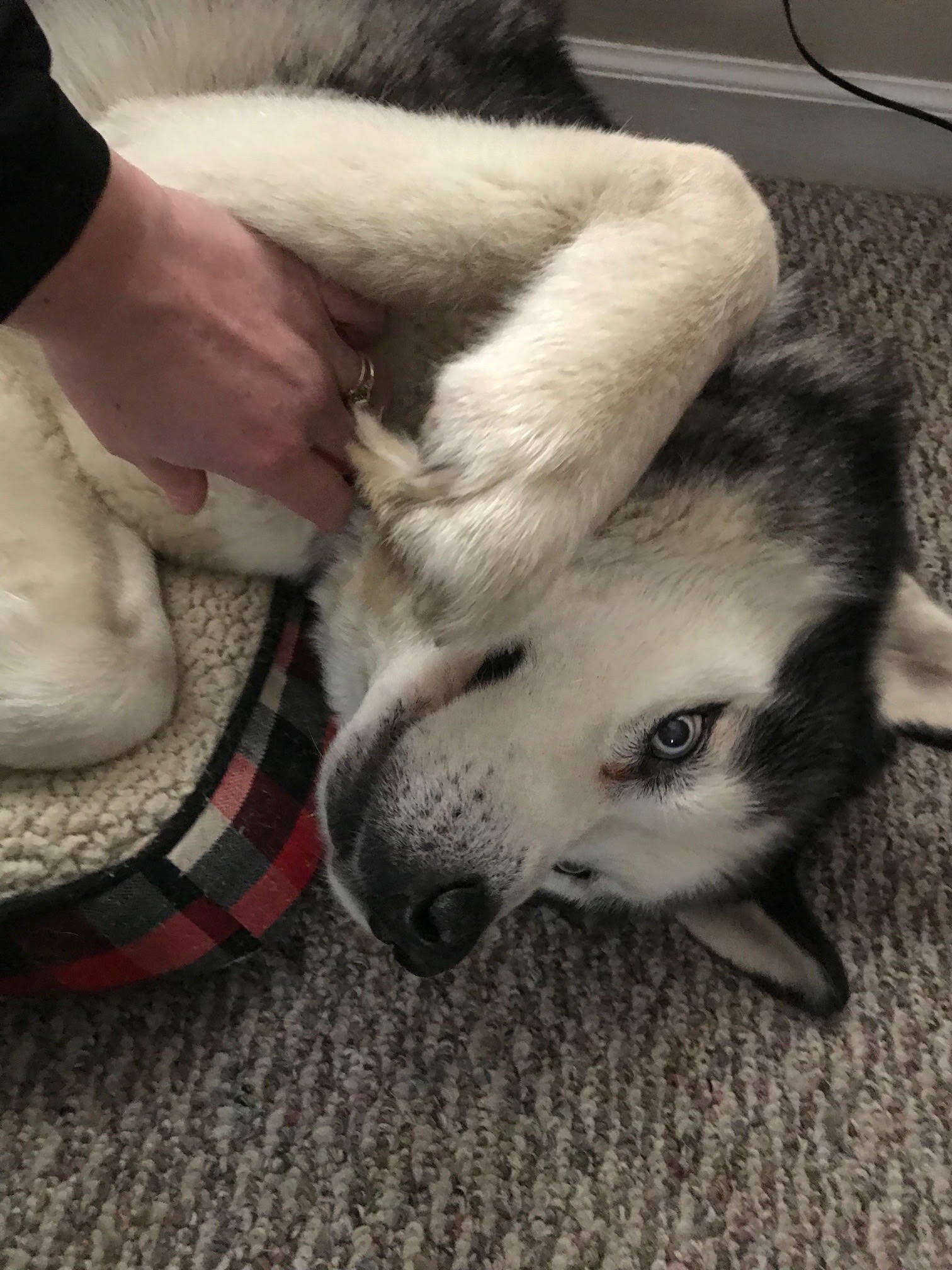 "They've created a bucket list for him, so they're working on all sorts of things that he never got to do his entire life," Garrett said. "He's been going on walks — I don't think he's ever been walked before and he loves it. They got him a big orthopedic bed. Someone contacted them about doing a photo shoot. Somebody else contacted them and said they could offer a doggy massage."
Cloud doesn't just have a new home, he also has a new name — Titus — and he's thriving with his new family. "Really for the first time, it seems like he's enjoying life," Garrett said.