Senior Dog Who Spent 8 Years In A Cage Has Hundreds Of Toys Now
"JoJo takes the toys from where they are stored and carries them one by one to his bed."
When a senior dog now named JoJo went up for adoption at the end of last year, he left a truly terrible past behind him.
"When he was a puppy, JoJo's 'family' had cut his ears off with scissors," Nicole Bruck, founder of Animals R Family, the group that ended up rescuing JoJo years later, told The Dodo. "We cannot even imagine the excruciating pain that must have caused him."
The family then dumped JoJo at a rural facility for dogs when he was just 7 months old. "Sadly, he languished there for the next eight years, living in a cage in a windowless warehouse," Bruck said. "There was no water in his cage, no blanket, no towel, nothing ... just the hard ground."
It's hard to believe JoJo would ever be able to feel joy again — but somehow his spirit was never broken. "We rescued him at the age of 9 years," Bruck said. "His eight years of harsh prison life did nothing to dent his personality or his charm."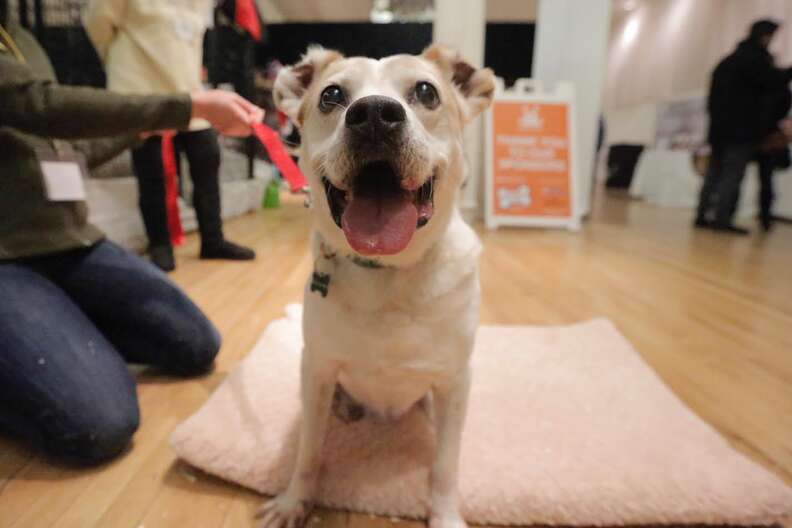 When Animals R Family brought JoJo to a Best Friends Super Adoption Event in New York City last December, Kevin and Leann Karcher happened to be there with their son, Jordan. Jordan started a company that was a vendor at the adoption event, Grounds & Hounds Coffee Co., which donates 20 percent of proceeds to no-kill shelters.
And that's when Kevin and Leann saw JoJo. "Jordan got us involved and when we learned of JoJo's sad story and realized there was little chance he would be adopted we decided to help," Kevin Karcher told The Dodo. "We wanted to pack as much life and affection into JoJo's remaining years as possible."
JoJo was still undergoing medical treatment from all his years of neglect, but once he was fully recovered, he went to live with Kevin and Leann. Finally, at age 10, JoJo found the home he always deserved. And Kevin and Leann are spoiling him as much as possible, giving him literally hundreds of toys.
Kevin encourages others who are thinking of adopting a dog to use his criteria: "Which dog is least likely to be rescued?'" Kevin said. "Then do all you can to adopt that dog!"
"In Kevin, JoJo has found a father, best friend, chauffeur, butler, chef and more," Bruck said.
"JoJo has quickly made up for lost time," Kevin said. "He lives to play with his toys while laying in the grass and will only sit still for hours if you scratch his belly."
It's hard to believe that such a spirited dog ever had to endure the cruelty and neglect of his past — but that's a distant memory now.
JoJo is living his best life every single day. And when night comes, he still feels so loved. "JoJo takes the toys from where they are stored and carries them one-by-one to his bed," Bruck said. "He snores contently next to his loot."