Senior Dogs Get To Spend Every Single Day On Huge Farm Just For Them
They're living out their golden years like kings and queens 👑
Sadly, many senior dogs end up in shelters as they grow old, and their chances of getting adopted can be slim. One organization is hoping to ease the stress for senior dogs who've found themselves in a scary, unfamiliar place.
Monkey's House is a hospice sanctuary that takes in senior and terminal dogs and gives them love and care until the end of their days.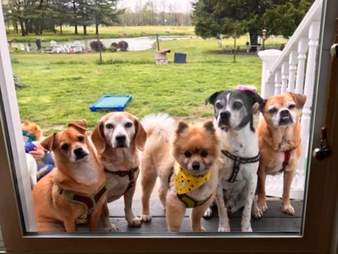 Michele Allen
Michele and Jeff Allen first began fostering end-of-life dogs in 2010. After they took in their first one, Michele Allen recognized the urgency for sick and elderly shelter dogs to have a place to live out their days.
Michele Allen with a dog named Clover

| Tracey Mauro
"I saw that there were zero resources available to a dog that needed end-of-life care," Michele Allen told The Dodo. "Like a lot of people involved in rescue, we always have the need to do all that we can for them."
The couple founded Monkey's House in April 2015 on their 6-acre farm in Burlington County, New Jersey, in order to help more shelter dogs, focusing on the seniors and those with serious or terminal medical conditions.
Monkey's dogs hanging on the back deck

| Michele Allen
They were inspired to start the sanctuary after fostering an "unadoptable" 15-year-old stray dog with a severe heart murmur who came into their local shelter. Monkey, as they named him, stole their hearts. Eventually, they were able to get his heart condition under control so that he lived another 17 months with them.
Monkey

| Jeff Allen
Since opening Monkey's House, the Allens have fostered approximately 58 end-of-life dogs. One of those dogs is Daisy, a 10-year-old Chihuahua who, in 2013, came to Voorhees Animal Orphanage in New Jersey with stomach masses so large, her organs were actually on the outside of her body. She was brought in as a stray with her nails curled under "like ram's horns," according to Allen, hairless and with severe heart issues.
Daisy

| Philly ACCT
Through veterinary care, surgery and medication, the Allens were able to get Daisy stabilized and comfortable so that she was feeling better. Daisy has been at Monkey's House for nearly two years — a "very long time," according to Allen — and though there have been ups and downs, she has been able to enjoy a relatively normal life.
Daisy

| Michele Allen
"As sick as [Daisy] is, she's still fierce," Allen said. "But she's tremendously loving."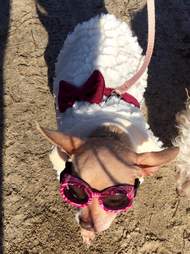 Michele Allen
Another of Monkey's dogs is Bullwinkle, a treeing walker coonhound estimated to be older than 10 years. Bullwinkle came to Monkey's House in December 2016, "blind as a bat (maybe blinder) and deaf as a doornail (maybe deafer)," according to Allen.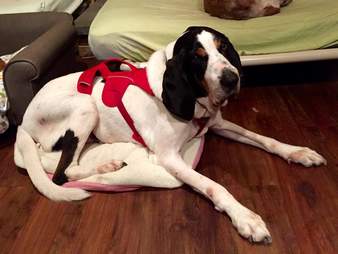 Bullwinkle

| Michele Allen
Bullwinkle also had significant heart problems, cancer, arthritis, skin conditions, a persistent cough and had been through devocalization surgery by his previous owner. Through it all, Bullwinkle has remained a sweet boy. "He's just the happiest, 'lovablest' lug," Allen said.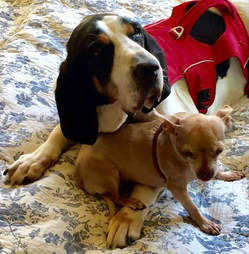 Bullwinkle cuddling with Daisy

| Tracey Mauro
One of Allen's favorite things about 80-pound Bullwinkle is that he has no idea he's a large dog. "He thinks he's a small dog," she said. "He lays on the small dog beds, drinks from the little bowls and snuggles with the little dogs. He likes to stand over them, so he makes a good shelter."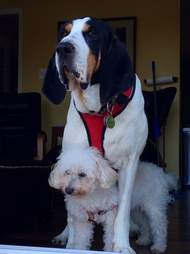 Michele Allen
She recalled a story after Bullwinkle first came to Monkey's House, before she and her husband realized that he was blind. "We took him to one of those pet stores where you can bathe dogs and as I went to the register afterwards to make a purchase, he kept accidentally bumping into and knocking down entire displays," Allen said. "He's clumsy, but well-behaved."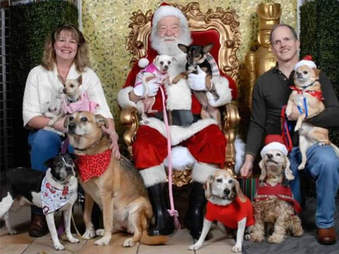 Jim Balga
Daisy and Bullwinkle are just two of the 23 current Monkey's dogs, and that's not even counting three more dogs and two cats whom the Allens have also adopted. The Allens also do trap/neuter/return (TNR) at a nearby feral cat colony.
Michele Allen
A dog named Holly during hydrotherapy

| Trudy Brandt
"We get them off of [store-bought] food, which causes a lot of their issues to flare, as soon as they come to us," Michele Allen said. "Every dog has their own special diet that is either raw or home-cooked. We follow the 'eating clean' philosophy to increase their quality of life."
Dinner time at Monkey's House

| Michele Allen
"They spend their days making unreasonable demands of their humans, who are only too happy to oblige," Allen said.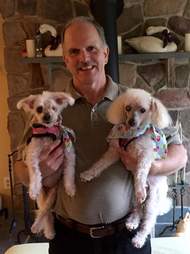 Jeff Allen with Mattie and Fifi

| Michele Allen
While napping might be the favorite pastime of many of Monkey's dogs, the Allens and their volunteers plan field trips for the pups. Allen said they try to find secluded areas so they can relax and not have to worry about the dogs running into a lot of people.
Volunteer Sandie Hopper and cofounder Jeff Allen

| Michele Allen
Mobility doesn't limit these field trips at all. Whether the pups are being carried by volunteers during the walks, or "hiking" in carts, the Allens try to take all the dogs on these outings. "It's like Christmas morning when we're about to leave for a trip," Allen said. "I don't know what my tell is — it's like they smell something different is about to happen — but it's a real treat for them to go have an adventure. There's such a sense of contentment afterwards."
Dogs named Maggie and MLBob "hiking" in a cart

| Michele Allen
All of these fun times help offset the inevitable heartbreak of having to say goodbye to one of Monkey's dogs. When a dog is having severe breathing problems, nonstop seizures or pain that won't go away, Allen knows it's time to let go.
"If they're doing well and they're in my arms as their eyes grow dull, I no longer feel the need to rush them to the vet," Allen said. "We've done everything that we could, and we want this to be the way they want. However they're facing it, I want them to feel safe and loved."
A dog named Buck likes to be wrapped up in blankets

| Michele Allen
Though it's never easy to say goodbye, the Allens and their numerous volunteers — called "aunts" and "uncles," many of them seniors themselves — have each other to lean on for support. "We're a family, and this is heavy emotional stuff," Allen said. "We need each other."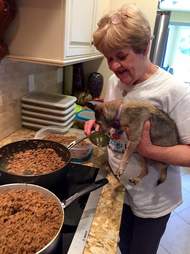 A volunteer letting a dog named Bea taste homemade dog food

| Michele Allen