Senior Dog Who Lived Her Life Alone Gets To Spend Final Days With A Real Family
"She loves going to the beach. She gets so excited and runs around like a maniac."
A 13-year-old chow-shepherd mix was wandering the streets of Brooklyn, New York, in October 2016, and was quickly taken to Brooklyn Animal Care Center (NYCACC).
Unfortunately, medical staff would soon discover the senior pup, named Kayla, was seriously ill.
Staffers with Animal Haven, a no-kill shelter in New York City, pulled Kayla from NYCACC after a couple of the shelter's volunteers reached out. A veterinarian with Animal Haven gave the dog a full examination, and found oral cancer, MRSA (a type of antibiotic-resistant bacteria) and kidney disease. The vet estimated Kayla had about three to six months left to live, so Animal Haven teamed up with Foster Dogs, Inc.'s fospice program and found her a foster home to comfortably live out her remaining time.
A woman named Jillian Conigliaro had recently lost her beloved dog, Chloe Anne, to heart cancer at the age of 15. But when she saw Kayla at the shelter, she knew she wanted to help.
Though it had only been a short time since Chloe Anne had passed, when a representative with Foster Dogs, Inc. reached out to Conigliaro, she immediately signed up to help care for Kayla.
"I happened to be in Manhattan right by Animal Haven," Conigliaro told The Dodo. "[My husband and I] went and met her, and we were like 'Oh my God, that's our dog.'"
Kayla joined the Conigliaro family as a foster in November 2016. That day, she gained a mom, a dad, five human sisters, six canine siblings, one feline sibling and a rotating host of other foster friends.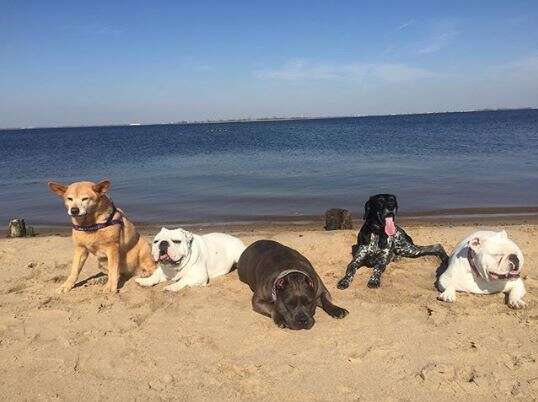 "I think [Kayla] lived her whole life outside, alone — at least that's what I imagine," Conigliaro said. "I don't think she had ever had the comfort of being indoors. She didn't know what a bed was. She likes having her own space, and she loves standing outside in the rain."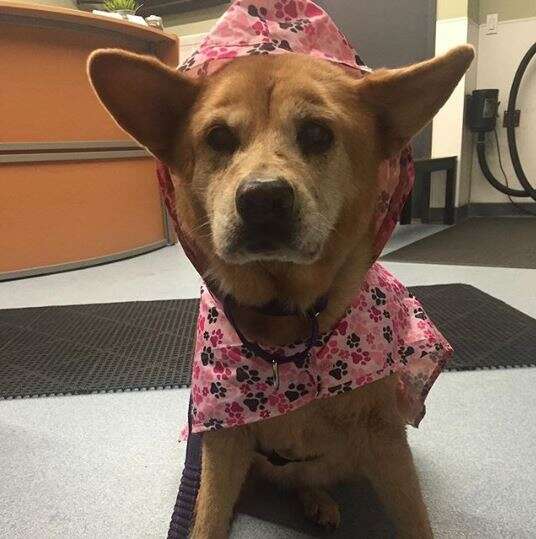 Once Kayla had adjusted to her new home and started medical treatment, the Conigliaros decided to create a bucket list for her. For the past seven years, Deno's Wonder Wheel Park on Coney Island has hosted an animal-friendly day where pets can ride the towering Wonder Wheel for free with their owners, so the Conigliaros decided to take Kayla.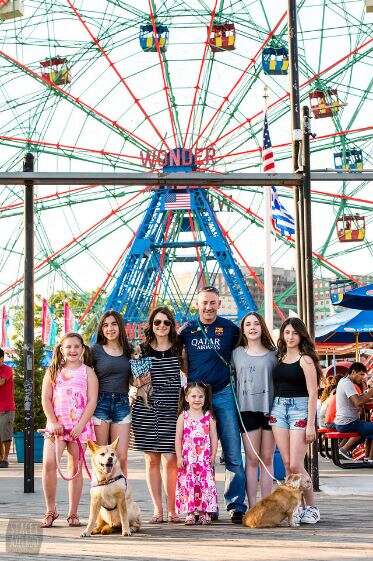 "Kayla is a very stoic dog," Conigliaro said. "She didn't show any fear when we got on the Wonder Wheel, but she was very curious to look out over the park. She's very interested in observing her surroundings."
After her ride on the Wonder Wheel, Kayla enjoyed some of the other perks of Coney Island. She had a Nathan's hot dog …
Strutted down the boardwalk …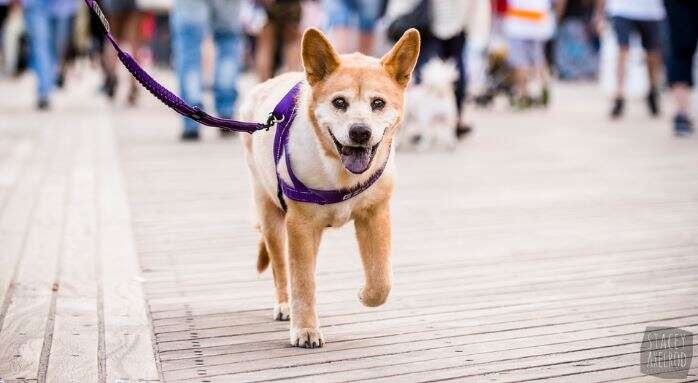 And hung out on the beach — one of her all-time favorite activities.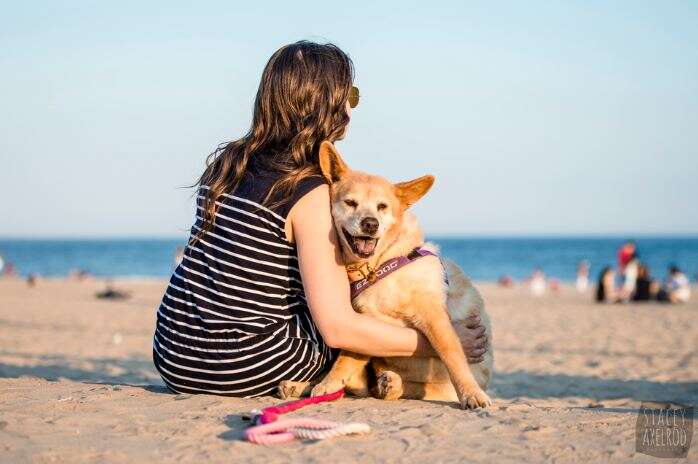 "[Kayla] loves going to the beach," Conigliaro said of the generally mellow senior dog. "She gets so excited and runs around like a maniac." Fortunately, the Conigliaros live close to a beach, so they can take Kayla and her other siblings frequently to run around on the sand.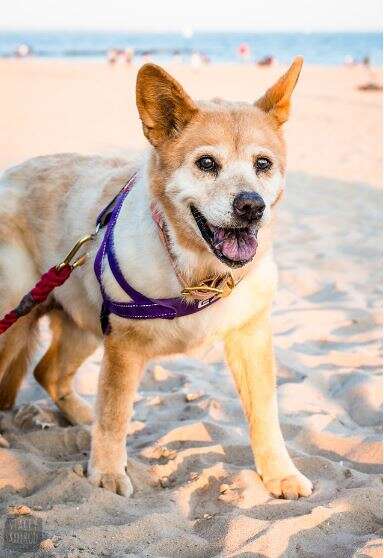 Though Kayla is an older lady, she does enjoy spending time outside of the family home in the yard and surrounding areas — she frequently wanders around the fields and streets, saying hello to neighbors. (Under the Conigliaros' watchful eye, of course.)
"She will bark to be let out," Conigliaro said. "She usually only stays out for about 20 to 30 minutes at a time, and then she will bark nonstop when she's ready to come back inside."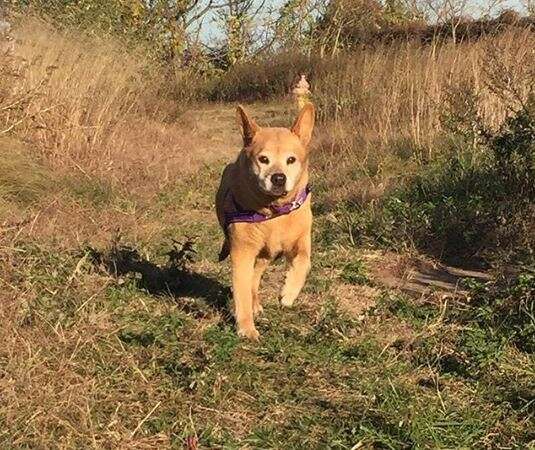 In addition to the Coney Island adventure, Kayla has also visited several FDNY firehouses as part of her bucket list. "I wanted her to meet some FDNY firehouse dogs," Conigliaro said. "We went to a few, and each one gave her a T-shirt and let her sit on a fire truck."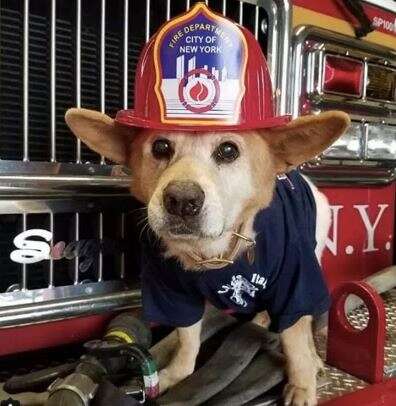 Conigliaro has a few more surprises in store for Kayla as well. She would like to take Kayla on Manhattan By Sail — a boat tour that sails around NYC. Conigliaro took Chloe Anne on the same tour before she passed away.
She also plans to have a 1-year anniversary party for Kayla as a fundraiser for other animals and as a fun way to celebrate her time in fospice — time that has already surpassed the three to six months the vet initially thought Kayla would live.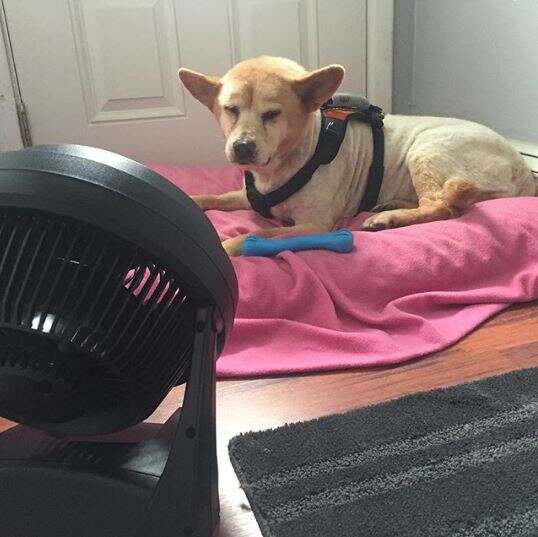 In fact, Kayla's health has gotten better during her time in fospice. Though she still has the oral cancer, Conigliaro said Kayla has an amazing appetite.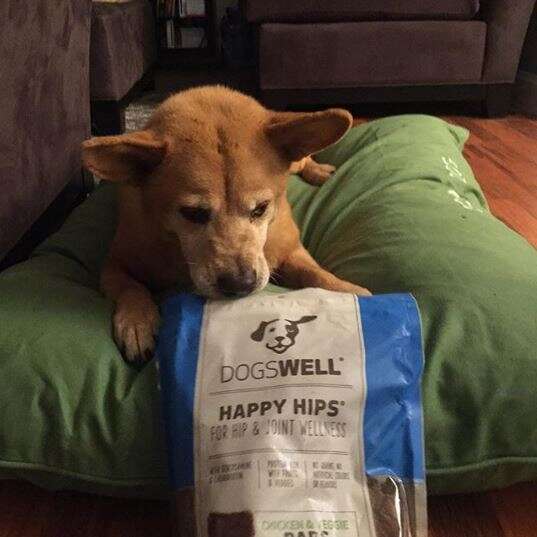 "She's a picky eater and the mouth tumor can make it harder to eat, but she will not give up," Conigliaro said. "She eats an unnatural amount of food and she's a relentless beggar. She actually knows how to open the refrigerator and the treat cabinet."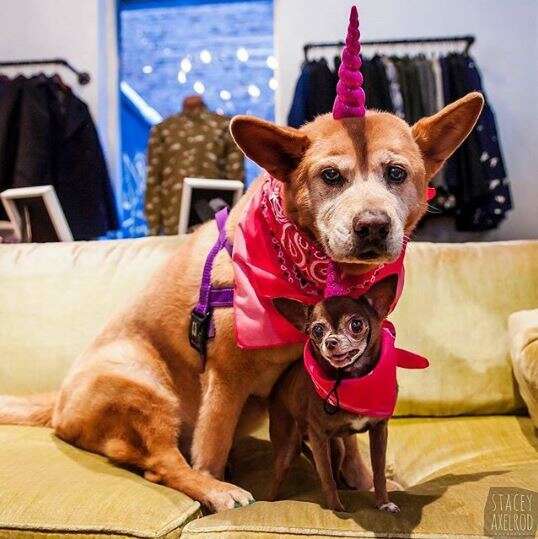 For a dog who may have never had a family in her 13 years of existence, Kayla is certainly making up for lost time with the best of everything. She even has tons of fans on Instagram who send her toys and anything else she could possibly want.
"There's no way we could have given [Kayla] this quality of life without her Instagram followers," Conigliaro said. Animal Haven has also been an amazing help in sponsoring Kayla's medical treatment.
"I didn't know what to do with myself after Chloe Anne passed," Conigliaro said. "Bringing Kayla into our home has been extremely heart-healing. We are fortunate to have more space and a lot to offer. I guess I have a thing for taking care of older dogs at the end of their life."
You can continue following Kayla's adventures on
Instagram
. To learn more about Foster Dogs, Inc.'s
fospice program
, visit its website — where
donations
are greatly appreciated to help more dogs like Kayla.