Senior Best Friends Have Waited 2 Years To Find A Forever Home Together
"They're such lovely, gentle, friendly dogs" 💕
Poppy, a collie mix, and Daisy, a Jack Russell terrier, are best friends who have lived together their entire lives. They were surrendered to the RSPCA in 2016 after their owner was evicted and could no longer care for them, and staffers at the shelter worried about finding them a home together, as they were both already in their golden years. A couple fell in love with them and stepped up to adopt them, but unfortunately, after they split up, the dogs were returned to the shelter earlier this year.
Poppy and Daisy are now 17 and 10 years old, and even though they're senior dogs, they both still have so much love to give. The pair are absolutely inseparable, and refuse to go anywhere without each other. They were surrendered to the shelter for the second time seven months ago and have been waiting for a home ever since, and staffers at the shelter are desperate to find them a home as soon as possible so they can enjoy relax and enjoy the rest of their golden years.
"Lovely Poppy is very elderly and is nearing the end of her days so we really want to get her into a home so she can enjoy the home comforts as she nears the end of her life," Rachel Jones, head of fundraising and communications at the RSPCA's Bath Cats & Dogs Home, said in a press release. "Daisy will struggle without her lifelong friend so it's also important to get her settled so she can cope with the sad loss when it comes."
Since both dogs are seniors and don't have as much puppy energy as they used to, they're very low-maintenance and just want a family who will cuddle with them and give them a little love and attention. While Daisy loves going out for walks here and there, Poppy is content just having a yard to meander around in. Neither of them is very confident around other dogs except each other, so they would love to be the only dogs in their new home. They're both fine with being left home alone for a while and also love kids, so they'd make perfect family dogs.
"It's so sad to see them in kennels still, after seven months," Jones said. "They're currently in a foster home as kennels is too stressful for them but we're desperate to find them a forever home as soon as possible. They're such lovely, gentle, friendly dogs. They love meeting people and always greet you with happy faces and wagging tails."
Daisy and Poppy have been together their entire lives, and while things haven't always been easy for them, all they want now is a loving forever home where they can spend the rest of their days side by side.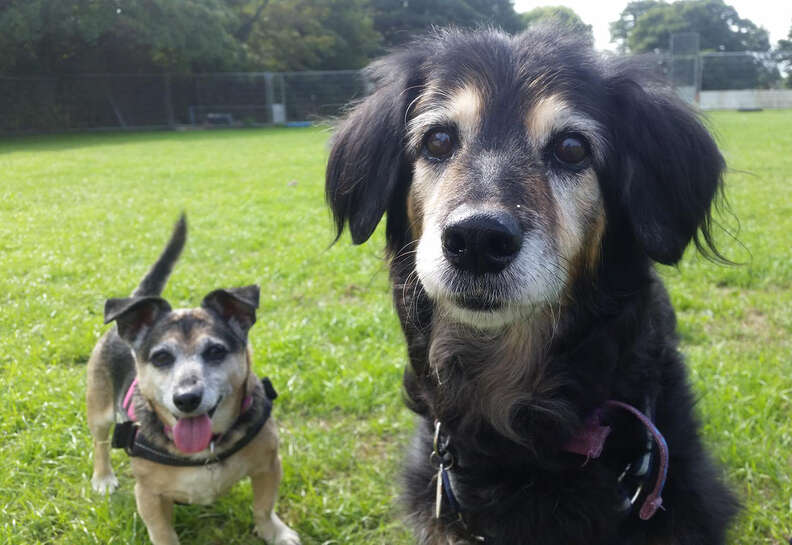 "We know that they'll make wonderful companions and loving pets for the right family who are willing to look past their grey hairs," Jones said.
If you're interested in adopting Poppy and Daisy, you can
contact the RSPCA
for more information.