Sick Senior Dog Rescued From Streets Of Mexico Looks So Different Now
He got his first warm bath and had his nails trimmed — now he just needs a family to love him.
The dog had been through so much that it was amazing that he was still alive.
In May of this year, a Good Samaritan found Hobbes wandering the streets of Tijuana, Mexico. He was skeletal and had a severe case of sarcoptic mange, a skin condition caused by mites that burrow into the skin. Without treatment, sarcoptic mange can turn deadly.
Frosted Faces Foundation
While it's unclear how long Hobbes lived on the streets, Kelly Smíšek, executive director of Frosted Faces Foundation (FFF), the organization currently caring for Hobbes, told The Dodo that she assumes it was for quite a while.
Frosted Faces Foundation
"[It was] long enough to contract mange that spread on many parts of his body ... and not have proper nutrition that whittled him ​down to 39 pounds on the day he was found," Smíšek said. "He should be a 70-pound dog, at least."
Frosted Faces Foundation
After someone rescued Hobbes — Smisek still isn't sure who — he was transported to The Barking Lot Rescue, a no-kill shelter near San Diego, California. While it was possible for Hobbes to stay there, the volunteers noticed he was a senior — so they contacted FFF, which specializes in caring for older dogs, and arranged for him to be relocated.
Frosted Faces Foundation
When Hobbes arrived at FFF in late June, the volunteers gave him a warm bath. Then they dried him off with a fluffy towel, brushed him, trimmed his nails and gave him a new collar and tags.
Frosted Faces Foundation
They also discovered something surprising — Hobbes had a microchip that was registered with Chula Vista Animal Care Facility, a Californian shelter close to the Mexican border. They called the facility, and learned that Hobbes had been adopted from there in 2007 when he was just a puppy, which meant that Hobbes was 10 years old now. This raised a lot of questions — what happened to Hobbes' owners, and how on earth did he end up in Mexico?
Frosted Faces Foundation
Unfortunately, no one but Hobbes may ever know the answers to these questions. The contact information associated with the microchip was also out of date, and Hobbes' previous owners couldn't be found.
Hobbes' past may stay a mystery, but the FFF volunteers are determined to make his remaining years as comfortable and happy as possible.
Frosted Faces Foundation
A vet visit revealed that Hobbes had mild anemia, protein loss and three broken ribs. So the FFF team started him on a pain management program, and they've been giving him lots of food to help him gain weight and grow his fur back.
Frosted Faces Foundation
Despite all of Hobbes' medical issues, as well as his tumultuous past living on the streets of Mexico, Smíšek describes him as a sweet, regal dog who loves the company of others.
Frosted Faces Foundation
"My favorite aspect of Hobbes' personality is how he wears his heart on the invisible sleeve that would drape his protruding elbows," Smíšek said. "He barks deeply with great intention at 'intruders,' he melts under the trusted caress of your hands, and when he is happy he smiles from tall ear to tall ear while his eyes radiate."
Frosted Faces Foundation
Hobbes may have a brave side, barking at "intruders" who enter the FFF property, but Smíšek also discovered he's a big softie.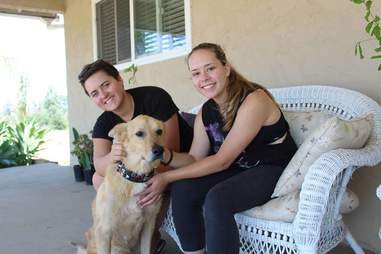 Frosted Faces Foundation
"It just rained today and we were sitting on the patio together when thunder cracked," Smíšek said. "I expected him to bark courageously as he does, but instead he climbed onto the chair near me and visually quivered. It was a new emotion for me to witness, as I suspected him to always be tough from the streets and gratefully gentle to be safe with us, but fear was a new side."
Frosted Faces Foundation
Hobbes is currently enjoying his time at the FFF facility, basking in the sun and interacting with the other resident senior dogs, but he is looking for a forever home.
Frosted Faces Foundation
"Hobbes would be cherished in a family that knows his days are numbered, but won't let that inhibit them from taking him on adventures," Smíšek said. "Whether it be by stroller, wagon or carefully planned tiny steps, it will be all about quality over quantity and a gentle appreciation for his pace. He loves to observe and is well-behaved around dogs, cats and children, so public venues would be really enjoyable for everyone in the company of Hobbes."
Frosted Faces Foundation