Sweet Senior Dog Who Spent Years Chained To Cinder Block Is Finally Free
He's learning how to be a dog again — and looks so happy now
Stacey McKnight has been rescuing animals for the last 30 years — but she'd never seen a case as bad as what she found at an RV home in Melville, Louisiana.
"We received a call from the chief of police from Melville, Louisiana, and he had stated that a lady had been placed in a hospital," McKnight, the director of St. Landry Parish Animal Control and Rescue, told The Dodo. "So we went out."
Stacey McKnight
The first thing McKnight saw was Buster, a senior corgi mix who was chained to a cinder block in front of the RV home. When McKnight reached out to the lady's nephew, she learned Buster's sad story — the dog, who's estimated to be 9 or 10 years old, had spent his entire life chained to this cinderblock.
"[The nephew] said that the dog would go all over the community — all he had to do was drag the cinderblock," McKnight said.
But dragging a cinderblock would have taken a heavy toll on Buster.
The cinderblock that Buster was chained to

| Stacey McKnight
"I'm sure in their minds, it was to keep him at home," McKnight said. "But this was an older dog, and dragging that cinderblock had gotten impossible for him. I'm sure that through his youth, dragging it wasn't the hardest thing, but with his age, combined with a little bit of arthritis that had started to set in, it was a monumental thing."
"It's almost how you'd identify life — that big weight," she added. "And for this dog, the weight had just outweighed life."
But this wasn't the most shocking part of the rescue to McKnight — what concerned her the most was the fleas. Buster was covered in them.
Stacey McKnight
"The moment we picked him up, the fleas just covered my shirt," McKnight said.
When McKnight and her rescue team went into the RV home itself, they got another shock — there was another dog in there, but she was already dead. McKnight believes the fleas — and lack of food — had killed her.
"The house was so flea-infested that we actually had to leave the site and go over to the corner store and buy carpet spray for fleas and soak ourselves in it, because we couldn't get the fleas off of us," McKnight said. "I'm sure she just became so anemic [from the fleas], and no dog can overcome anemia in those conditions. There was no food or water in the house either."
Buster chained up in front of an RV home in Louisiana

| Stacey McKnight
While help had sadly come too late for the dog inside, Buster got a lucky escape.
"You could tell that he hadn't [been around] people in quite some time," McKnight said. "At first, he was standoffish, but the moment we popped the can of food open, he was my dog. He was like, 'OK. I'm OK with you.'"
Buster is now in foster care with McKnight, where he'll stay while he overcomes his many medical issues, including heartworm disease, cataracts and anemia. He also has some psychological issues to tackle.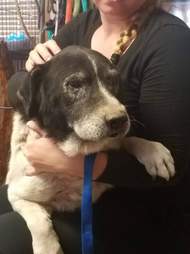 Stacey McKnight
"He's learning how to be a dog again," McKnight said. "I still watch him when he stands up to walk — he looks behind him, as if he's still looking for the chain. When he comes to his food bowl, he still walks around his food bowl, almost as if to make sure his chain is still not on his food bowl."
"He still hasn't obtained the thought of running," she added. "He still just tends to sit as if he still has that chain on him."
Stacey McKnight
Buster may have been through a lot, but he's slowly coming out of his shell.
"His personality is now really coming out," McKnight said. "You can see when he smiles. When you go to stand up, he immediately stands, and he's like, 'Where are we going now?' Everything is an adventure now."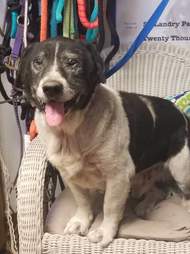 Stacey McKnight
"Because of the long-term chaining, he's just going to need a lot more social skills to get him to where he could be highly adoptable," she added. "But he should recover and have a suitable senior life."