Senior Rescue Chihuahua Finds Girlfriend Just Like Him
"They are their own little pack. They seek each other out, they look to each other and they complement each other beautifully."
Major, an 8-year-old long-haired Chihuahua, was found wandering as a stray in Davie County, North Carolina, in August 2017. He entered Davie County Animal Services (DCAS) underweight, potentially from having trouble finding food on the street because he was missing his lower jaw and all but one tooth.
Major at the Davie County Animal Shelter

| Kim Dobbie
When a Facebook friend of Gremlin the Therapy Dog saw DCAS post about Major on social media, she immediately contacted Chris and Mariesa Hughes, Gremlin's owner and founders of the Mr. Mo Project, thinking that their senior long-haired Chihuahua Mabel had somehow escaped and ended up in the North Carolina shelter. The two looked nearly identical, right down to the missing jaws.
Major (left) and Mabel (right)

| Mr. Mo Project
"We were so inspired by her devotion that we decided to send a message to the shelter and see if we could help," Mariesa Hughes told The Dodo. "We explained we had a dog just like Major and were familiar with their needs. We were able to get Major transported to us on August 26, and he fit right into our family."
Mr. Mo Project
Major, who was named Snuggles at the shelter because of his affectionate nature, is described as a "sweet soul," according to Hughes. "He demands love and affection by pawing at you if you stop petting him," Hughes said. "He can also scale most of your body parts to lay on you — the closer the better."
Major snuggling with his Nana

| Mr. Mo Project
Mabel, whom the Hugheses have had for a little over a year now, is estimated to be about 14 years old and is as "fierce and fiery" as they come, they say. She has even been nicknamed "The Landshark" by her favorite veterinarian.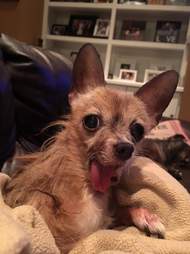 Mabel

| Mr. Mo Project
"She loves one person a day, and if she loves you, you're golden and can do no wrong," Hughes said. "If she doesn't love you, look out. Those gums can pinch! She launches herself like a cobra to attack her prey. She runs the show here — makes the pitties run for the hills."
Mabel runs the show — even training her dad on the treadmill

| Mr. Mo Project
Major and Mabel quickly became the best of friends, despite having opposite personalities. "Major and Mabel hit it off from the get-go," Hughes said. "It was truly amazing and adorable."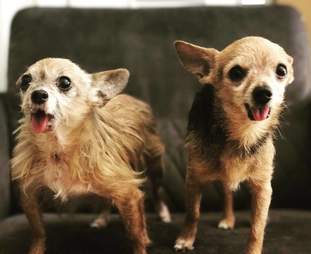 Mabel (left) and Major (right) had love at first sight

| Mr. Mo Project
"Mabel didn't try to go after him — she seemed enamored with him," Hughes said. "They first saw each other through the mesh of the [playpen], and I could see Mabel's head turn to one side a little, kind of questioning like, 'How can this be?' Typically when another dog comes up to her [playpen], she launches herself into the mesh and bounces off of it. Major just stared at her and wagged his tail."
The two dogs were doing so well with their initial interactions, that the Hugheses decided to take them outside together. "There was so much positive interest on both of their parts, but we tried to keep interactions quick and moving," Hughes said. "By the end of the day, they were cuddled on the couch together."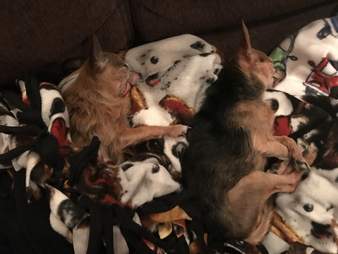 Mabel (left) and Major (right) curled up together

| Mr. Mo Project
"Of course, they have their lovers' quarrels — like when he steps on her or she gets too hot under the same blanket," Hughes said. "But for the most part, they are their own little pack. They seek each other out, they look to each other and they complement each other beautifully."
Major (left) and Mabel (right) wearing couples' "back to school" outfits

| Mr. Mo Project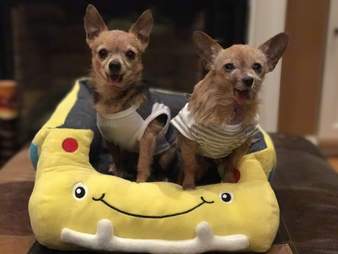 Mr. Mo Project
Their bond comes in the midst of sharing a home with nine other senior dogs — par for the course when your parents run a senior dog rescue. There are seven "bigs" (two greyhounds, three pit bulls, a bull terrier and a wire-haired terrier) and four "littles" (Mabel, Major, a Maltese named Mya Marie and Franklin the pug), as the Hugheses refer to them.
Mariesa with all of the "bigs"and "littles"

| Mr. Mo Project
Major is a bit more welcoming of his dog siblings, whereas Mabel tends to keep to herself — unless, of course, it's Major who wants to share her space. "Major will sit with any of the dogs," Hughes said. "He's an equal opportunity bed-sharer, and he's a pretty bomb-proof dog — just a go-along, get-along kind of guy. Mabel is kind of a prude — she has never let another dog share her bed until now. If [Major] treads ever so lightly and doesn't step on her, Mabel will let him share her actual bed at night!"
Mabel (left) and Major (right)

| Mr. Mo Project
Though Mabel is thought to have suffered some trauma before being picked up by Greenville County Animal Shelter in Greenville, South Carolina, Hughes did some research about Chihuahuas after taking in a second one with a missing jaw. "I found that Chihuahuas commonly suffer from disintegrating jaws when they don't receive proper dental care," Hughes said. "Their teeth rot out and their jaw bones become infected."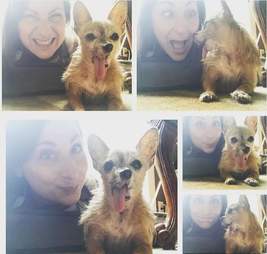 Mariesa and Mabel

| Mr. Mo Project
Despite the absence of their lower jaws, Major and Mabel share another common bond — their love of eating. Both dogs eat a hydrolyzed protein wet food that they can eat easily and doesn't upset their stomachs.
Sassy Mabel

| Mr. Mo Project
"[Mabel] will beg until your heart breaks," Hughes said. Unfortunately, Mabel is unable to eat treats without it affecting her gastrointestinal issues, but Major can still eat a few from time to time.
Major

| Mr. Mo Project
They also love spending time outdoors, though Major likes to try and run with the big dogs while Mabel prefers to hang out in the sun.
Mabel sunbathing

| Mr. Mo Project
In fact, the Hugheses refer to Major as "Mr. Athletic" due to his energetic nature. Apart from his jaw issues, Major's health is otherwise good. "Major is a big boy," Hughes said. "He can jump on and off things, do stairs and even jumped out of his [playpen] onto my head once."
Major enjoying outside time

| Mr. Mo Project
Mabel has dealt with more serious health issues since coming to the Hughes, such as severe paralysis of the throat and mammary masses, but the Hugheses have gotten her the care she needs to keep going strong. "Mabel is an absolute fighter," Hughes said. "To have survived the things she has and have such a spunk for life is inspiring."
Mr. Mo Project
For two little dogs to bond over their similarities while having such vastly different personalities is nothing short of adoration. "They are lying together right now, nose to butt," Hughes said. "Everyone else is spread out among couches and beds, but they are barely an inch from one another. I'm telling you … this is love."
Major (front) and Mabel (back) in their playpen, with a photobomb from Franklin

| Mr. Mo Project
You can continue following Major and Mabel's love affair on
Facebook
and
Instagram
. To learn more about the Mr. Mo Project or
donate
to continue helping pups like Mabel and Major, please visit its
website
.