Senior Cat Learns How To High-Five — And It Helps Her Get Adopted
She's finally letting her true personality shine through 🌟
Lynette Baguette was found wandering the streets of New Jersey as a stray all by herself in July 2017. The senior cat was taken in by the Monmouth County SPCA (MCSPCA), and despite her arthritis and her lack of teeth, she was incredibly relaxed and sweet with all her new shelter friends from the very beginning.
"From the moment she arrived at the shelter, she was a friendly and happy little old lady," Nina Lucow, adoption manager at the MCSPCA, told The Dodo. "We found out quickly that she wasn't a huge fan of other cats and she was one of those 'on her terms' kind of cats. She would give you a smack (with her paw) or a nibble with the one tooth she had left if she wasn't in the mood for affection/attention."
GreaterGood.org/Monmouth County SPCA
Lynette's occasional grumpiness mostly had to do with the pain her arthritis was causing her, and once the shelter staffers were able to get that under control, she was so content that she started sleeping all day — which proved to be an issue in terms of trying to get her adopted.
"After managing Lynette Baguette's arthritis pain with medication, physical therapy and acupuncture, she felt so good that she just slept all the time and never got herself noticed by potential adopters," Lucow said.
GreaterGood.org/Monmouth County SPCA
Since most of the other cats at the shelter would approach potential families to play and snuggle, Lynette was overlooked time and time again. The shelter desperately wanted to get the sweet senior cat into a home as soon as possible so she could enjoy her golden years in peace, and so they finally decided to try something a little different.
The MCSPCA enrolled Lynette in The Jackson Galaxy Project's Cat Pawsitive program, which aims to help "hard to adopt" cats get noticed by teaching staff and volunteers how to implement positive reinforcement training that will help these cats come out of their shells. Since Lynette was a senior cat who had been at the shelter for a while and needed to be the only pet in her potential new home, she was considered a hard-to-adopt case, and everyone hoped that the program would help people see what a sweet, incredible cat she really was.
The program worked better than anyone had imagined — all because of high fives.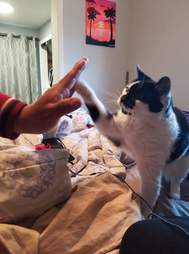 GreaterGood.org/Monmouth County SPCA
From the very beginning of her training in the program, Lynette was so eager to learn and participate, and was super excited to see Lindsay, her trainer, every time they worked together. Once Lindsay discovered Lynette's favorite treat, things got even easier, and it was actually Lynette's own idea to learn how to give high fives.
GreaterGood.org/Monmouth County SPCA
"Lynette was the one who started raising her paw to get to the treats and Lindsay was able to shape that into a high five," Lucow said. "It quickly became their favorite thing to do."
Besides her adorable new high five skills, the program did exactly what it was designed to do and helped Lynette come out of her shell. It was as if she was suddenly a completely different cat, when really, she was finally confident and comfortable enough to let her true personality shine through.
GreaterGood.org/Monmouth County SPCA
"Once she started doing the program, Lynette was so much more interactive with not only her trainer but with volunteers and potential adopters," Lucow said. "She even coexisted with other cats in one of our communal cat gazebos! She got some pep in her step and would get up to greet her trainer when she came over to train her and engaged more with potential adopters. People started to notice Lynette Baguette because she would actually engage with them rather than just sleep!"
GreaterGood.org/Monmouth County SPCA
Even as time went on, everyone at the shelter was still delighted and mesmerized by Lynette's adorable high fives. They started posting about her and her skills on social media, which is how her new family finally found her.
"Lynette's new parents saw the video we posted on the Monmouth County SPCA Facebook page showing off her high five skills," Lucow said. "They fell in love with her from the video and came to the shelter specifically to adopt her!"
GreaterGood.org/Monmouth County SPCA
After meeting Lynette, her new parents knew she was meant to be their cat, and officially decided to adopt her. After spending over a year at the shelter going completely unnoticed, everyone was absolutely over the moon that sweet Lynette had finally found her forever home.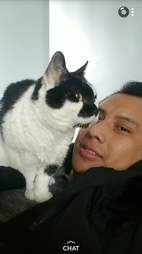 GreaterGood.org/Monmouth County SPCA
Now, Lynette spends her days cuddling with her new family and staring out a huge window, people-watching and enjoying the world around her. She still absolutely adores giving high fives, and her mom made sure to stock up on her favorite treats. She's loving everything about her new life, and everyone at the shelter is so thrilled that she was able to high-five her way into the best home.