Woman Falls In Love With Very Old Dog Who Lost His Person
"I wish I could let the family know that he is OK. He'll never be cold and he'll never be hot, he'll never be hungry and he'll never be thirsty."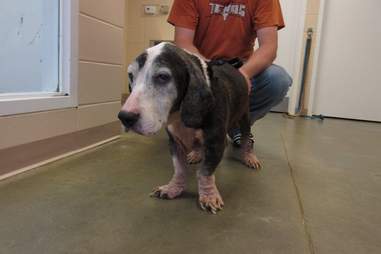 Russell County-Phenix City Animal Shelter
"I just saw his face, and I couldn't turn away from him," Morse told The Dodo. "He had the most gorgeous little face, and I love the old guys. I sent them a message and said, 'If you need me, I'm here.'"
Morse cares for many senior dogs at Sandy Wayne Sanctuary of Hope, so the rescue group knew Morse's sanctuary would be the perfect place for him. But before going to live with Morse, Bo went to the vet.
Tri-State Basset Hound Rescue
Bo turned out to be in very good health, which indicated that his former owner had loved and cared for Bo really well. However, the vet wasn't certain Bo was 20 years old — he guessed he was more like 14 or 15.
"The vet said, 'We don't think he's quite 20, but we know he's very, very old,'" Morse said. "It's hard to tell exactly how old he is, but he is at a very advanced age."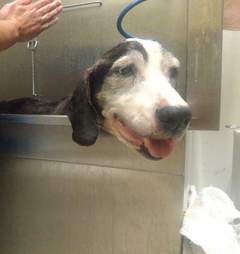 Bo getting a bath

| Sandy Wayne Sanctuary of Hope
Bo's age didn't matter at all to Morse, who was determined to give Bo the best life possible at her sanctuary.
"He's allowed to go in the house all he wants to, but he likes being outside a lot," Morse said. "As long as he's with us, he's pretty much making the decision on what he wants to do."
Sandy Wayne Sanctuary of Hope
"He loves being petted, and he loves getting attention," Morse added. "He still can run just a little bit, but that doesn't last too long — just a few seconds. He takes a lot of breaks, but it looks like he just enjoys life."
Bo was also quick to make friends. He's grown especially close to Pappy, an 18-year-old beagle.
"The two of them get along really well," Morse said. "They just lay around all day and sleep."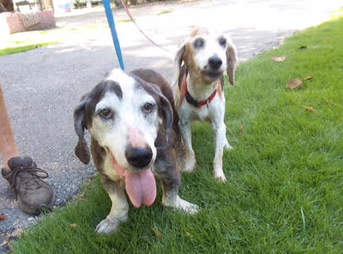 Bo and Pappy hanging out together

| Sandy Wayne Sanctuary of Hope
Normally, dogs who are separated from their owners tend to be sad for a while, Morse explained, yet Bo doesn't seem too affected about his new living situation. This doesn't mean Bo didn't love his former owner — Morse believes this is actually because Bo has dementia.
"It's like he's not really comprehending the fact that he's been separated or that he's lost his family," Morse said. "He's just happy in the moment. Everything that's happening for him right now, he just loves it."
Sandy Wayne Sanctuary of Hope
Morse has fallen head over heels in love with Bo, and she wishes for one thing — that Bo's former owner knows Bo is getting the best care.
"Somebody took care of him, and somebody loved him — that's the part that breaks my heart," Morse said. "I wish I could let the family know that he is OK. He'll never be cold and he'll never be hot, he'll never be hungry and he'll never be thirsty. He'll get all the love, and he'll be well cared for."