Security Camera Captures Moment Guy Leaves Injured Dog On Stranger's Doorstep
"She's such a sweet, gentle, friendly dog and it's heartbreaking to think someone could coldly dump her" 💔
A woman was at her home in Flamstead, England, getting ready for bed late Friday night when she heard a strange noise coming from her front door. Slightly nervous, she went to investigate — and found an injured dog sitting on her front porch, looking sad and confused. As soon as she opened the door, she saw a car drive away, and assumed whoever had abandoned the poor dog was fleeing the scene of the crime.
The dog was incredibly frightened, understandably so, and it was clear that she desperately needed help. The woman immediately contacted the RSPCA, and inspector Phil Norman headed out to collect the dog. While she was waiting for him to arrive, the woman had the idea to review the security camera footage from her front yard, and sure enough, the camera had recorded the entire incident.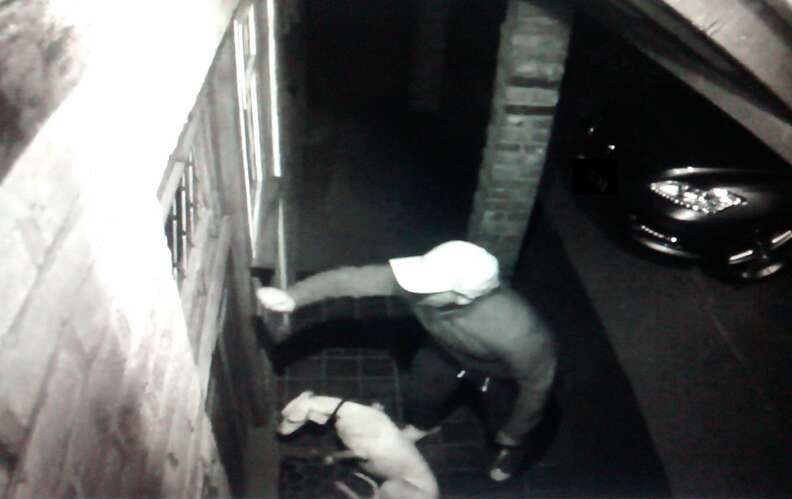 "The man can be seen walking up the drive with the dog, onto the doorstep, and then turning around to leave the dog behind," Norman said in a press release. "He appears to be dressed in dark clothes with white trainers and a white baseball cap on."
Norman quickly rushed the 5-year-old greyhound mix to the vet, and decided to name her Snow White. Unfortunately, after being examined, it was determined that Snow White has a severe open fracture on one of her hind legs, and she is still undergoing X-rays and tests to determine what the best course of action is.
"We're hoping to save the leg by repairing the break with a metal plate, but we're concerned about the infection so it's touch and go at the moment as to whether she may need an amputation," Amanda Rooney, a staff member at the RSPCA's Putney Animal Hospital, said in a press release. "She's such a sweet, gentle, friendly dog and it's heartbreaking to think someone could coldly dump her in the middle of the night in such a state."
Everyone who has met Snow White can't believe someone would dump such a sweet, wonderful dog that way, and the RSPCA is still actively investigating to try and figure out who is responsible for abandoning her.
"I'd appeal to anyone who recognizes him [the man] or the dog to get in touch with us on 0300 123 8018," Norman said. "We'd like to hear from anyone who may be able to assist in our enquiries."
Snow White will stay at the animal hospital until she's healed, and once she's healthy again, the RSPCA will make sure to find the perfect forever home for her.
"Thankfully, she's safe now and is in the best place," Rooney said. "We'll make sure she gets lots of TLC until she's back on her paws."