Hero Dog Leads Rescuers To Toddler Lost In Jungle
He's a VERY good boy ❤
A 20-month-old child who got lost in a thick jungle has been found safe and sound — thanks in no small part to a determined dog named Luke.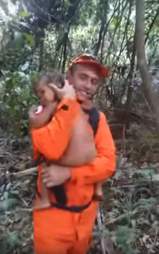 Corpo de Bombeiros Militar de Minas Gerais
Luke is a search and rescue dog with the Corpo de Bombeiros Militar, based in Minas Gerais, Brazil.
On Wednesday, the pup and his colleagues were called in to help track down the toddler, who had wandered away from home while being babysat by an older sibling. An hours-long search by the child's family and neighbors had failed to turn up any clues — but none have a nose like Luke's.
Shortly after arriving on the scene, the dog had found a scent. Over the following 25 minutes, Luke led rescuers through a dense jungle, directly to where the child was standing.
The dramatic final moments of the search were caught on video.
Aside from a few scratches, the child was found to be in good health after the frightening ordeal.
Things could have ended much differently if it weren't for Luke — a very good dog, indeed.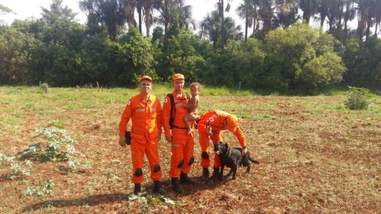 Corpo de Bombeiros Militar de Minas Gerais