Police Get A 'Vicious Dog' Call — But Find Something Quite Unexpected
"He's just a big old baby."
Last weekend, someone called 911 to report a "vicious dog" roaming around a neighborhood in Texarkana, Texas. When police officers went to check things out, they got the biggest surprise — there was a dog, but he definitely wasn't vicious.
Officer Travis Frost and an associate went to investigate the dog. Initially, neither of them knew what to expect. But when they drove through the neighborhood, they spotted a golden-furred pit bull-type dog lying on someone's porch.
"He [Frost] gets out of his car, but you don't know how these dogs are going to react ... so he left his door open on his patrol unit in case he needed a place to retreat to," Shawn Vaughn, public information officer for the Texarkana Texas Police Department, told The Dodo.
But Frost quickly realized the dog wasn't any kind of threat.
"He whistled to the dog to get his attention," Vaughn said. "The dog just trotted over to him with his tail wagging. Obviously, the dog wasn't aggressive at all, and he figured that out almost immediately."
The officers gave the dog lots of pets and scratches, which he happily accepted.
"Looking at this dog, he's obviously very muscular and intimidating in terms of his appearance … but he's just a big old baby," Vaughn said.
Then the dog spotted the open door of the cops' car.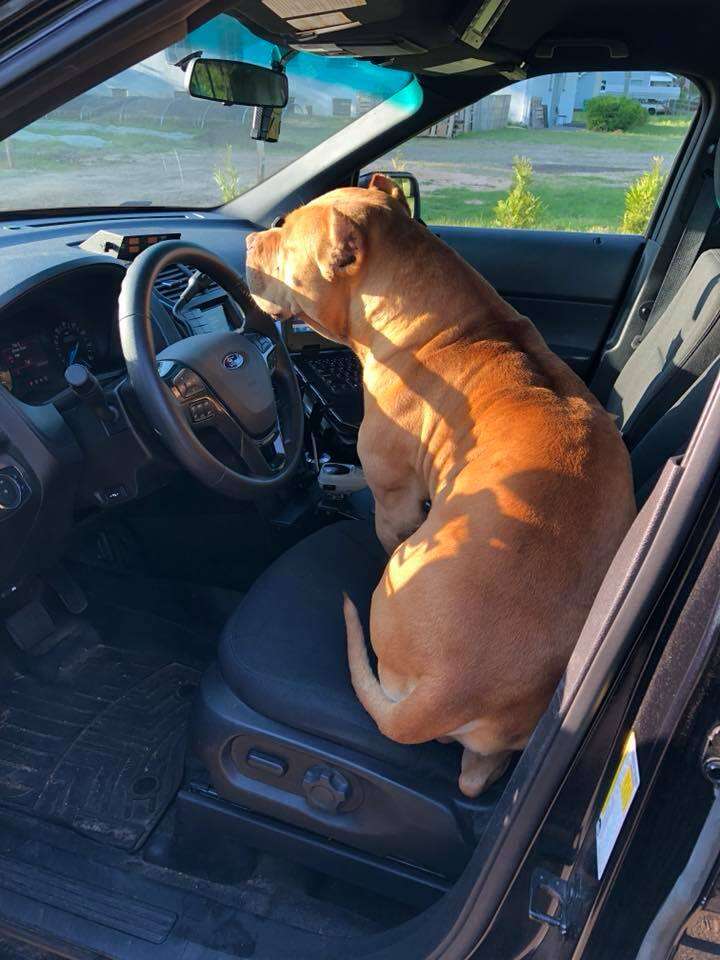 "At some point, the dog just went past him, and ran and jumped into the patrol car there like he was ready to go take a ride," Vaughn said.
As the officers waited for animal control to arrive to take the dog to the shelter, they continued petting the dog and taking photos. "I think the officers were having fun at that point themselves," Vaughn said.
Fortunately, the dog didn't need to stay at the shelter for long. While the dog's microchip information was outdated, the staffers were familiar with the dog, whose name was Gold, and they were able to locate his owner and reunite them the next day.
But it's not always easy to reunite owners with missing pets, which is why Vaughn stresses the importance of updating your contact information on your pet's microchip. "If that information changes at any time, you need to go back and update so that if your dog does get out, then that information on the chip would actually tie back to the animal control people at the shelter," Vaughn said.
After this incident, Vaughn wrote a post on Facebook — and it was shared and liked more than he could have ever imagined. "I'm completely blown away by the response that this post has had," Vaughn said. "It's been phenomenal."
Vaughn hopes that this story will help people see American bullies (which Gold turned out to be) and other pit bull-type dogs in a better light.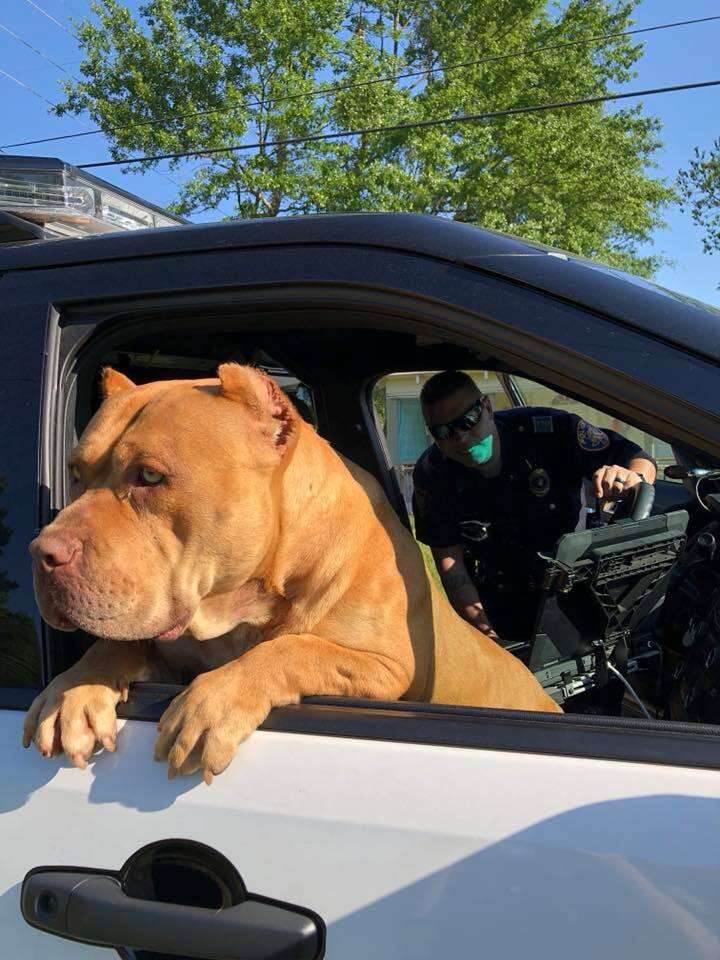 "Pit bulls have a bit of a bad reputation," Vaughn wrote on Facebook. "Travis said that, while you should always be careful around any dog that you don't know, you shouldn't automatically assume that all pit bulls [and similar-looking dogs] are bad dogs. They might be really loving like this guy was this morning."
Want to adopt your own dog? Then meet Dodo Adoptbot, an interactive guide for new pet parents. Get started on
Facebook Messenger
or text HOME to 38349.