Scared Senior Pit Bull Gets The Family He's Always Wanted
"Meatball is home" 💞
Last weekend, Meatball the dog had a party, with a cake all for his own and a lot of friends. Meaty's family called it his first birthday party, even though actually he's about 10.
"Because it was his first year in a loving home and we don't want to count all the crappy years that had passed by previously for him," Kimberly Koster tells The Dodo.
Late one rainy night almost exactly a year ago, Meatball was found chained to a fence in Chicago. He was in a horrific state — his head was swollen, he had deep cuts behind his ears and on his chest, and he had puncture wounds all over his face.
"He was in bad shape and he needed us," Koster says.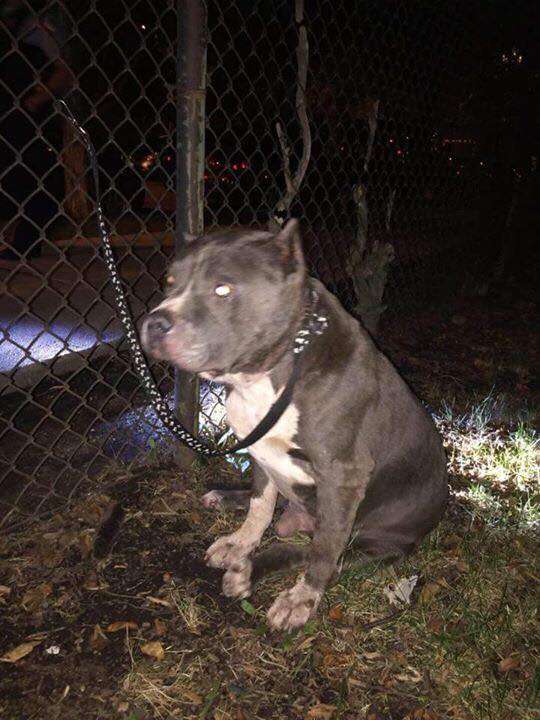 Koster and her husband Kevin, who share their home with three other rescue dogs, took Meatball in as a foster for the group Player for Pits.
Their first two months together were spent nursing Meatball to health. "Caring for his wounds, giving him antibiotics, vitamins, medicated baths, etc," Koster says.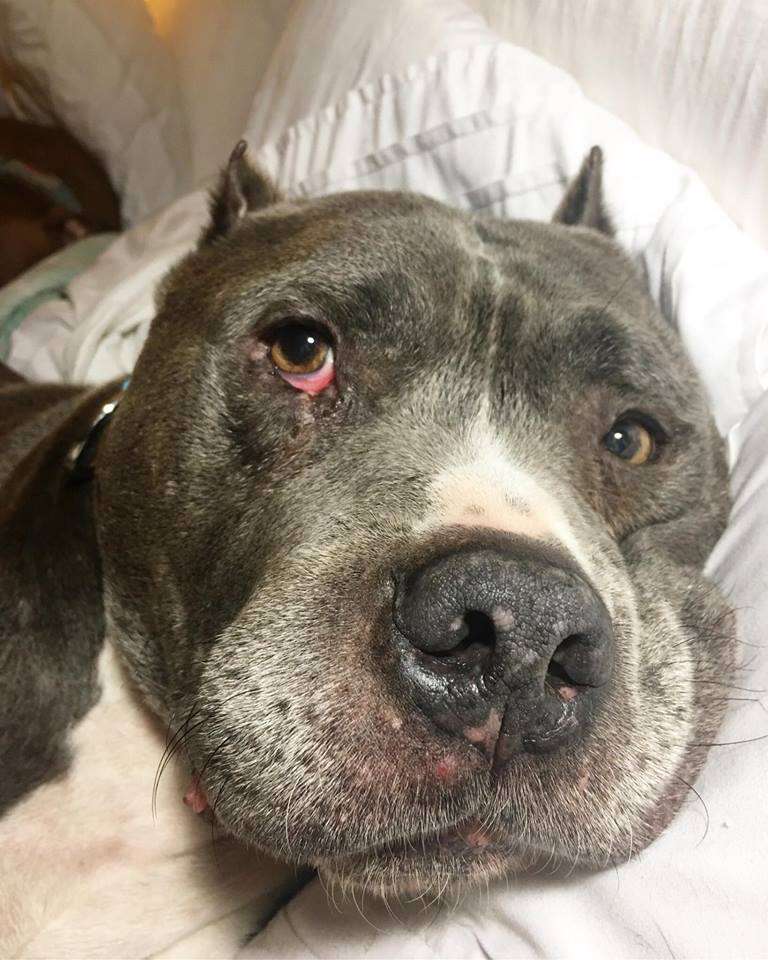 It was only once he'd gotten better physically that Koster and her husband realized Meaty — as they call him — had become completely enamored with them, but "had absolutely no interest in meeting other humans."
"As our trainer put it, we came into Meatball's life when he could have taken or left being alive," Koster says. "I think Kevin and I swooped in at the perfect time to show him the good in life and to show him that life is worth living."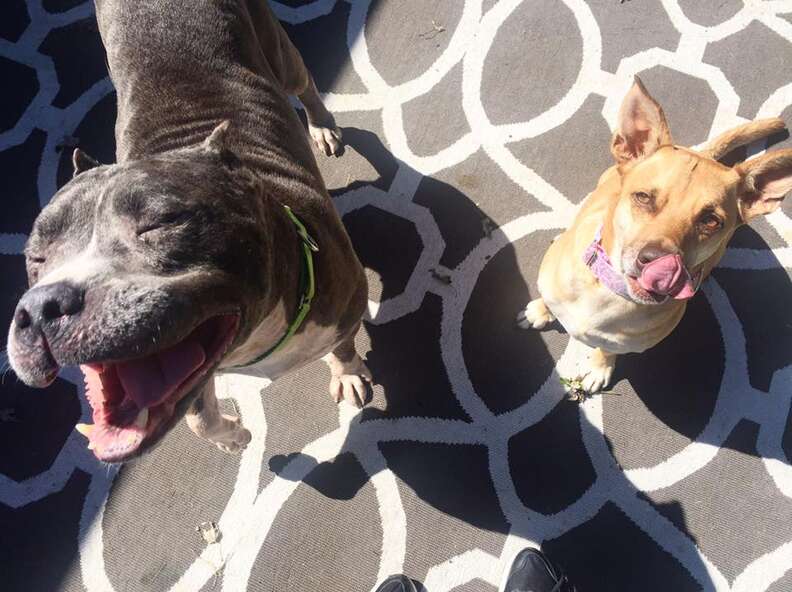 Meatball has a lot of good in his life now. He loves his canine siblings. His two main hobbies are sleeping like a log and eating with verve and glee. Walks with his dad are a close third.
"He loses his mind with excitement when the leash comes out," Koster says.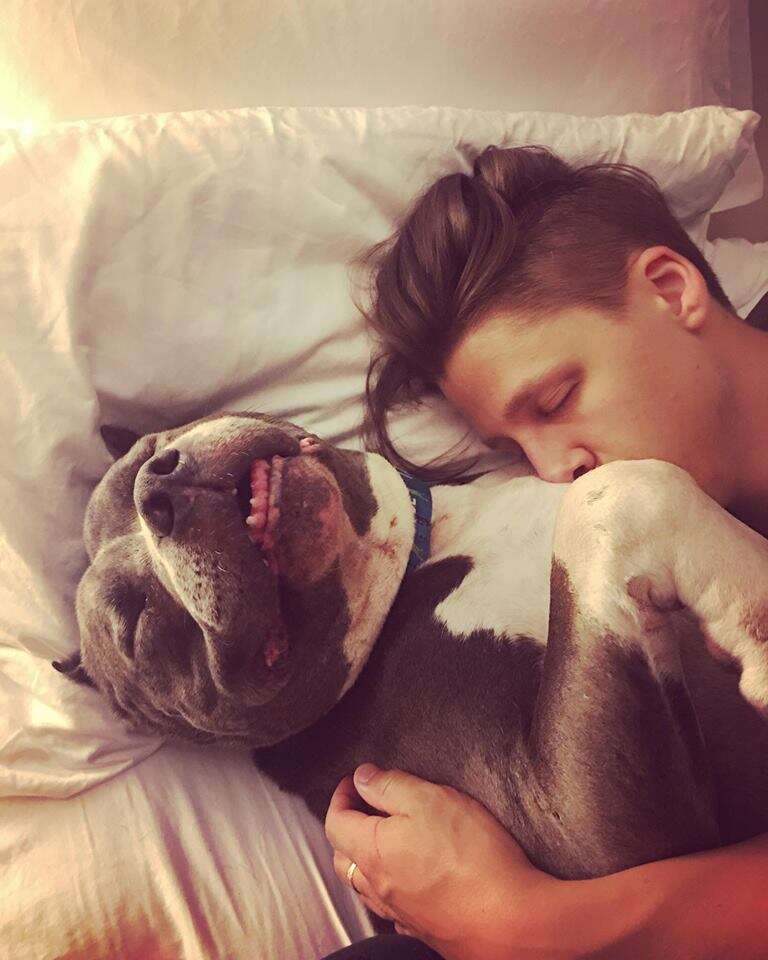 And while it was never the couple's intention to adopt a fourth dog, it became clear to them over time that Meatball was a done deal.
"Meatball learned to trust us and let us into his heart, now he never wants to let go," Koster says. "He sees just how beautiful life can be and is beyond happy with us. I could never fault him for that."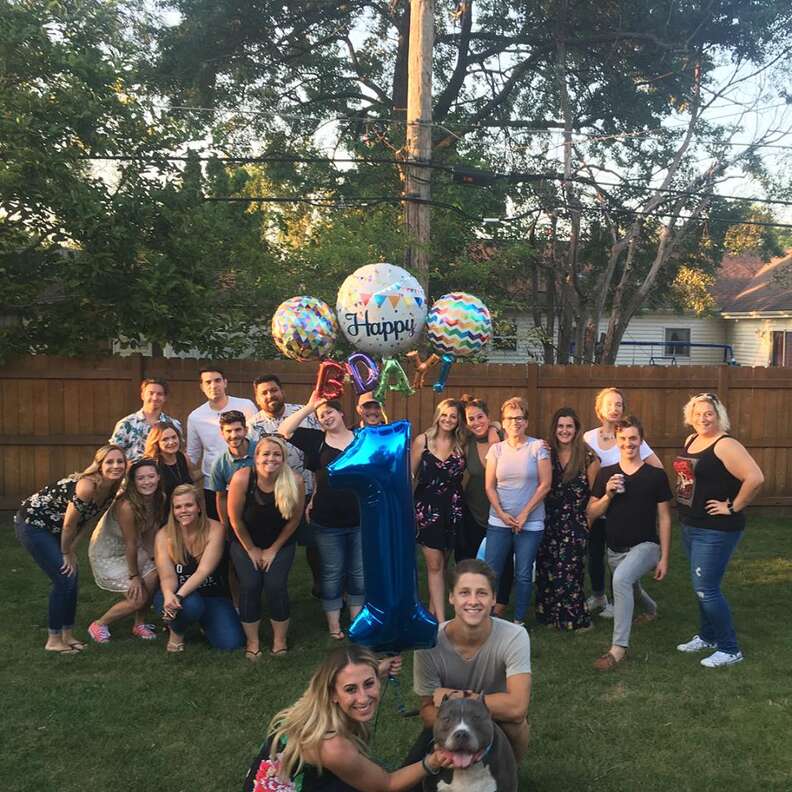 Last weekend's birthday party was also a celebration of Meatball's formal adoption. Around 25 of Meaty's human friends came to cheer his official entry into the family — and they gave the dog of the hour a lot of space so he wouldn't feel overwhelmed.
Koster still has a hard time wrapping her mind around the cruelty that was inflicted on this dog — how someone hurt him so badly, then left him bleeding and tied up to a fence in the rain.
"But he is safe now and he is loving every second of every day," she says. "Meatball is home."