Stray Dog Was So Scared That People Thought She Was 'Untrainable'
It took her four years to open up — but one woman never gave up on her ❤️️
When Peaches arrived as a stray at Yonkers Animal Shelter in March 2014, the only thing workers and volunteers knew for certain was that she was petrified, shaking and shut down.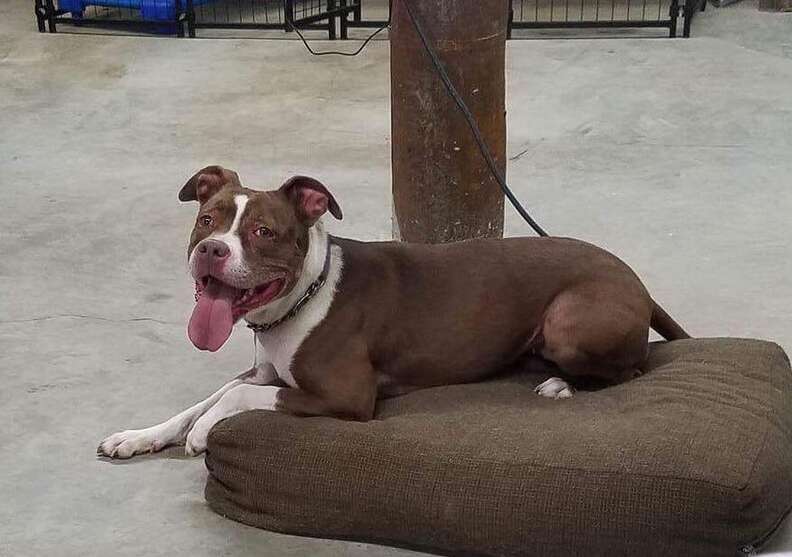 She refused food and treats, and would only stare at the wall, turning her back on the world. "Every sound and new smell terrified her," Margie Yoslowitz, a volunteer at Yonkers Animal Shelter, told The Dodo.
"The staff was worried she had given up — until she finally crawled into the lap of a volunteer for comfort [and] they realized she just needed to be loved."
But it would take a lot of effort to help the frightened dog heal. They tried moving her to quieter, more remote areas of the shelter to help Peaches adjust, but nothing worked. "It became obvious that she could not survive there," Yoslowitz said. "She was stressed and totally broken. It was clear she could never be adopted from a shelter in her state."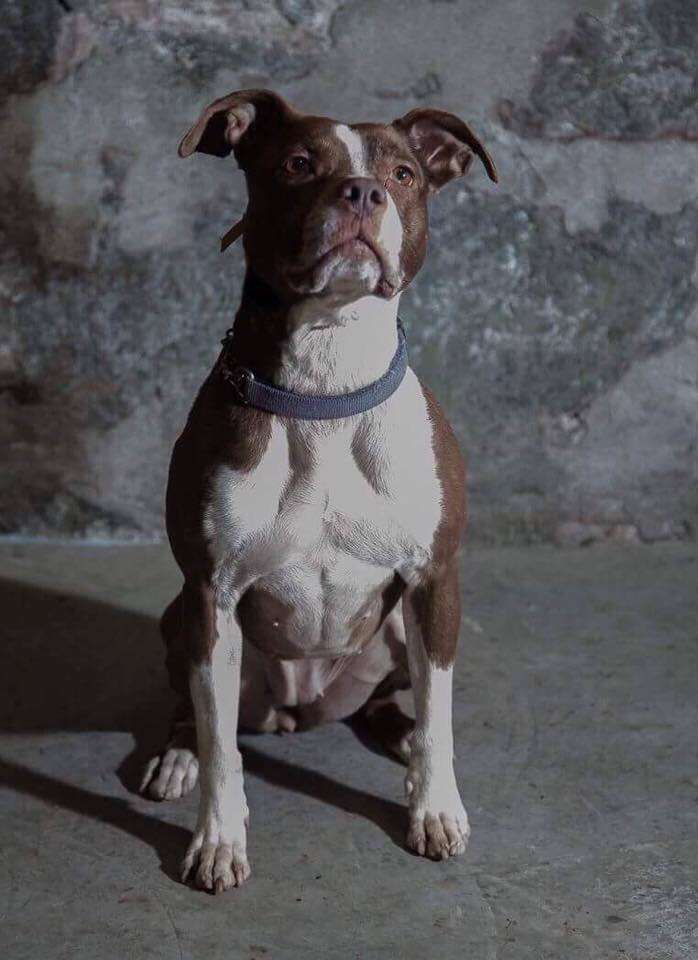 After six months at the shelter with little improvement, Yoslowitz decided she had to try something new. "In Peaches, I saw something special," Yoslowitz said. "There was a light in her eyes that grabbed at me — that told me she deserved every chance she could get to shine."
She pulled Peaches and sent her to a boarding and training program with a professional dog trainer. But Peaches' anxiety proved to be too much for them. "They gave up on her almost immediately, as she was hurting herself in the crate," Yoslowitz said. "They felt she could ultimately cause serious injury to herself and they didn't want the responsibility."
With nowhere else to go, Peaches bounced in and out of boarding kennels for the next two years, thanks to donations from volunteers and fans. Her anxiety and disappointment grew, and she received zero interest from adopters — who had a hard time seeing past her scared demeanor.
"Daily life behind bars in boarding was taking its toll and I began to see signs of depression and frustration," Yoslowitz explained. "She now totally lacked impulse control. I posted endlessly on social media but no one came."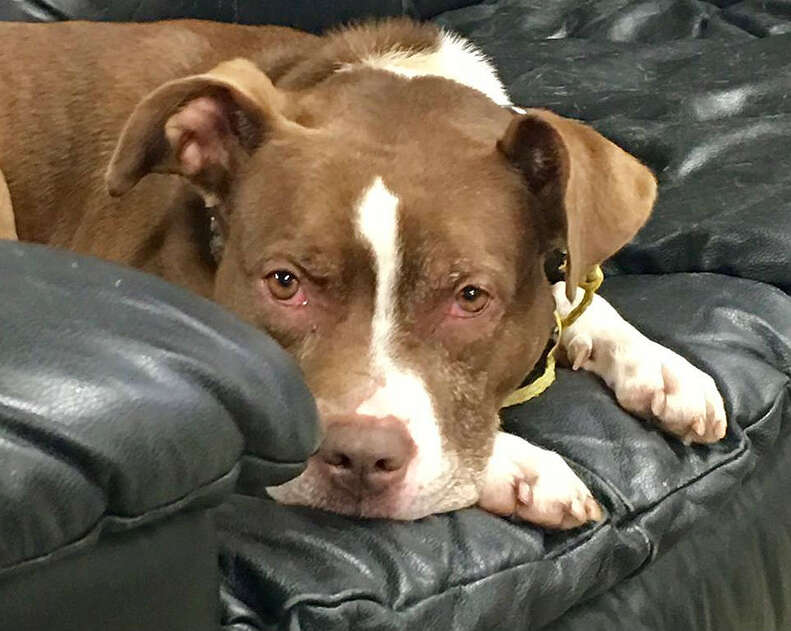 Finally, in October 2016, Yoslowitz raised funds via the same fans and volunteers who had been helping pay for Peaches' boarding and took a chance with another trainer to help Peaches learn the skills she so desperately needed to help her find a home.
Ryan Chase, owner and trainer at Chase K9 Services in Lincoln, Rhode Island, compared Peaches' disposition when she first arrived at his facility to that of a teenage runaway. "She was super intense, a bit of a bully, but also really intelligent," Chase told The Dodo. "She had no focus, couldn't be walked on a leash, wouldn't allow you to grab her collar, growled, could bust out of any containment we put her in, and was aggressive towards other dogs."
It took Chase some time to establish a relationship with Peaches, but after he was able to lay down a pattern of communication with her, they worked diligently for the next several months to correct all of her issues — even the aggression toward other dogs. "After about six months, she became a model dog," Chase said. "She was awesome around other dogs."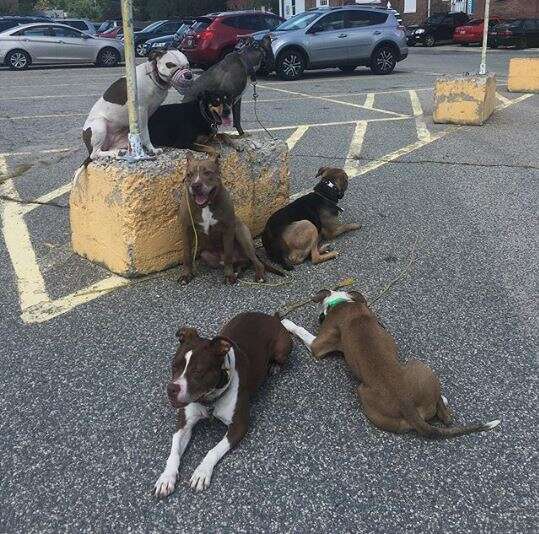 "Peaches blossomed under [Chase's] amazing care and exceeded all expectations," Yoslowitz said. "With his patience and commitment, Peaches learned how to be a family member."
Still, Peaches remained with Chase for over a year as she waited for a home, with barely any interest. "It's rough, because it takes a special person that has the wherewithal to follow through on training," Chase said. "Peaches couldn't go to just anybody, but there was a lack of suitable fosters or adopters. Every household can have a dog, but not every dog can go to a household."
But finally, after 14 months at Chase K9, a woman saw one of Peaches' posts on Facebook and fell in love. "It took one person clicking 'share' to change her life," Yoslowitz said.
Amy Stemhagen of Hamilton, New Jersey, and her two sons had been searching for a new dog to adopt after their pit bull, Glenda, had passed away, when she landed on Peaches' story. Like Yoslowitz, Stemhagen saw something special in Peaches' eyes.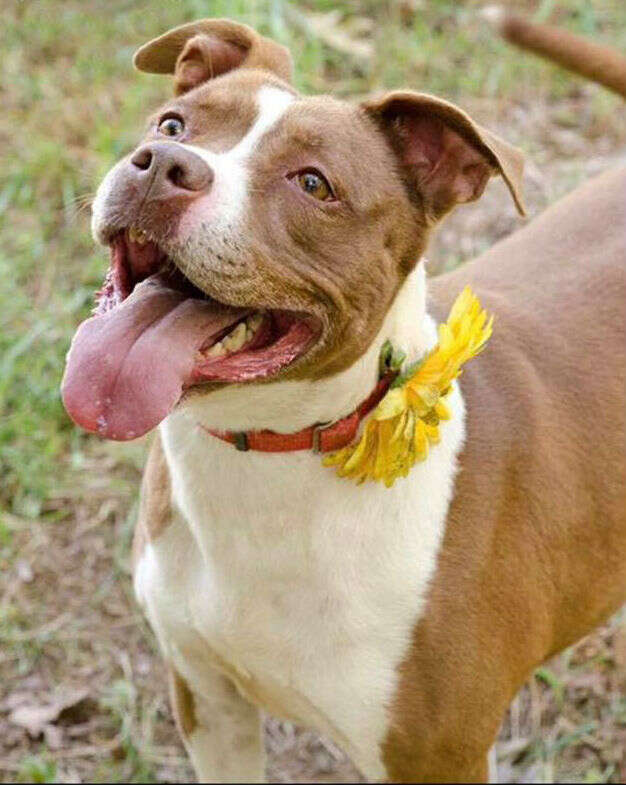 "There was something about her eyes that pulled me in and I read the post," Stemhagen told The Dodo. "When I saw that she had been homeless for more than three years, and that her advocate (Yoslowitz) had been raising money to keep her in a board and train situation, I thought there must really be something special about her. I visited her page and in reading the description, thought we might be a good family for her."
The Stemhagens made the four-hour trek to Rhode Island and officially adopted Peaches in December. She has adjusted well to her home and has continued her training with her new family.
"Our time with [Chase] really set us up for success with Peaches, because we were all prepared to treat her with the same consistency that she was used to at Chase K9 Services," Stemhagen said. They even plan to start a new obedience class with her in the coming weeks.
Peaches loves spending time in her new backyard, going for walks in the park and playing with her toys. "She's an intense chewer and I've been having trouble finding toys that last more than a few minutes," Stemhagen said, "but I'm surprised at how quickly she's figured out what she's allowed to chew and what's off-limits! She absolutely loves playing with her Jolly Ball."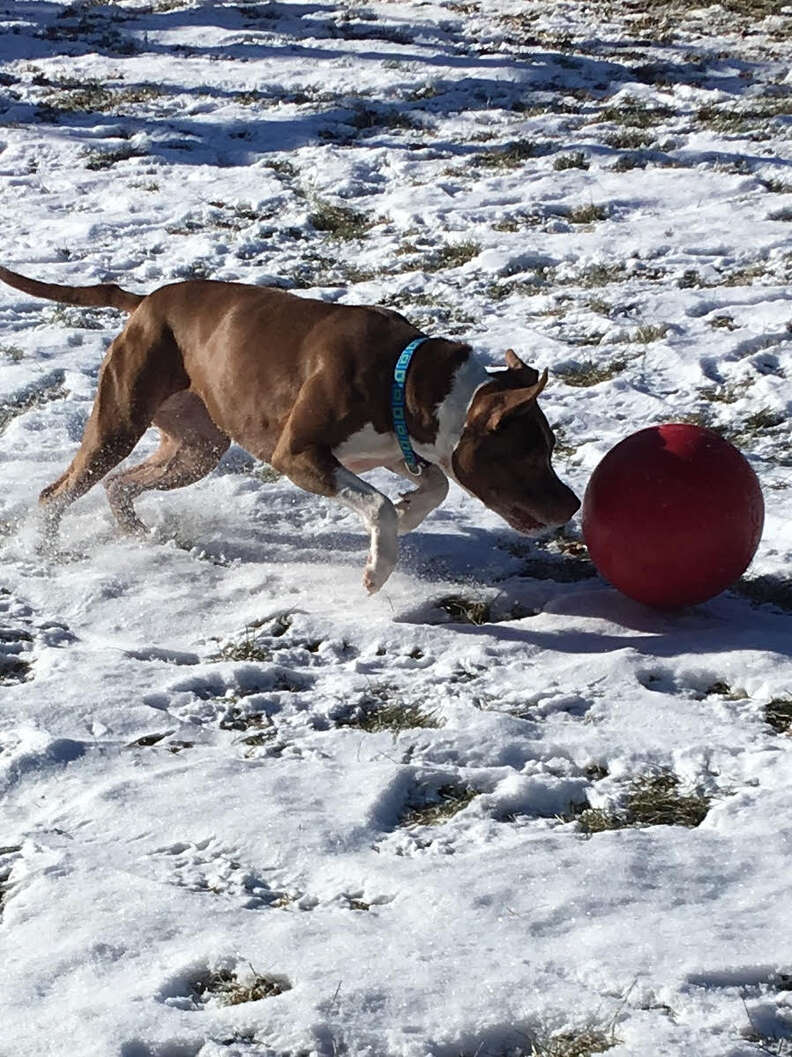 Most of all, Peaches loves snuggling up with her people and giving them lots of kisses. "We're still getting to know each other, but the thing that really stands out is just how friendly she is to everyone she meets," Stemhagen said. "She is a delightful dog — my sons and I feel lucky to be the ones who get to be her people!"