Pregnant Dog Pulled From Shelter Just In Time To Save Her Babies
"When I saw her on social media my heart just broke for her" 💕
When Kathryn Sinske came across Claire's photo on Facebook, there was something in the pregnant Chihuahua's eyes that immediately caught her attention. Whether it was pain or fear in Claire's expression, Sinske stopped scrolling and decided to take action.
"When I saw her on social media my heart just broke for her," Sinske told The Dodo. "She was listed as an older pregnant female ready to give birth any day. She looked terrified and confused in her shelter picture."
Animal control had picked up Claire in San Bernardino, California, and her swollen belly made clear that the officers had found her just in time. Days after her arrival at the shelter, Claire went into labor alone in the early hours of the morning. "She was placed in isolation and given a blanket to have her babies," Sinske said. "She had four puppies but, sadly, one did not make it."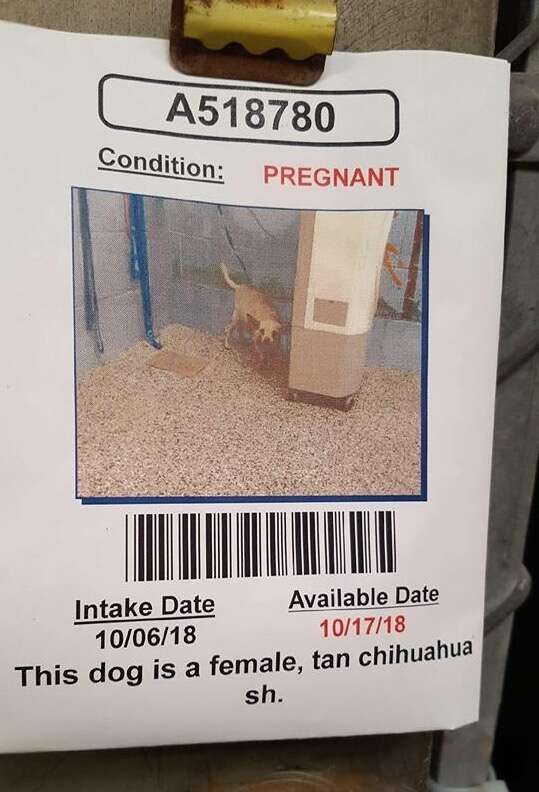 As soon as Sinske learned of the puppies' arrival, she rushed down to the shelter to break the little family out of confinement. Sinske could see that the nervous new mother was filthy and covered in ticks.
"They handed her to me in a carrier and I could tell she was super scared," Sinske said. "I even had to sign a waiver because she was listed as fearful."
Sinske promised to do everything in her power to help the little family survive — a job that became more difficult the next day when Claire's health plummeted. Claire was found to be anemic and suffering from a fever of 105 degrees, so Sinske had to step in as mom for both the sick dog and her babies.
After a week of visits to the vet and hand-feeding both Claire and her babies, Sinske was overjoyed to see the little dog's temperature return to normal. And while Claire has proven to be a picky eater, Sinske is happy to indulge her whims.
"After everything she's been through I have no problem making sure she gets what she wants," Sinske said. "She is so sweet, loves to get lots of love and sit in my lap."
Once the puppies are weaned and Claire is given a clean bill of health, the entire family will begin their search for a forever home.
But after a hard life, Claire is happy to finally be safe and able to give her babies everything they need, Sinske noted: "She's a great mama."