Dog Trapped At Slaughterhouse Refuses To Let Go Of The Man Who Saved Her
"She hugged me and didn't stop."
Sanie had seen unthinkable things.
The 4-month-old puppy cowered inside a metal cage as she watched a butcher grab dog after dog and brutally kill them for their meat. The dogs howled in pain, and Sanie's skin shook as she watched it all happen. Any moment now, it would be her turn. But then, something happened to rewrite her future.
Michael Chour, founder of The Sound of Animals, a group that saves dogs from the meat trade in Southeast Asia, visited the slaughterhouse in Phnom Penh, Cambodia, where Sanie and two other dogs were being kept.
Chour tried to convince the owner to relinquish all three dogs to him, telling him it would bring him good karma. But the owner refused to give up two of the dogs, explaining that they'd already been sold. He did, however, tell Chour that he could take Sanie.
Chour knew that Sanie was petrified, so he crawled into the cage with her to try and gain her trust.
"She was growling and shaking," Chour told The Dodo. "But I made her smell my hand and slowly approached her."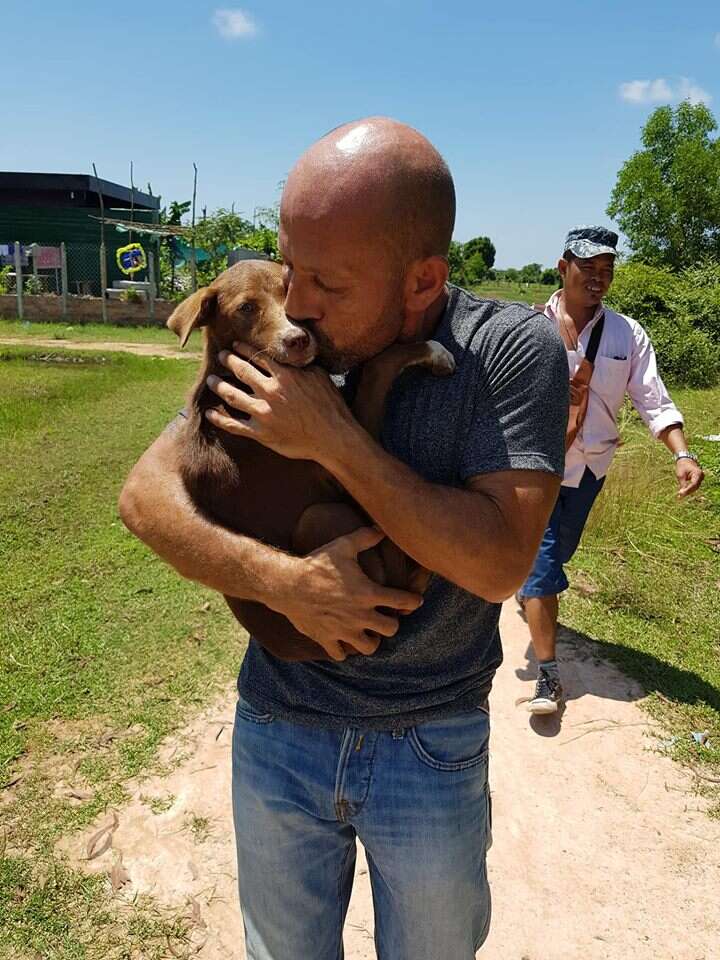 When Chour gently touched Sanie's head, she froze, probably wondering if he was going to kill her. But Chour was patient. He spoke to her in a soft, soothing voice, telling her that she was safe — and Sanie seemed to understand. When Chour put his hand beneath her belly, she allowed him to take her into his arms.
"When I got out of the cage, she was still terrified, and she was looking at the butcher," Chour said. "But after I turned my back to him, she pushed herself against me, and put her head under mine."
From that point on, Sanie wanted to be as close to Chour as possible.
"She hugged me and didn't stop," Chour said. "When I took her to the vet clinic and tried to put her on the floor, she still didn't let go."
Chour believes that Sanie used to have a home in Cambodia, but someone grabbed her from her family's property and sold her to the slaughterhouse. While Chour doesn't think it's possible to find Sanie's original owner, he's promised Sanie he'll keep her safe and find her a new family.
"She knows perfectly well that I saved her and she feels my love," Chour said. "Dogs are intelligent and they understand things."
After getting checked by the vet, Chour took Sanie back to his group's shelter, Blue Dream, where Sanie will meet other dogs rescued from the meat trade.
"I have a friend for her there named Bear," Chour said. "He's a slaughterhouse rescue, too, and he will teach her love and trust."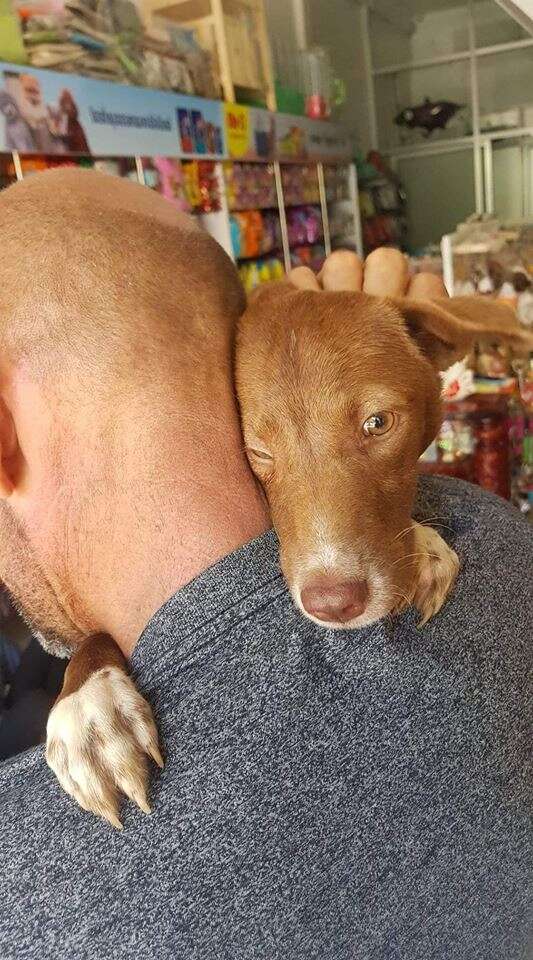 Chour hopes that Sanie will eventually be adopted by a family living in Europe. "We just sent two dogs to England, and they live in paradise now," he said. "They have very happy lives."
Sanie is safe, but Chour will continue saving as many dogs as he can from the meat trade. While Chour lives in Thailand, he often travels across the border to Cambodia to help dogs.
"I was in Cambodia for five days to witness and try to show the world what happens in this country," Chour said. "I was so bad on the way back — just depressed. But Sanie has given me the power to continue to fight."