No One Thought This Blind Kitten Would Survive — Except One Woman
She never gave up on him, and now he's almost unrecognizable.
Kimmie Seely may seem like a regular businesswoman — she owns Kalon Hair Lab in downtown Mishawaka, Indiana — but she's actually a superhero for cats. Some locals have taken to calling her the "Kitten Warrior."
In the corner of her salon, Seely has a gated-off area where the kittens she's helping can play, rest and meet potential adopters. And in her home, Seely has a whole room that can transform into a kitten nursery, supplied with heating pads and bottles for feeding even the tiniest needy cats.
So when someone tagged Seely in a Facebook post about a stray kitten at 11 o'clock one weeknight at the end of August, she was almost immediately in her car, rushing over.
"He was at the corner of a yard," Seely told The Dodo. "We thought he was dead."
But the little kitten, now known as Lenus, was still breathing. Seely picked him up, took him home and, as she gave him a bath, she picked over 40 fleas off of him. Seely saw him through the night and, in the morning, she took him to the vet. He still couldn't keep his eyes open, and he was even too weak to hold his head up.
At the vet office, live cuterebra larvae (a kind of parasite) were discovered burrowed into his chest. Lenus was so weak he couldn't seem to fight anything off.
Lenus also appeared to be blind. "We would throw something and he wouldn't seem to see it," Seely said. "If you put his finger up towards his eye, he wouldn't react."
The vet gave Lenus subcutaneous fluids for the next several days. Seely would get up early in the morning, take him to the vet for fluids, and then bring him to the salon where she could watch over him. After three days, he seemed to be doing much better.
But when Seely was standing at the vet office's front desk on the last day Lenus received fluids, his whole body tensed up and he started thrashing around terribly. He was having a seizure — the first of what would turn out to be many more.
"They didn't know why," Seely said.
The so-called Kitten Warrior took the ailing kitten back to the salon to keep watch over him. He had more seizures, and so Seely took him back to the vet, yet again, for monitoring.
When Seely went to pick Lenus up at the end of the day, no one felt very hopeful about his condition. As difficult as it was to think about, the vet said that perhaps Lenus was just too sick, and maybe the best option was to end his suffering.
But Seely just couldn't give up, especially considering his bloodwork hadn't shown any major health problems. After some Googling, Seely suggested that perhaps the seizures were caused by a parasite in his brain.
"We decided to try 24 hours on antibiotics," Seely said. "So I took him home and his seizures got really bad."
Seely was keeping track of the seizures at first, but then at one point she didn't even have enough time to write down when they were happening before another one started again.
"He seized at least 20 or 25 times that night," Seely said. "I slept on the couch with him to protect him."
While the life of Lenus hung in the balance, there was someone else who was really worried about him. Kelsey Frederick, who also works at the salon, had been looking to adopt a kitten.
"My boyfriend was in kitten mode," Frederick told The Dodo. "He kept looking at kittens online. And I was like, 'Let's see about the next kitten Kimmie gets.' The next day — lo and behold! — Kimmie had Lenus."
But Frederick knew Lenus was very sick. "I was trying not to get attached," Frederick said. "But of course I was already attached."
Frederick suggested to her boyfriend that he come by the salon after getting off of work when Lenus was there. After meeting Lenus the first time, Frederick's boyfriend came in every day that week.
"He would pick him up and they'd fall asleep in the waiting room together," she said. "Every day we weren't sure whether he was gonna make it."
The night Seely took Lenus home to try to see him through his seizures, Frederick was very worried she'd have to say goodbye to the kitten she thought would be hers. "When they told Kimmie to think about putting him down, I felt my heart drop," she said. "I was already invested."
Still, even if Lenus survived, Frederick and her boyfriend, who already had three dogs and one other cat at the time, would have to prepare for taking care of a blind cat.
Amazingly enough, the antibiotics seemed to work and the seizures stopped. If Frederick really wanted to adopt Lenus, she could try taking him home.
"Luckily, he made it through that night," Frederick said. "After a week, he still needed some care, but I thought, 'I've got to get used to this.'"
Frederick took Lenus home. She and her boyfriend had already been reading up on how to care for a blind cat: "Things like, don't move the furniture around too much, get heavy food bowls so they don't tip over ... He seemed very blind," she said. "We had to tap on the floor to have him come to us. We were preparing ourselves. I was still nervous about having to feed him all the time."
Something bizarre happened when Frederick welcomed Lenus home.
"I promise you within a day of having him, he was eating out of the bowl just fine," Frederick said. "As the days continued, he became much more of a normal kitten, and I thought, 'This is weird.'"
Lenus almost instantly learned how to use the litter box. "He picked up habits from our other cat and the little dog," Frederick said. "I thought, 'Wait a minute, you're supposed to be hard to take care of!'"
Another odd — and heart-wrenching — thing happened as Lenus made himself at home.
One of Frederick's dogs was very old, and Frederick expected that any day could be his last. But Lenus especially loved snuggling with this dog — and the feeling was mutual.
"My dog loved him. And I felt almost as if my dog got him into my life, like, 'It's time for me to go — you've got this kitten now.'"
Three days after Lenus came home, Frederick's old dog passed away.
Now little Lenus is 6 months old and doing fabulously with his new family: the two humans, the other cat and two dogs.
And, as it turns out, Lenus — who, by the way, is named after the Celtic god of healing — can see perfectly fine.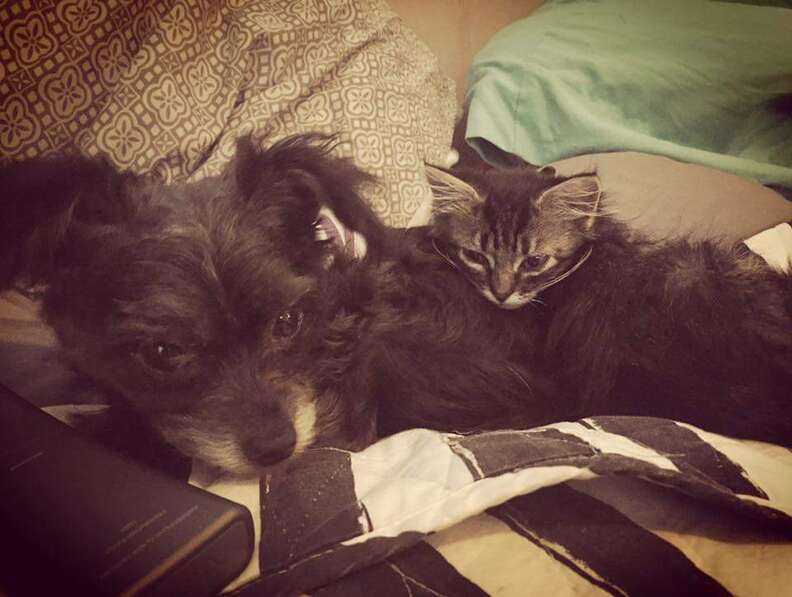 Thinking about adopting? Then meet Dodo Adoptbot, an interactive guide for new pet parents. Get started on
Facebook Messenger
or text HOME to 38349.