Senior Dog Was Returned To Shelter Because He Couldn't Go Up Stairs
He gave up all hope — then someone turned up who loves him EXACTLY how he is.
When Mackenzie Purdy saw Charlie for the first time, it seemed like the shy dog had given up on finding a home of his own. The 7-year-old Shih Tzu mix refused to make eye contact with anyone who walked by — he kept his back turned so that he faced the concrete wall of his kennel at Associated Humane Tinton Falls, a shelter in New Jersey.
Charlie had first come to the shelter in May. A few months earlier, he had been adopted then quickly returned when he couldn't walk up the stairs in his new home.
His owner had been unable to bend down to pick him up and carry him, so Charlie found himself back in the same lonely kennel.
Purdy, who was visiting the shelter in hopes of adding another dog to her family, believed that behind Charlie's cold exterior was a loving dog just waiting to come out; however, she feared other adopters might not be able to see the potential.
"He was a bit older and he walked a little funny, so I had a feeling that not many people would be interested in him," Purdy told The Dodo. "So many people won't be interested in the dogs that don't come to the front of the cage at the shelter."
But Purdy wasn't daunted by a few steps, and continued spending time with Charlie, looking for the slightest hint that he was ready to try again.
"I asked the shelter staff if I could spend some time with him out in the yard," Purdy said. "He was very reserved, and not very interested in me. He did not show much in the way of affection, but he did do a very little tail wag when I walked closer to him."
Encouraged, Purdy brought her dog Baxter to meet Charlie, and the initial tiny tail wag gave way to full-blown excitement. "Charlie was wagging his tail more, and Baxter was interested in him," Purdy said. "They told me I could come the next day to bring him home."
An examination by a veterinarian revealed that Charlie may have suffered an injury to a disc in his back, causing reduced mobility in his hind legs. "He wobbles a bit when he walks, and sometimes topples over because he is weak," Purdy noted, "so he cannot handle stairs."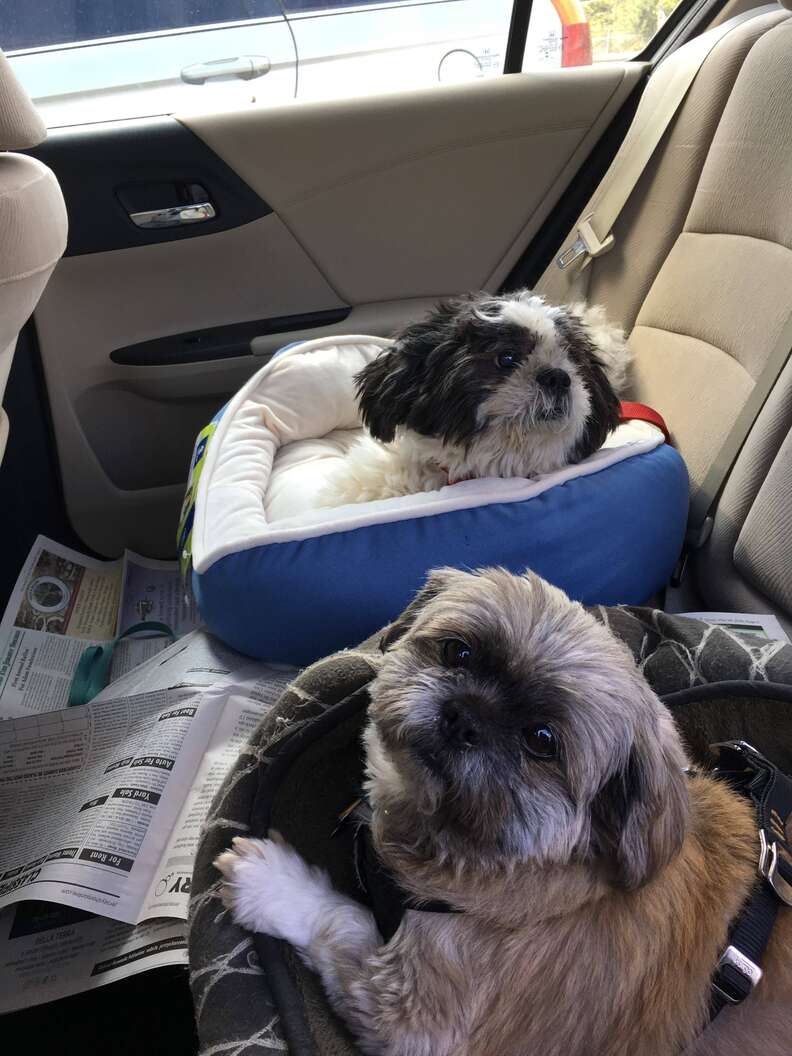 Charlie may never be able to run up steps, but it doesn't stop him from playing with every dog he meets or getting the zoomies after a bath.
Purdy is happy to go at the older dog's speed — something Charlie is very grateful for.
"He has been adjusting well," Purdy said. "My boyfriend and I have been taking him on short walks, and picking him up when we encounter steps. He is a very good boy. He is very quiet and goes with the flow."
After a week in his new home, the dog who wouldn't make eye contact now refuses to sleep alone, happily snuggling up to his new family whenever he has a chance.