Gentle Dog Was Abandoned Just Because Her Parents Had A Baby
They said they didn't need to "practice with a dog anymore" 💔😢
One Saturday morning, Nicki Fricker was in the parking lot of the Jefferson County SPCA in New York, waiting for the shelter to open, when she saw an adorable dachshund sitting nearby.
Fricker had woken up early to drop off a stray dog she had found — and asked the man with the dachshund if he was there to do the same.
"He said no," Fricker told The Dodo. "He's giving her up because his wife is about to have a baby. Then he asked if I wanted her."
"He seemed a little sad, but said that this would be a huge weight off his chest," Fricker added.
Though she already had two large dogs at home, Fricker quickly agreed. She could see that the tiny, nervous dog wouldn't do well in a noisy shelter environment, suddenly far from everything and everyone she'd ever known.
Fricker recounted the odd conversation in a post on the Dogspotting Society Facebook group:
"Me: Oh my goodness I love your dachshund! What's her name?
Man in SPCA parking lot: Dotty. I'm giving her to the shelter because we are having a baby and we don't need to practice with a dog anymore. You want her?
Me: uh... sure?
Now I have a dachshund."
As soon as the former owner drove away, Fricker could see the little dachshund becoming anxious and beginning to shake. Fricker knew then that her first priority was to help the dappled dog feel safe — though expanding her fur family permanently was far from her mind.
"She refused to walk on the leash so I had to carry her to the car," Fricker said. "I figured I would just foster her until we could find [her] a better home."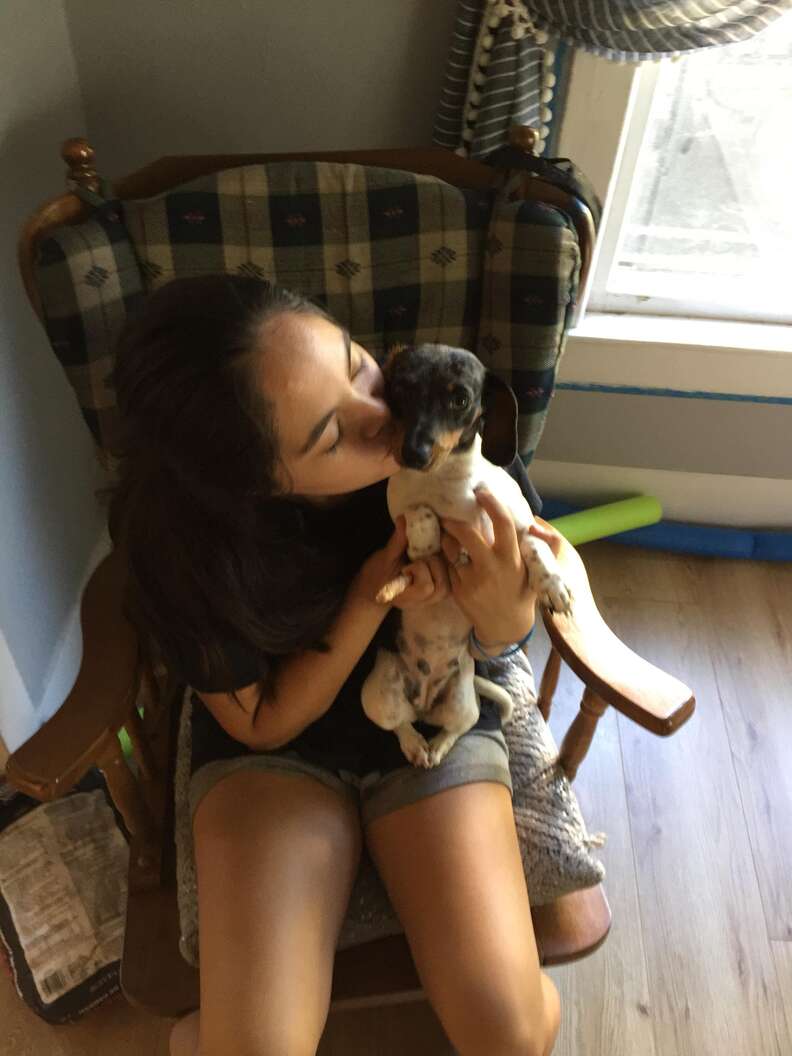 The entire drive home Fricker could feel the dog, whom she later renamed Molly, trembling in her lap, and video chatted with her husband, who was stationed at Fort Drum, New York.
"He was a little mad that I brought home another dog, since I had just brought home my German shepherd, Maddie, about a month ago," Fricker explained.
When Molly met her two new rescue dog siblings, Moo and Maddie, introductions went surprisingly smoothly. "At first she was scared of my giant white dogs," Fricker added, "but she learned that they are family."
And it didn't take long for the little dog to win over Fricker's husband as well.
"He fell in love with her when he came home from work the following day and saw how small she was," Fricker said. "He said that Molly is basically a forever baby."
While Fricker and her husband do not plan on having kids, they now see Molly as their child, and even staged a birth announcement photo shoot to introduce her to the rest of their family.
When Molly is not sitting on her mom's lap, the little dog is happy to play the part of a toddler and cause some chaos.
"She loves burrowing under blankets and stealing toilet paper from the bathroom and pushing it down our stairs," Fricker said. "At the dog park she's a feisty little thing. She's very protective over me. She always gets between me and my husband in the bed."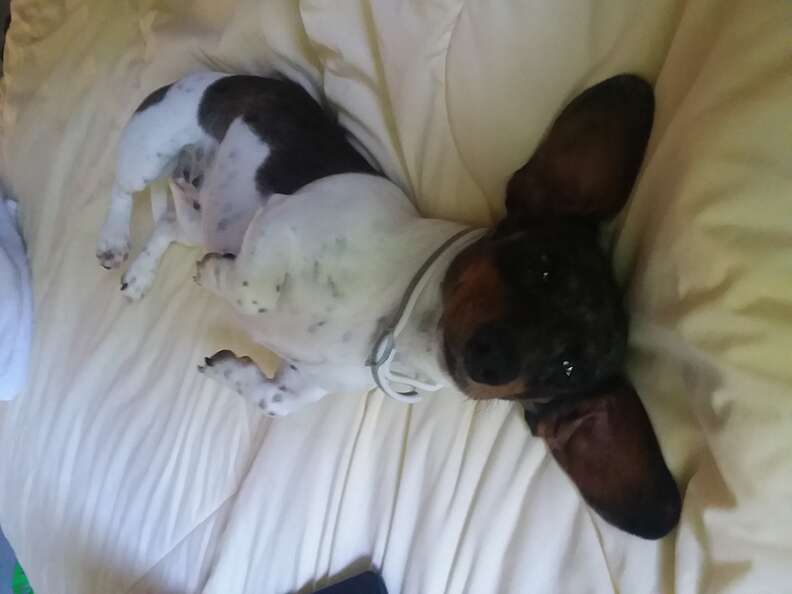 A mere week after being dumped by her former family, the little dog has managed to complete another. And one thing is certain: Molly is no longer "practice" for anything, but a full-fledged member of the Fricker family.
"I already had two dogs and I wasn't looking to add another, but she fit in so well that I couldn't picture letting her go," Fricker said. "Moo and Maddie love her. Her brother, Milo the cat, tolerates her. She's my daughter and I love her."