Dog Was So Matted She Cried When She Was Touched
She looks so much better now — and LOVES to be cuddled.
Olive was found hiding behind a building, absolutely terrified and barely able to move. The little Shih Tzu was so matted that she cried out in pain every time she tried to move — or whenever someone touched her.
Olive was taken to the RSPCA, where staffers were shocked and angered by the condition she was in. They'd never seen anything like it before. 
RSPCA
"When I saw Olive for the first time I was really, really upset," Stephanie Law, an inspector with the RSPCA, said in a press release. "Her coat was really badly matted and she had terrible infections in her eyes and ears. She just looked a complete state, she wouldn't move, she looked so bad, I haven't seen a dog look that bad and still be alive to be honest."
RSPCA
Poor Olive was clearly experiencing a ton of discomfort and pain, and so the RSPCA rushed her to Wood Street Veterinary Hospital as quickly as possible. She was sedated so she could be examined without causing her any extra pain. 
After Olive's insanely matted fur was clipped and shaved, the vet was finally able to see why Olive was so reluctant to be touched. The little dog had massive swelling around her neck and head, and her eyes were so swollen she could barely open them. She also had a very bad ear infection. The vet immediately started Olive on antibiotics, eyedrops and medicated baths every two hours.
RSPCA
"The fact someone could just leave her in that state, it really upset me," Law said. "She was obviously in a lot of pain. She was on quite a high dose of morphine and antibiotics and she was just totally unresponsive."
RSPCA
Everyone knew that Olive was going to need a lot of time to recover from her ordeal, and so one of the vet nurses, Emily Brown, offered to take Olive home and foster her while she recovered. Brown already had a 15-year-old Shih Tzu mix named Benji, along with several other rescue pets, and she knew that Olive would fit right in with her little family.
"I knew I wanted her straight away," Brown said in a press release. "She was just broken, she seemed exhausted, the things she must have gone through. I just knew she had to come home with me."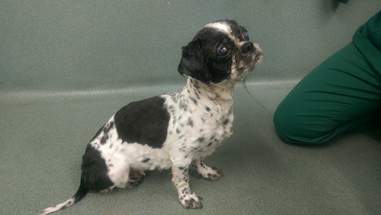 RSPCA
As Olive recovered and began to come out of her shell, she settled into life with Brown's family quickly and happily. Before long, Brown realized there was no way she could part with Olive — and decided to adopt her.
RSPCA
Olive, renamed Betty, is now doing fantastic in her new home, her days of pain and suffering completely behind her. She loves hanging out with her new best friend Benji, and has such a fun, spunky attitude now. Her sight is completely back to normal, and she loves being held and cuddled more than anything.
RSPCA
"She's really sassy and has such a cute personality," Brown said. "She's really cuddly but can be really playful at the same time. She's just perfect; I don't know how anyone could have treated her the way they did. She's just incredible."