Former Fox-Hunting Hounds Finally Learn What It's Like To Be Loved
"All of the dogs that we brought in seemed to have this immediate realization of, 'OK, I'm not here for the purpose of doing a job anymore. I'm here to get petted and get treats.'"
For years, the hounds had only one purpose — to chase down foxes. They were owned by a fox hunting group, which didn't kill the foxes but still chased them in an effort to preserve traditional hunts. When the hounds weren't being used, they lived in small, barren kennels floored with sawdust — they didn't have any beds or toys, and rarely had human companionship.
But this May, the lives of 23 hounds changed forever.
When the hunting club, which was located in Pennsylvania, decided to downsize, it approached Main Line Animal Rescue (MLAR) and asked if it would take some of the retired dogs.
"In the past, they had never released any dogs up for adoption," Russ Stewart, development coordinator for MLAR, told The Dodo. "But they said they had a number of dogs who had been retired, or who hadn't even been out with the pack because they either weren't hunters or they weren't fast enough to keep up anymore."
The hunt club didn't have particular dogs in mind to surrender — instead, it invited Stewart and another staff member from MLAR to the hunt club to pick out the dogs themselves.
"We really tried to focus on the older dogs in the group, simply because we figured they were the most at risk," Stewart said. "We also wanted to make an effort for these dogs who had been there for five, six or more years. All they had known was the hunt club, and we wanted to give them a shot to get into a home and spend their golden years in a home with a family."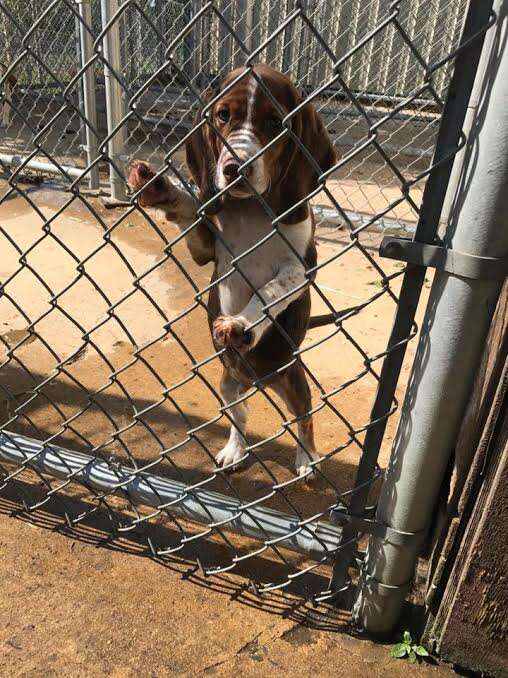 With a grant from The Grey Muzzle, an organization that helps save senior dogs, MLAR was able to take home seven retired hounds on its first trip to the hunt club. After about a week, they were able to take a few more. The next week after that, they took even more, eventually bringing the total of rescued hounds to 23.
While MLAR was determined to take in as many hounds as possible, they weren't sure how these dogs, whose sole purpose had been to chase foxes, would fare in homes.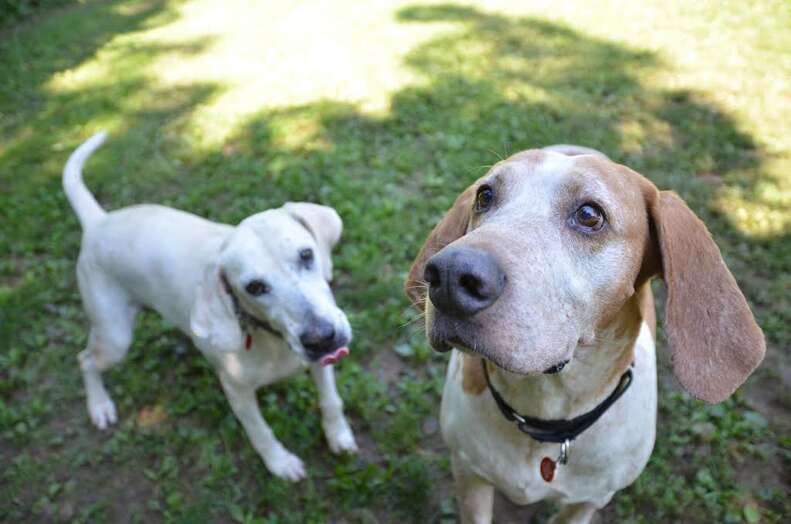 "Where these dogs lived, it's just a straight, plain dog kennel," Stewart said. "They'd go out a couple times, and they go back in. They didn't get to lay on a sofa and watch TV and stuff like that."
But Stewart and the others at MLAR quickly realized they had nothing to worry about.
"We were really impressed with how quickly the hounds warmed up to human contact," Stewart said. "We weren't sure how well they would do with that, but they all absolutely loved being with people."
"All of the dogs that we brought in seemed to have this immediate realization of, 'OK, I'm not here for the purpose of doing a job anymore. I'm here to get petted and get treats. They just want me to be a happy dog,'" Stewart added.
One hound named Defender had a particularly remarkable transition.
"When we picked him up and brought him over, he was very overweight," Stewart said. "He couldn't keep up with the pack and he couldn't run at all."
But with a little love and attention, Defender transformed into a different dog.
"I had asked one of the kennel caretakers from the hunt club to come out and visit us about three weeks later," Stewart said. "One of our volunteers was actually walking Defender down the driveway when she pulled up, and she was amazed at first by how much weight he lost. He ended up losing close to 50 pounds."
After shedding some weight, Defender gained something much more appropriate — a forever family.
"We ended up having a family come in — it was a couple with two young girls," Stewart said. "They were looking for a big dog, but they wanted a puppy. Their previous dog had passed away, and they thought that if they got a puppy, the puppy would want to spend time with the girls."
But when the staff at MLAR brought out the puppies, the girls didn't connect with them. So Stewart decided to show them Defender, even though he was a senior dog.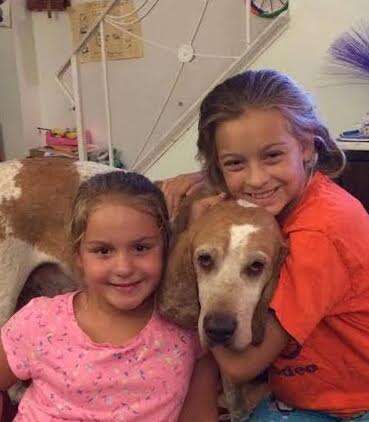 "So we brought Defender down, and he went straight up to the girls, and literally they just dog-piled on top of him, and he could not have been happier," Stewart said. "It was like he found his purpose in life — to be with these two girls. Immediately, the couple said, 'Well, obviously, this seals the deal.'"
Another hound who found the perfect family was Bookman.
"It was the same kind of situation — a family came out with two young kids, and the most important thing to them was having a dog that was OK with the kids," Stewart said. "They have [since] sent us several pictures of him [Bookman] on the couch with the kids just using him as a pillow, and falling asleep on top of him. He's just as happy as can be now."
Not only do the former hunting hounds seem great with kids — they're also fine with cats, Stewart discovered.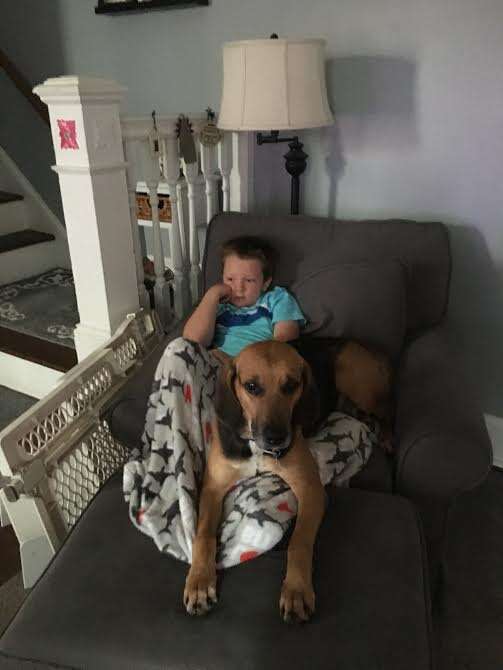 "We were afraid that they would have some prey drive, especially if they were going into a home with a cat," Stewart said. "But they [the hunting club] actually train the dogs not to chase cats, which is part of their hunt training. They only want them to chase a fox."
The rescue and rehoming efforts for these 23 hounds were so successful, Stewart hopes that the hunt club will eventually surrender more hounds to MLAR — and that these dogs can learn what it's like to be in happy homes.
"All the dogs are gentle," Stewart said. "They ended up being the perfect fit for so many families."
To help MLAR retire more hounds from hunting clubs, you can
make a donation
.