Dog Saved From Dogfighting Still Smiles At Everyone He Meets
"He loves to cuddle and give kisses — and especially loves belly rubs."
When a young pit bull showed up at a Moreno Valley, California, shelter this summer after he was found wandering the streets, he was covered in scars and fresh bite wounds that were badly infected. He walked and sat with his head hung low, and was very cautious around people.
One of his most noticeable injuries was to his upper lip, where a piece was missing, presumably from being bitten off by another dog. He was also very malnourished and his teeth were worn down, presumably from having a break stick used on him — a tool used to separate dogs who are fighting.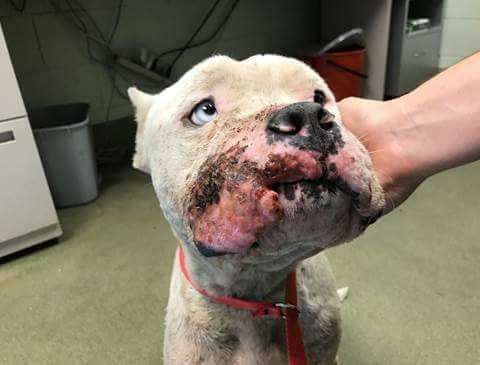 The public shelter workers didn't know where the 2-year-old dog came from, but instantly recognized that he needed help, and started looking for an organization that could give him the care he needed. It's The Pits Dog Rescue, a San Diego-based rescue specializing in bully breeds, took him in right away — and soon named him Triumph.

Looking at his injuries, it was clear he had been used as a bait dog — a dog who's continuously attacked by other dogs to train them for dogfighting. But it didn't take long for them to look past all of the wounds and see a dog with a ton of potential and love.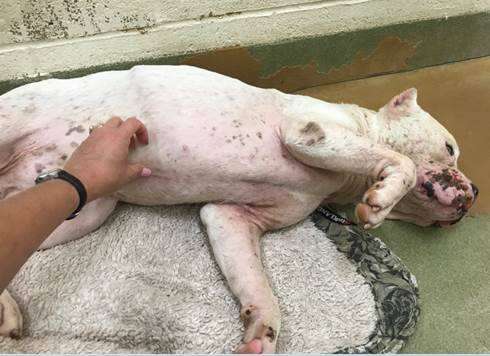 "He was a stray, so unfortunately the people who did this got away with it," Andrea Malley Sowieja, communications director for It's The Pits, told The Dodo. "Triumph is a sweet and affectionate boy who has such a silly personality that you just can't help but fall in love with him. He loves to cuddle and give kisses — and especially loves belly rubs."

In the weeks after his rescue, vets treated his infected wounds, began a diet that would help him put on weight, and continued monitoring his mouth injury, which had been swollen and red when he arrived. Luckily, his upper lip fully healed without surgery.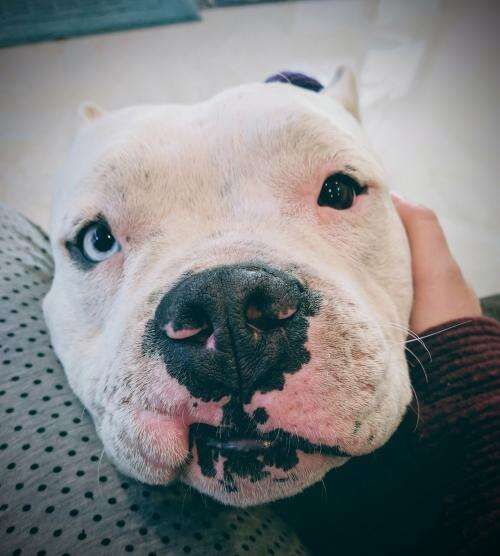 Within a few weeks, only a few scars remained — and Triumph was truly coming out of his shell. He learned how to play with toys and go on walks, and discovered how much he truly loves being a dog.
At his foster home, Triumph lives peacefully among other dogs and is learning new things each day through daily walks and socialization training. While he loves being active, cuddling is one of his favorite activities.

"Triumph is a homebody," Malley Sowieja said. "He's happy going on walks, but will be just as happy playing in the backyard, followed by snuggling on the couch, of course!"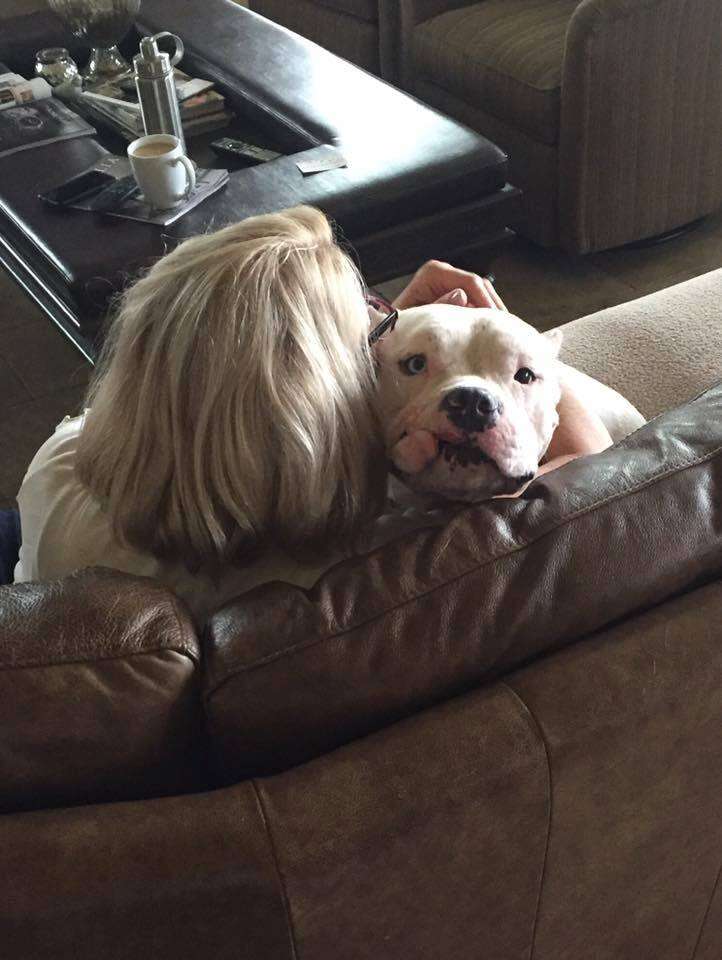 That's a far cry from Triumph's former life — a reality that dogs in the U.S. still face despite dogfighting being outlawed in all 50 states. Based on fight reports and the number of animals entering shelters bearing dogfighting injuries, the ASPCA estimates that tens of thousands of people still participate in dogfights today.

According to the ASPCA, the practice has also rebounded in recent years, given that the internet makes it "easier than ever for dogfighters to exchange information about animals and fights."
While Triumph has been officially health-cleared and up for adoption since October, he is still at his foster home waiting for the perfect forever family to call his own. The rescue has received a lot of inquiries about him, though, noting that his friendly face has captured the hearts of many on social media.
From his lip injury, Triumph has an extra toothy smile — which he's often flashing to anyone he meets. He also has a very special look in his eyes: his left eye is deep brown, while his right is light blue. Unlike many dogs with this unique eye coloration, Triumph has full vision in both eyes.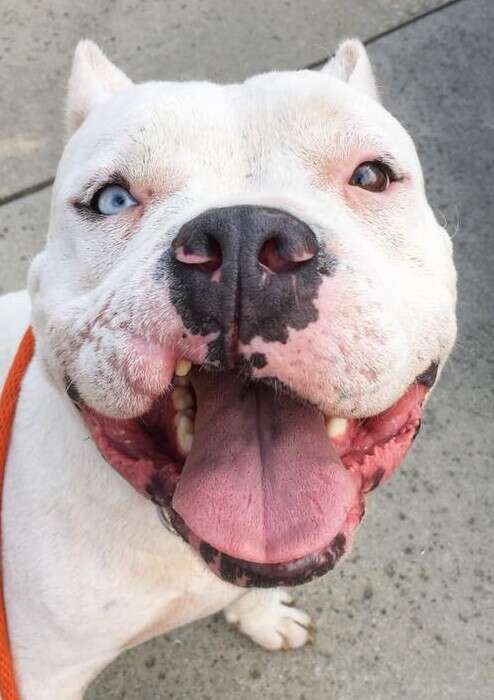 Malley Sowieja said he would do best in a home with puppies or mellow, easygoing female dogs and humans who are patient and understanding, given his former life.
"Triumph needs a family who will respect his past traumas, while encouraging his confidence and, of course, providing unconditional love," Malley Sowieja said. "In the world of rescue, it can often be defeating and depressing — but Triumph is a great reminder of why we do what we do."