Sick Snake Dumped At Shelter Loves Cuddling With His Foster Mom
"After a week of him in my care, he started popping his head out of the tub and resting it on my lap."
Ra ended up at the Downey Animal Shelter in California after his previous owner went to jail and the owner's roommate and her boyfriend were unable to care for him. He was so sick when he arrived at the shelter that if someone didn't come to get him that day, he would be put down. Luckily, JoAnn Wiltz, a local animal rescuer, found out about Ra and knew she could help him. She rushed out to the shelter as quickly as she could, and got Ra just in time.
As soon as Ra was safe and sound in her car, Wiltz opened up his carrier to take a closer look at him. The poor snake was severely dehydrated, 20 pounds underweight, covered in mites and had five layers of shed skin piled up on his body. He also suffered from broken teeth, abscesses in his mouth and a respiratory infection. He was so weak he could barely move around on his own, and it was clear that Ra's journey to recovery was going to be a long one.
"You had to support every part of his body or else he would turn into a noodle," Wiltz told The Dodo. "It was clear that the previous owner failed to take care of him for months. My heart completely broke into pieces."
Unfortunately, Wiltz's go-to reptile vet was closed that day, and she wouldn't be able to get Ra in until the following day. Knowing that Ra needed serious help, Wiltz contacted her friend Sabine Bradley-Phillips from the Reptile & Amphibian Rescue Network, and was told to soak Ra in the shower in order to rehydrate him and drown the mites. Bradley-Phillips also came over and helped Wiltz take care of the abscesses in Ra's mouth, and checked him over to make sure he didn't have any other pressing issues. The poor snake seemed so defeated and had so little energy he could barely interact with his new foster mom at all.
"Ra has always been a sweet boy; however, he was shut down for the first few days," Wiltz said. "After all that he has been though he has never tried to strike or show any aggression or mistrust."
For the first month after being rescued, Ra had to soak in the bathtub with the shower running for at least an hour and a half every day. His foster mom would then dry him off and rub vitamin E oil all over his body. Every three days, he needed a shot of antibiotics under his scales, and even with all of this attention and care, Wiltz was still worried he might not pull through. He was so sick he couldn't even eat on his own, but somehow, the determined snake began to get a tiny bit stronger every day. As he healed physically, his personality began to shine through as well, and he suddenly transformed into the sweetest cuddlebug.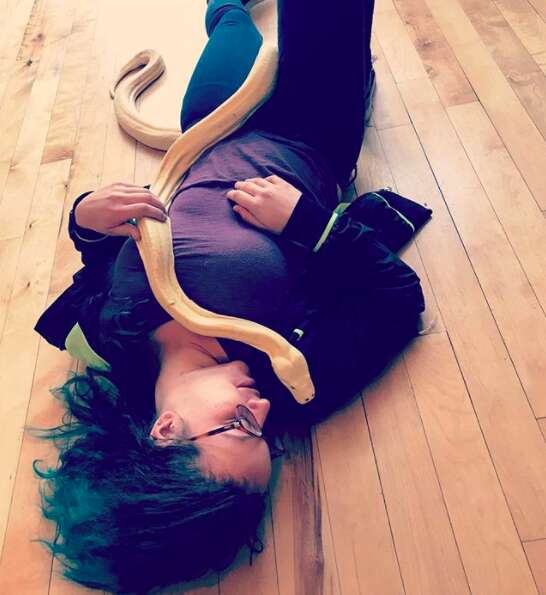 "After a week of him in my care, he started popping his head out of the tub and resting it on my lap," Wiltz said. "He is now a lot more active and almost has the majority of his strength back. He loves being handled and I cuddle with him on a daily basis."
Ra and his foster mom are incredibly close now, and he loves nothing more than spending time with her and cuddling up with her around the house. He also absolutely loves water, and would spend hours just hanging out in the bathtub if Wiltz let him. He is so different now from the snake that Wiltz first picked up from the shelter back in April, and it's almost like he's a completely different snake.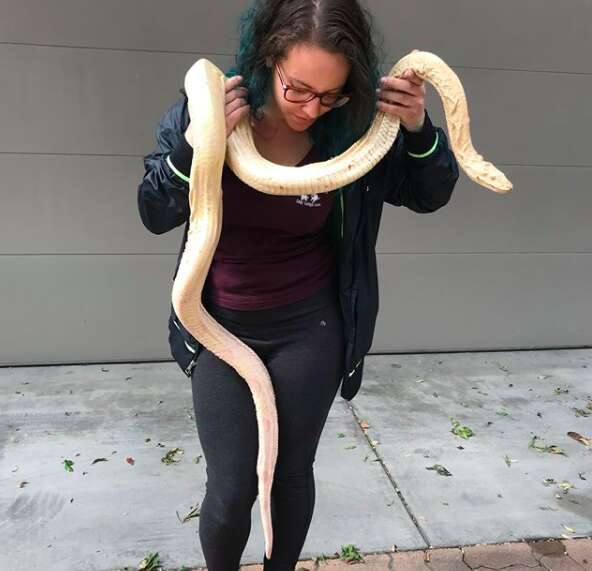 Even though Ra has come so far, he still has a long way to go on his recovery journey. He is still not able to eat on his own, and has to be tube-fed a few times a week. His color is slowly coming back and he's so much stronger, but he still has some healing to do in the comfort of his foster home. Once he is eating on his own again and is completely healthy, he will be up for adoption — although Wiltz has a sneaking suspicion he may have already found his forever home.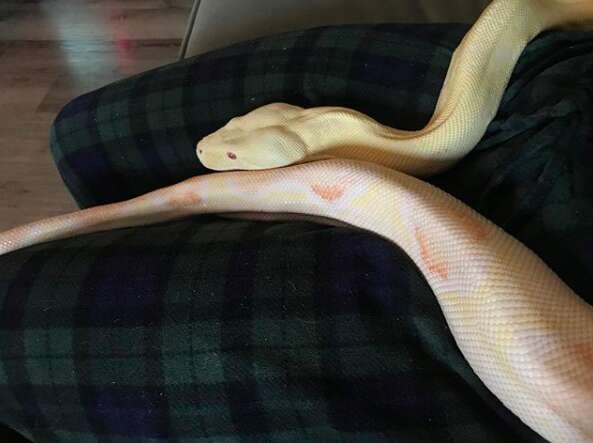 "I have developed such a strong bond with him during this journey, this may turn into a foster failure," Wiltz said.