Ismael Mungaya was walking home from church when he noticed six golden-furred puppies searching for food on the road. Motorcycles and cars were speeding by, and Mungaya worried the puppies would get hit.
Mungaya dropped his phone and books on the ground, and hurried to move the puppies away from traffic. Then he went to speak to the owners of a nearby house to find out if they knew anything about the tiny dogs.
As it turned out, the people owned a female guard dog, and they said she'd given birth to the six puppies a couple of months ago. But the people didn't want the puppies around, and they weren't taking care of them.
"They told me they wanted to keep their mama dog and to throw the puppies away," Mungaya, the founder of a small rescue group in Arusha, Tanzania, told The Dodo. "I felt very sad and said I should help them."
The people agreed to give Mungaya the puppies, but getting six wriggly animals back to his house, which was about a half-mile away, was going to be tricky. But Mungaya and a couple of local boys found a solution — a bucket, which they borrowed from the homeowners.
"I put them in the bucket one by one," Mungaya said. "They were barking, but after we started carrying them, they became calm."
And if the puppies were still scared, they seemed to find comfort in each other.
"They snuggled each other," Mungaya said. "It was heartwarming for me to see."
Once Mungaya reached home, he unloaded the puppies and settled them into his dog shelter, which he recently built in his parents' backyard. Then he called a vet to get the puppies' health assessed and to vaccinate them.
"I cook for them three times a day, play with them and wash them," Mungaya said. "They are feeling better now and they are happy here."
Besides giving the puppies food, shelter and medical care, Mungaya also gave them names — Selina, Nyota, Skuby, Rubi, Rozi and Tom.
Once the puppies have gained weight and they've been spayed and neutered, Mungaya will put them up for adoption, although finding them the right home will be tricky.
While Mungaya would love to also rescue the puppies' mother, he's not certain the owners will relinquish her — but he is determined to get her spayed so she doesn't have any more litters, he explained.
In Tanzania, many people view dogs as dirty creatures who aren't worthy of love and care, according to Mungaya. If people do keep dogs, it's usually for security reasons.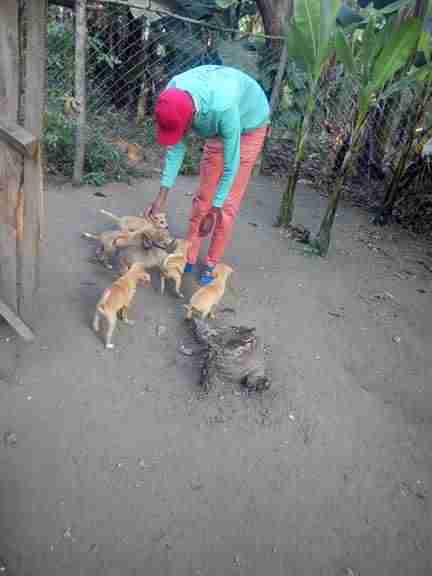 "I am helping dogs in my city because I need to inspire so many other people and children to care about dogs," Mungaya said. "Dogs are more than just for security — dogs are important to us as friends, and I want to see dogs living happy lives."