Shelter Dog Is Happiest When She's Snuggled Up In Jammies
"She loves meeting everyone, and seems to have a never-ending supply of love for humans, despite being out on her own for a while."
Some dogs don't mind being dressed up in clothes; others seem to hate it. Chunk, a 3-year-old pit bull mix, is definitely the first kind of dog.
When staff members at DeKalb County Animal Services in Georgia dressed Chunk up in a pair of pajamas, Chunk wriggled with excitement.
"Chunk is one of those dogs who loves any kind of attention," Karen Hirsch, public relations director for LifeLine Animal Project, a program run by DeKalb County Animal Services, told The Dodo. "And when she has pajamas on, she gets lots of adoration from the staff, so she enjoys being dressed up."
"Not all other dogs are as chilled out in pajamas like Chunk," she added. "She is definitely one of the more relaxed dogs."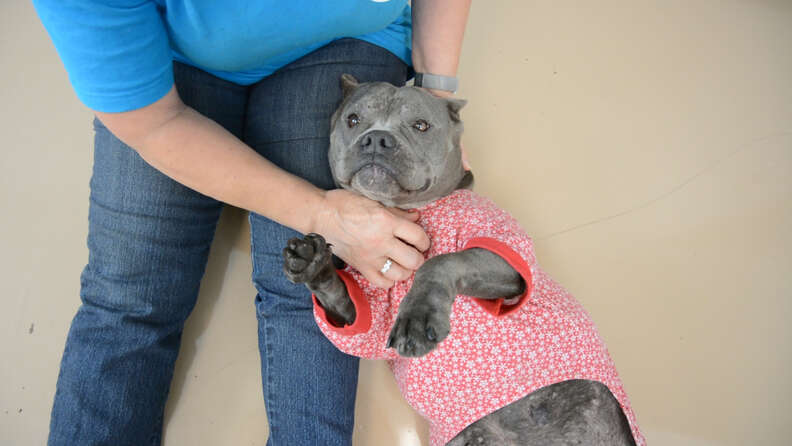 Earlier this month, Chunk arrived at the shelter after being picked up as a stray. While no one knows how long Chunk lived on the streets, she definitely wasn't in great shape — she was covered in fleas and had dermatitis on her skin.
The vet team immediately started treating Chunk with medication and a healthy diet. And it didn't take long for the staff to fall in love with Chunk, who was named for her short, chunky body.
"She loves meeting everyone, and seems to have a never-ending supply of love for humans, despite being out on her own for a while," Hirsch said.
The staff members gave Chunk lots of attention, but what Chunk really needed was a forever home. To help make this happen sooner rather than later, they dressed her up in a pair of red pajamas and took photos of her.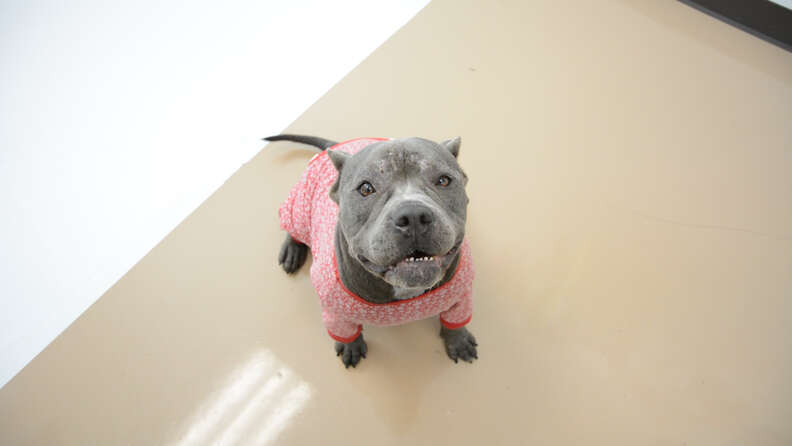 "We often like to showcase our shelter pets' personalities and show how gentle so many of them are by dressing them up in costumes that reflect their personalities," Hirsch said. "In Chunk's case, we thought pajamas helped emphasize her cuddly, teddy-bear personality, and she looks adorable in them."
Chunk doesn't just like pajamas — she also adores stuffed animals, according to Hirsch.
"Her favorite seems to be the teddy bear," Hirsch said. "She prefers to play with toys in your lap, but will settle for a comfy dog bed too."
The shelter staff also took a video of Chunk in her pajamas — and it went viral. It might have even helped find her a home. A rescue group will soon be taking Chunk from the shelter, and helping her find a home, according to Hirsch.
"We are thrilled that Chunk is going to be rescued and will be leaving shelter life behind her," Hirsch said. "She is so adorable that we know she will get adopted quickly, and receive all the cuddles and love that she so deserves."
While Chunk is set to find a forever home, lots of other dogs at the shelter run by DeKalb County Animal Services are still looking for families. If you're interested in getting a new best friend, visit the shelter's
Facebook page
.