Kitten Won't Stop Smiling After Being Rescued
"She has added so much joy to our hearts and our home" 🌷
Tulip has faced countless challenges in her short life, but the 10-month-old kitten still greets each day with a smile.
Found on the streets of Ontario, Canada, she was taken in by a local rescue at about 2 weeks old. Tulip was suffering from an eye infection, but still smiled for the camera when the rescue snapped a shot of her for its website. Little did the kitten know, that picture would be the one to find her a forever family.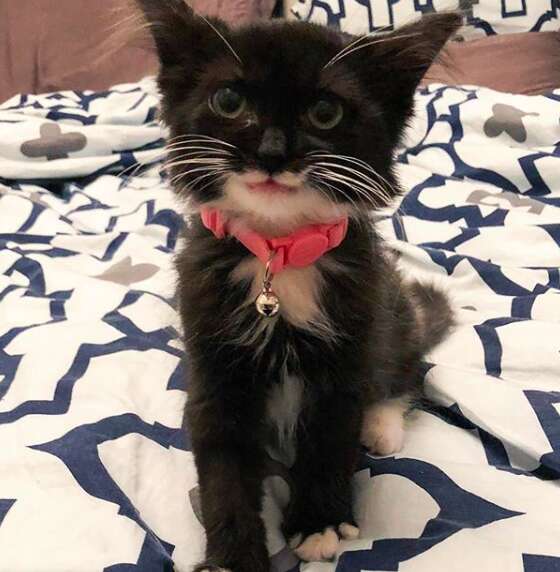 Jenn and Chris had spent months searching for a companion for their cat Pinecone when Tulip's grin flashed across their computer screen. "Her smile in her little advertisement picture drew us in right away," Jenn told The Dodo.
The couple submitted an application for the kitten sight unseen and were approved. When they went to meet her, they couldn't believe that the kitten was still smiling — even in the shelter. Their connection was instant. "The second we met her in person we fell absolutely in love with both her looks and her personality," Jenn noted.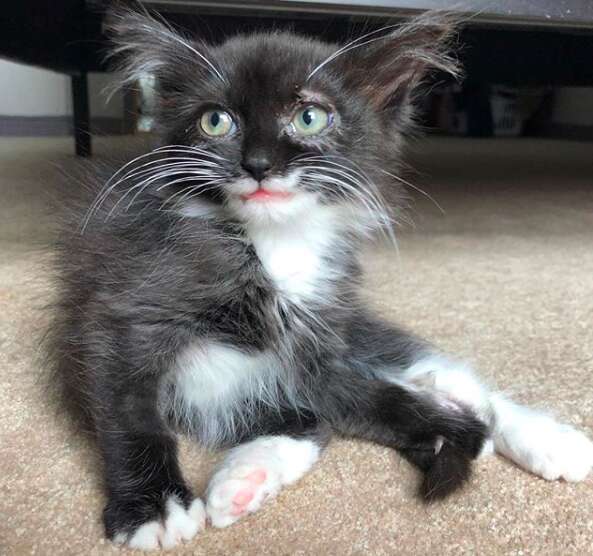 When they brought Tulip home, the little cat continued to show off her sweet grin.
"At first we assumed that it was just a one-off in her advertisement, but once we got her home and we began taking countless pictures of her, we realized that it was a permanent thing," Jenn added. "Her smile is always there and it never gets old."
Even through some medical issues, the tuxedo cat smirked to let her parents know that everything would be OK.
"The realistic part of me likes to think that her coloring has a lot to do with her constant smile," Jenn said. "Then another part of me likes to think that she's always smiling because she knows that at 10 months old she's already overcome so much."
Now that Tulip is healthy, she loves to play fetch and carry her toys around, hang out by the fish tank and annoy her older brother — with whom she's inseparable.
"She's a constant reminder that things always turn around and get better, no matter how difficult they seem in the moment," Jenn added. "It's hard to picture our lives without her smile. She has added so much joy to our hearts and our home."
"She truly is a tulip," she added, "always blooms again — and I think she knows that about herself."