Hans Gruber and Guybrush, two rescue pups, hit the jackpot when they were adopted by their parents, Benjamin Andrew Moore and Zanna Schumacher.
Aside from having a comfortable home and doting owners who make sure they get the best of everything, the pups adore their comic-loving dad, who has put together some pretty epic costumes for them.
"We only really dress them up for Halloween," Moore told The Dodo, "but we definitely started doing it as soon as possible."
Moore and Schumacher adopted Guybrush first in May 2011 from the Manhattan Animal Care Center. The couple planned to adopt a dog once they moved in together, but Guybrush showed up a few months before that happened.
"[Zanna] started trolling the 'to be destroyed' section on Craigslist, saw Guybrush's very sad puppy picture, called the volunteer who'd posted his info and sort of 'accidentally adopted him,'" Moore said. "But it was a very happy accident."
They named the 5-month-old pit bull mix after the character Guybrush Threepwood from the computer game Monkey Island, in line with Moore's affinity for anything comic book or video game-related.
"We landed on that name (after days of deliberation) because it was unique and funny, and because Guybrush, the pit bull, reminded us of Guybrush, the computer game character, in that they were both very goofy and lanky and weird," Moore said.
Now 6 years old, Guybrush — or "Brushy," as he is nicknamed — loves playing fetch with his favorite stuffed purple hippo during off-leash hours at the park, and meeting new friends. "Guybrush LOVES meeting new people, is extremely affectionate (almost to an absurd degree) and is very energetic," Moore said. "He gets a good amount of attention because he really likes saying 'Hi' to people, and if he's wearing a costume, they're all up in his business nonstop."
It only took them a few days before they knew they wanted to keep him.
Ruger, now named Hans Gruber because Moore thought the name sounded similar to the character in the movie "Die Hard," was officially adopted in November 2012.
Also 6 years old, Hans ("Hansy") enjoys eating, sniffing and getting neck pets. He has even figured out a super-smart system for nonstop scratches.
"Hans is far calmer and more reserved [than Guybrush]," Moore said. "He's much more independent and stubborn."
"They both love to give kisses," Moore said, "but Guybrush is way more forthcoming with them, regardless of his familiarity with you."
"They're very tolerant," Moore said of the pups' reaction to dressing up.
The costumes started out more traditional ...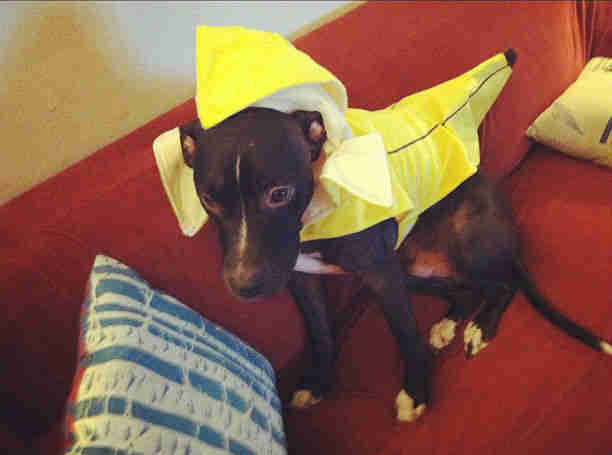 But as the years passed, they got more elaborate.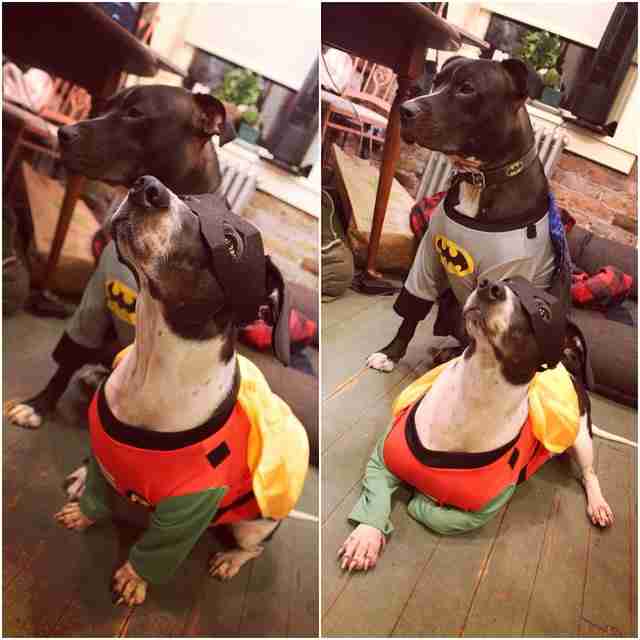 "Zanna gets involved, but I think it's fair to say that I care quite a bit more about Halloween generally, and therefore do more of the costume planning for the dogs," Moore said.
Which, of course, sometimes includes Moore matching his own costume to the pups' versions.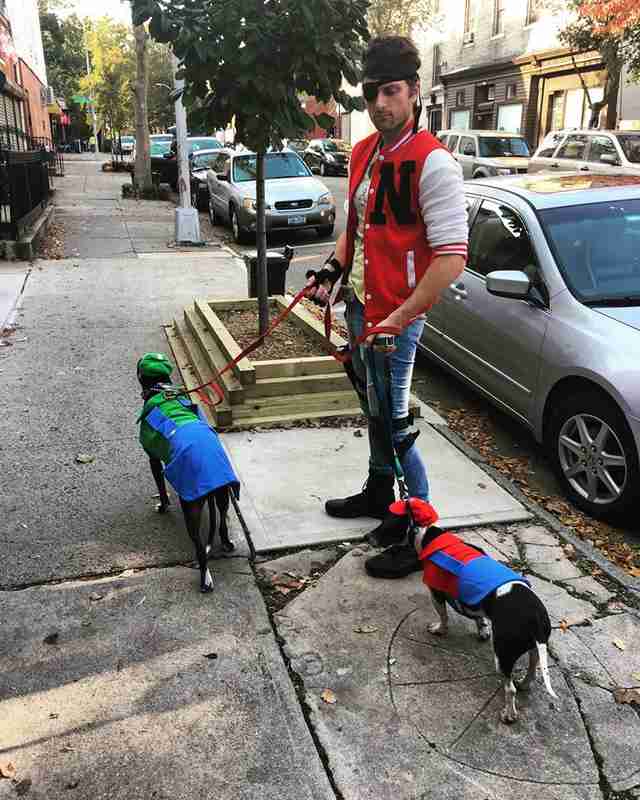 Moore has even created some really cute videos to go with some of the costumes.
Though Moore said they usually only dress the pups up for Halloween, their Instagram account tells a slightly different tale.
Hans Gruber and Guybrush were involved in Moore and Schumacher's engagement announcement, wearing simple bow ties.
They were later in the wedding itself ...
... wearing matching tuxedos.
Guybrush appears to have an impressive collection of superhero outfits that he lounges around in while at home …
But Hans Gruber has some pretty cool gear himself — even if his outfits aren't necessarily superhero-themed like his brother's.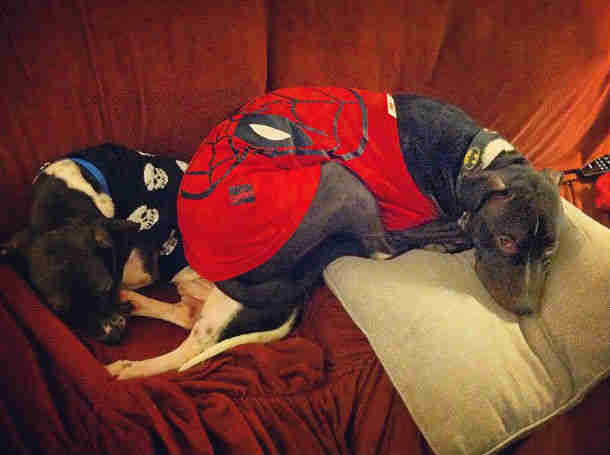 Then there are the simple, fun costumes, like bunny ears for Easter …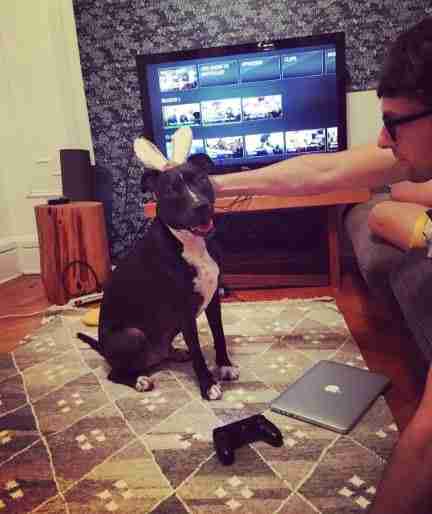 ... or flower crowns to celebrate spring.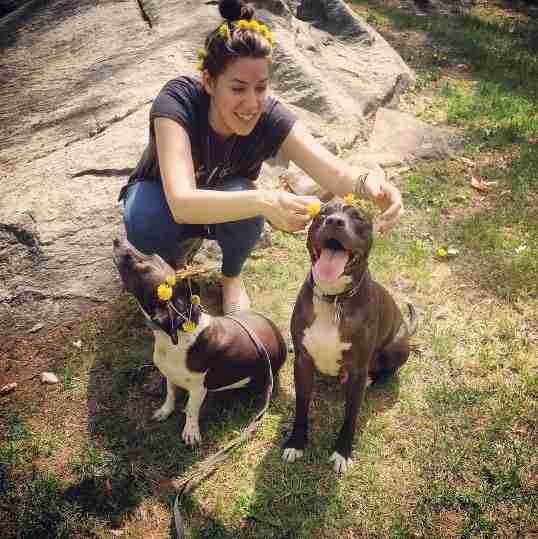 Dinosaur onesies can be everyday wear, right?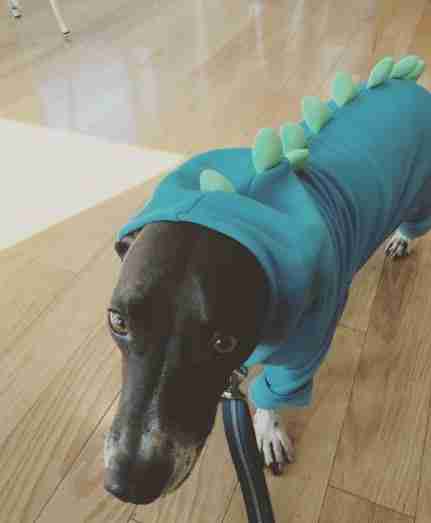 Even common items found around the household, such as margarine, have been made into makeshift costumes for the pups …
Moore, who is a freelancer at a dog-friendly office, takes Hansy with him whenever he goes. Hans has taken his cosplay to new levels with the occasional modeling gig ...
... though sometimes he'd rather give a friend a ride than wear a costume.
Even mealtime can be a reason to dress up.
But sometimes it's more fun to watch the humans dress up like dogs instead.
The couple also frequently takes the pups on vacation with them …
… or to attend special, dog-friendly events when possible …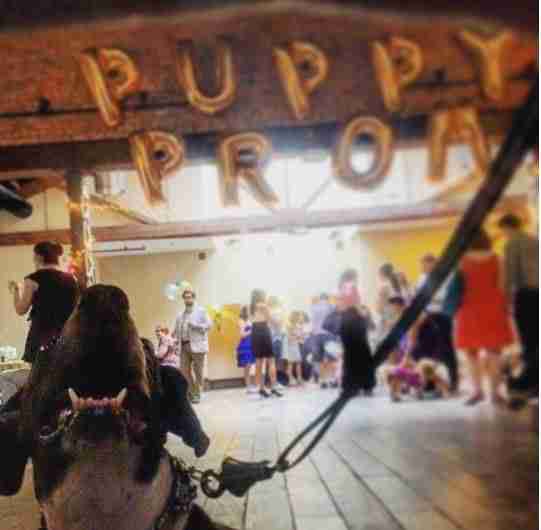 … and there are always abundant cuddles to be given.
To see more adventures of Hans Gruber and Guybrush (and what their next costumes will be), follow them on Instagram. You can also see Zanna and Hans' episode of "The Sidekick Series" here.