Shelter Dogs Rescued Together Sleep Side By Side Every Night
"They are both incredibly sweet. Kissing is what they do best."
Romeo and Damian are 5-year-old pit bulls who were rescued together. When the Nassau County SPCA found them, the poor dogs were starving, dehydrated and emaciated, with their ribs, spines and hips all showing prominently. They were immediately rushed to a local vet office to start receiving the care they'd clearly never been given before.
After vets examined the dogs, it was determined that on top of all his other issues, Romeo also had metallic foreign bodies in his stomach. Both dogs have a long ways to go in terms of recovery, but the neglect and trauma they've endured has somehow not broken their spirits in the least.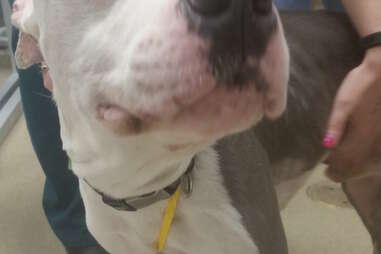 Both Romeo and Damian crave human attention constantly, and have fallen in love with each and every person helping them to recover.
"They are both incredibly sweet," Maria Mora, executive director of the Nassau County SPCA, told The Dodo. "Kissing is what they do best. They will need a little training, though, as they need to work on their manners."

As much as they love people, Romeo and Damian also have a very strong bond between them, and seem to take comfort in each other as they recover and wait until their perfect forever families finally find them.
When Romeo and Damian sleep, they always like to be touching, and tend to curl right up next to each other …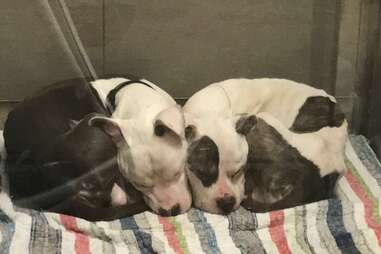 … and it's just about the sweetest sight ever.
"They will be up for adoption once they are medically cleared, which we expect to be any day now," Mora said.
Romeo and Damian have been through so much, but with the help of each other and the love from their rescuers, they are more than ready to move on and embrace their second chance.
If you'd like to adopt Romeo or Damian (or both!), you can contact the Nassau County SPCA for more information.