Dog Saved From Streets Still Sleeps In His Cardboard Box
"It's the only way he's ever slept to feel safe."
Every night when it's time to go to sleep, Captain has fluffy, comfy dog beds available for his enjoyment. He rejects them.
"All he wants at bedtime is a cardboard box," Kristina Millman-Rinaldi, founder of Detroit Dog Rescue, wrote on Facebook. "This cardboard box, or whatever size box we have at the time, is the only way he'll sleep, because it's the only way he's ever slept to feel safe."
Millman-Rinaldi is just guessing about that last part — not much is known about what Captain's been through or what it took for him to feel safe, if he ever did feel safe.
The few available details show that Captain didn't have it easy. He'd been found on the streets of Detroit searching for food. He was very hungry and very sick, and wearing a red collar, Millman-Rinaldi tells The Dodo.
Captain was taken in by Detroit Dog Rescue back in November. He's been at the group's no-kill shelter ever since, getting the care he needs, physically and otherwise. On top of his medical treatment, Captain is receiving a lot of positive reinforcement training. Millman-Rinaldi says it's really working.
Captain is a lovable darling who "will do anything for a scoop of peanut butter. He has the best wiggle butt and loves showing off his tricks," Millman-Rinaldi says. "Despite all he's been through, he is super sweet."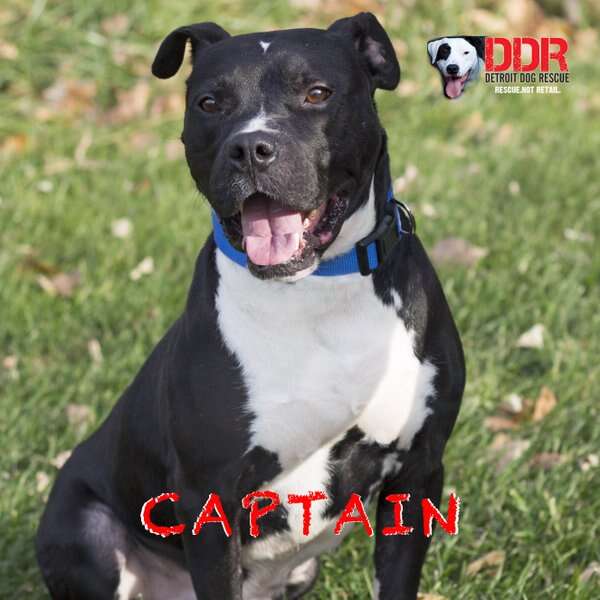 Maybe Captain sleeps in boxes because that's all he ever knew (or maybe, Millman-Rinaldi acknowledges, he thinks he's a cat).
What Millman-Rinaldi knows without a doubt is that Captain had a really hard life. And now she wants him to have everything — a home, a family, whatever it takes for him to know he is loved and out of harm's way. Plus, of course, all the cardboard boxes he wants to nestle down into at night.
"I can't change their past. I can't erase all of those memories, but as a team at Detroit Dog Rescue, we can give them a future," Millman-Rinaldi wrote on Facebook. "We will keep them safe and cater to their needs ... even if it means providing them with endless cardboard boxes to feel safe. We love you and your cardboard boxes, Captain."
Here is
Captain's adoption listing
. Detroit Dog Rescue would like him to be adopted by a family living in Michigan, so DDR can stay involved with future training.
Keep tabs on Captain and DDR's other dogs
on Facebook
.