Girl Makes Matching Prom Outfit For Her Rescue Dog
"I am super glad I made Sasha the dress because it's something I've wanted to do for those big moments in my life."
When Brenda Sierra got her senior prom dress altered, she could only think about one thing — making her rescue dog, Sasha, a matching outfit with the leftover material.
Sasha came into Sierra's life two years ago, after Sierra and her mom took a spur-of-the-moment trip to the Humane Society of Tampa Bay.

Sierra meeting Sasha at the shelter

| Brenda Sierra
"My mom and I were just driving around, and I decided that we should go see the puppies there," Sierra said. "Originally we were just going to look and plan to get one, but I saw Sasha in there, and I instantly fell in love with her."
The feeling was clearly mutual — Sasha seemed to adore Sierra just as much.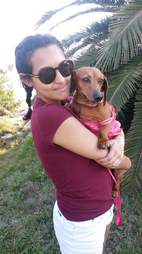 Brenda Sierra
"She wouldn't stop looking at me," Sierra said. "I would go play with other puppies, but Sasha would stay at the corner of her cage, staring at me. It was like love at first sight."
Sierra took Sasha home that same night, and since then, the two of them have been devoted to each other.
Sasha's 5th birthday party

| Brenda Sierra
"She's very sweet and cuddly," Sierra said. "Anywhere I'll sit down, she'll go and sit on my lap. She's very attached to me. I'll rub her head, and if I stop rubbing her head, she'll put her head under my hand so I keep rubbing her."
Sasha doesn't even mind when Sierra dresses her up in doggy outfits.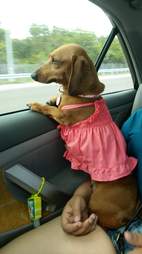 Brenda Sierra
So when Sierra was getting ready for her senior prom this year, she knew she wanted Sasha to feel included, too.
"We went to get my dress altered and I saw how much fabric was leftover, so I asked if I could keep it, and there was so much fabric that I decided to make a dress for Sasha," Sierra said. "I dress her up almost all the time so I figured it would make great pictures if we were matching!"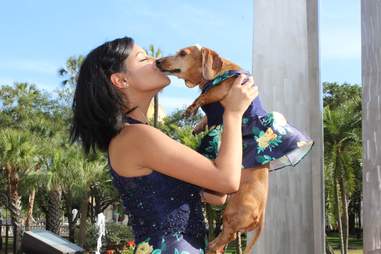 Brenda Sierra
Sierra had never made anything like this before, but with scissors and a glue gun, she quickly figured it out.
"I just wrapped it around her, cut it and glued it together, and made the little skirt out of the floral fabric, and just glued the two pieces together," Sierra said.
Brenda Sierra
And Sasha was the perfect model, according to Sierra.
"When I was fitting her for the prom dress, she was sitting next to me the whole time when I was taking it on and off of her," Sierra said. "She wouldn't complain or run away or anything. She'd lay next to me."
Brenda Sierra
Sierra thought Sasha looked so good in her matching dress that she posed with her dog in a series of photos — and with her prom date, of course. When she posted the pictures on Twitter, they went viral.
"I thought it would get some attention, but not as much as it did," Sierra said.
"I am super glad I made Sasha the dress because it's something I've wanted to do for those big moments in my life," Sierra added.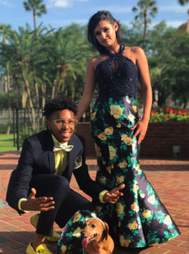 Brenda Sierra
Prom is over now, but for Sasha, the dress-up fun could just be beginning. Sierra is already planning other special outfits for her.
Brenda Sierra
"I'm going to make Sasha a cap and gown to match my high school graduation," Sierra said. "If it comes out good enough, I'll probably make Sasha T-shirts and stuff."
Brenda Sierra
Sierra's even thinking about studying fashion design at college. But wherever she goes after high school, Sierra made one thing clear — Sasha will be coming with her.
Sasha looking at Sierra's Twitter post

| Brenda Sierra