Dog Loves His Toys So Much He Decides To Just Sleep In Them
"My guess is he never had toys wherever he came from originally so he definitely cherishes them."
When Nugget was just a tiny puppy, he was hit by a car and badly injured. His family at the time decided they could no longer care for him, and left him at a shelter.
Luckily his injuries weren't too extreme, and he was fitted with a cute little cast to help him heal. He was taken in by the San Diego Humane Society and given a foster home, and that's where his future family met him for the first time.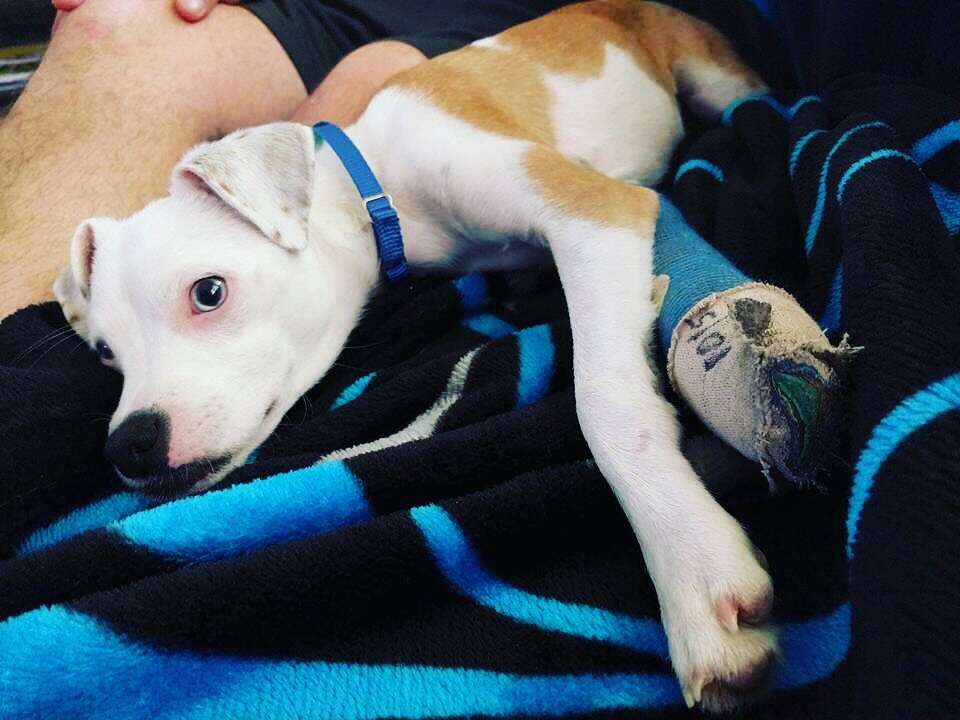 Lynda Dean and her boyfriend met Nugget through a friend who happened to be fostering him. Despite his hurt leg and the fact that he was deaf (potentially from the car accident), they immediately fell in love with him, and as soon as the cast was off and he was given a clean bill of health, they officially adopted him into their family.
Nugget settled into his new home right away, immediately falling in love with his new parents. As soon as they adopted him, they decided to sign him up for a toy subscription service, so that he would always have tons of toys to play with — and that's where Nugget's intense obsession with toys started.
"Every month when that box arrives and he sees it, he goes crazy and can't wait to dig in and see what he got," Dean said. "He has a lot of toys … sometimes we think too many as they are everywhere in our house from him carrying them around and leaving them places. But he loves them so much."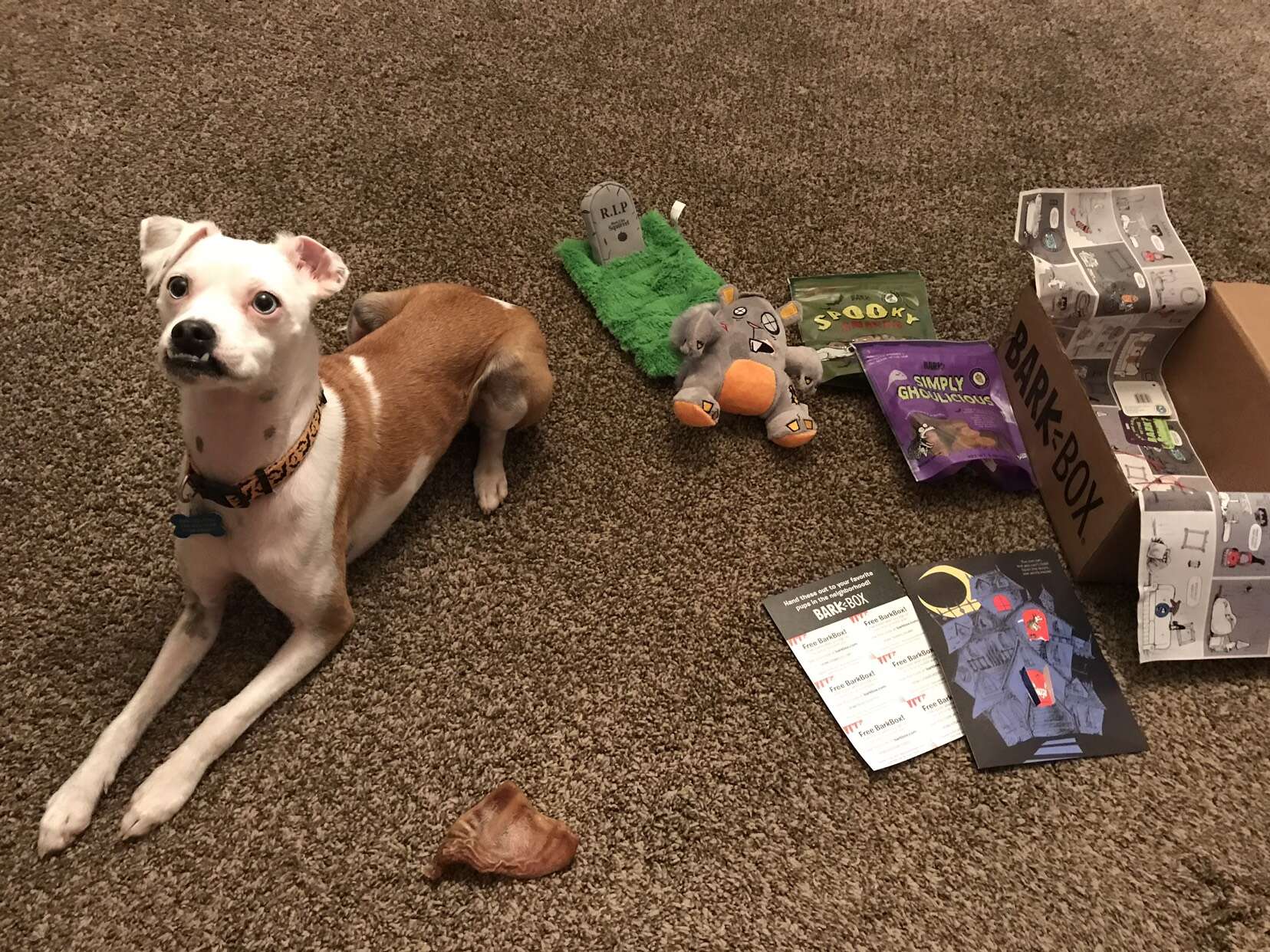 Nugget is very, very attached to his toys, and he has so many that when it's time for a bed or a quick nap, the only way to ensure that he can sleep with all his toys, is just to sleep IN them.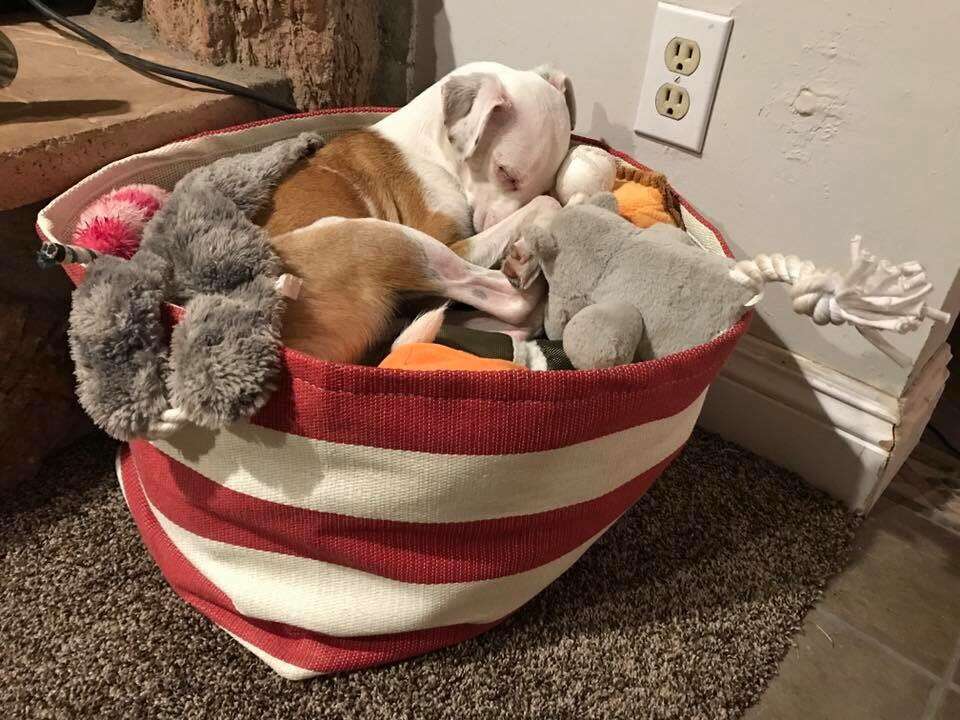 Nugget loves sleeping on top of all his soft, comfy toys just as much as he loves playing with them. They seem to bring him so much comfort and joy, and he never ever takes any of his toys for granted.
"If he's not sleeping in his toys, he always makes sure to bring a couple to bed with him and he'll sleep with it," Dean said. "My guess is he never had toys wherever he came from originally, so he definitely cherishes them."
Nugget definitely had a rough start to life, but now he's happy and spoiled, with so many toys, and will never have to be without anything ever again.
"For everything he's been through he is extremely smart, loving and attentive," Dean said. "We definitely hit the jackpot when we found him."
Thinking about adopting? Then meet Dodo Adoptbot, an interactive guide for new pet parents. Get started on
Facebook Messenger
or text HOME to 38349.